Dwight Howard Trade Rumors: Latest Updates on Orlando Magic Star
March 7, 2012

Sam Greenwood/Getty Images
Dwight Howard is the biggest fish potentially on the market for NBA teams as the trade deadline approaches on March 15. The Orlando Magic are still doing all they can to convince him that the Magic Kingdom is the best place for him, but there is no indication it is going to work. 
The Magic are in an awkward position because they are still competing for a playoff spot. Trading your best player does not exactly send a strong message. At the same time, they can't simply let him walk away at the end of the year for nothing. 
We will have all the latest news and rumors on Howard as we move closer to the NBA trade deadline. Check back to this page for all the information you need. 
Update: Thursday, March 15 at 1:00 p.m. EDT by Alex Kay
Joshua Robbins, reporter for the Orlando Sentinel, confirmed that Dwight Howard did indeed waive his ETO.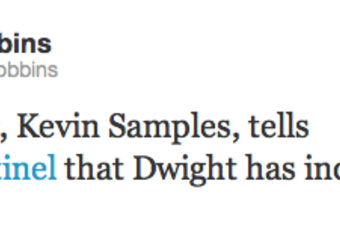 Magic fans everywhere are breathing a sigh of relief now that this season-long saga is over.
The franchise has until the summer of 2013 to surround the superstar with talent and convince him to stay.
They got their wish and hopefully Dwight will decide to stay for the long haul. 
Update: Thursday, March 15 at 12:40 p.m. EDT by Alex Kay
It's finally over. Dwight Howard has chosen to waive his early termination option, according to ESPN's Chris Broussard.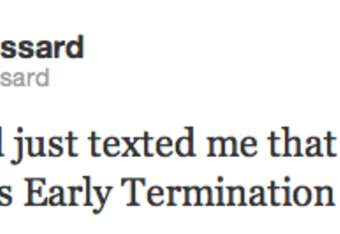 This means DH12 will be a member of the Orlando Magic for the rest of this season and under contract with the team until the summer of 2013.
Orlando will now have a chance to bring in some elite talent to surround their superstar with and convince him to stay, or find a worthwhile trade.
Regardless, they just bought themselves a lot of time and won the battle to keep the big man. 
Update: Thursday, March 15 at 10:00 a.m. EDT by Alex Kay
David Aldridge of NBA.com is reporting that Orlando is now expecting a signed opt-in from Dwight Howard that guarantees he will be a member of the Magic in 2012-13 unless traded.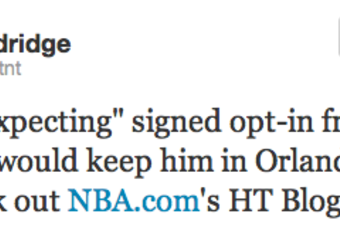 The two sides have gone back and forth for far too long on this issue and once the superstar no longer has the option to opt-out of his contract and become a free agent, the parties can both begin healing the damage. 
Stay tuned here to find out if Dwight delivers on his expected opt-in.
Update: Thursday, March 15 at 9:30 a.m. EDT by Alex Kay
The Orlando Magic might have just gained the upper hand in negotiations with Dwight Howard. The team knows that his Adidas contract has significant pay incentives for making the postseason and used it as leverage against their center.
According to ESPN's J.A. Adande, they threatened to banish the superstar to the lottery-bound New Jersey Nets this season via a trade and let him miss out on all the endorsement money he could have made by staying in Orlando. 
Howard will most likely agree to waive his early termination option in order to stick with the Magic for one more season and let them convince him to stay or find a more suitable trading partner. 
UPDATE: Thursday, March 15 at 7:35 a.m. ET
The Dwight Howard saga continues as it looks like the Magic may once again be leaning toward trading him. According to Marc Stein of ESPN, Howard refused to waive his opt-out clause which takes effect during the offseason, so all indications are that he will test free agency.
There were rumors earlier Wednesday that Howard was willing to waive the clause and lock himself into the final year of his contract with the Magic next season, but that didn't come to fruition. Stein is reporting that Orlando has to make a choice regarding Howard's fate by the 3 p.m. ET trade deadline today.
The New Jersey Nets are considered to be the leader when it comes to possibly landing Howard in a trade. Whatever the case, the Magic run a huge risk of losing Howard for nothing if they don't trade him because of his refusal to waive his opt-out clause.
Update: Thursday, March 15th at 1:47 a.m. EST
Howard is reportedly signing an opt-in on Thursday morning. According to RealGM's Jarrod Rudolph, Howard will sign the contract and take end this back and forth madness. Judging by the way this process has played out, Magic fans shouldn't feel too comfortable until his name is on the dotted line.

Update: Thursday, March 15th at 12:10 a.m. EST
Dwight Howard's status with the Magic seems to change hourly. While it looked like he might be with the Magic through next season, it's impossible to rule out the possibility that he'll move before the deadline.
According to ESPN's Marc Stein, the Nets and Magic engaged in serious talks Wednesday night.
Sources say Nets have had most serious Dwight discussions w/Magic this week and that the teams were engaged in talks late Wednesday night

— Marc Stein (@ESPNSteinLine) March 15, 2012
Update: Wednesday, March 14th, 8:25 p.m. ET
The back and forth will get yet another turn as Dwight Howard has reportedly spoken with the Magic after a tumultuous day and delivered a classic flip flop. 
ESPN's Marc Stein tweets the latest.
RT @NBAonESPN: Dwight Howard tells Magic in pre-game call he will NOT surrender opt-out clause (via @ESPNSteinLine) - es.pn/xpG3ss

— Marc Stein (@ESPNSteinLine) March 15, 2012
Update: Wednesday, March 14th, 8:25 p.m. ET
Things continue to get silly as the Houston Rockets enter the mix as a team willing to swing for the Dwight Howard fences. 
Sports Illustrated's Chris Mannix reports the Houston Rockets are actively pursuing Superman.
Rockets continue to be proactive in trying to acquire Dwight Howard, source tells SI. Hou-Orlando talks continued today.

— Chris Mannix (@ChrisMannixSI) March 15, 2012
Update: Wednesday, March 14 at 5:10 p.m. ET
Howard may have given the Magic the assurance they have been dreaming they'd get all season.  
CBS Sports' Ken Berger detailed that in this tweet:
#Magic officials have been told that Dwight Howard informed teammates he won't opt out of contract in July, league source tell @CBSSports.

— Ken Berger (@KBergCBS) March 14, 2012
However, this is not yet a done deal, and that leaves room to speculation. It doesn't help that D-12 apparently didn't mention this to his teammates. 
Marc J Spears of Yahoo! Sports explains:
Two Magic players said DH told players at shootaround to keeping doing jobs, be accountable and they have a chance to win. Nothing on opt-in

— Marc J. Spears (@SpearsNBAYahoo) March 14, 2012
Yahoo! Sports' Adrian Wojnarowski also added:
Three Magic players tell Y! Sports (2 to @SpearsNBAYahoo) and one to me that Dwight Howard did not tell them he was opting in for next year.

— Adrian Wojnarowski (@WojYahooNBA) March 14, 2012
In what was likely a response to those tweets, Alex Kennedy of HOOPSWORLD, sent out a soothing message to Magic fans.  
Regardless of what Dwight Howard said during meeting with teammates, source close to Howard said he informed Alex Martins that he'll opt-in.

— Alex Kennedy (@AlexKennedyNBA) March 14, 2012
And so the saga rolls on. Things are certainly looking good for the Magic, but until the trade deadline comes and goes, it would be best not to count on anything. 
Update: Wednesday, March 14 at 1:42 p.m. EDT by Michael Dixon
Chris Broussard of ESPN is reporting that the Magic are looking for a commitment beyond this season from Howard. If they don't get that, he will be moved.
Dwight Howard's public plea late Tuesday to remain in Orlando for the rest of the season has only served to anger the Magic and has instead pushed them closer than ever to trading their superstar center, according to league sources with knowledge of the situation.

Convinced that Howard, on the advice of his agent, is trying to manipulate the situation, the Magic are telling teams they will trade Howard before Thursday's 3 p.m. ET deadline if he does not commit to them beyond this season, league sources said.
Update: Tuesday, March 12 at 11:25 p.m. ET
Dwight Howard is apparently trying to paint the Magic into a box. Michael Wallace of ESPN tweets how.
Dwight said he's informed Magic he wants to stay for rest of season. Said they now must "roll the dice."

— Michael Wallace (@WallaceNBA_ESPN) March 14, 2012
Um...how about instead of saying "roll the dice" he says he'll re-sign with them? Instead, he essentially said, there is a good chance I won't come back, but you should just forget about trying to get some value for me. 
UPDATE: Tuesday, March 13 at 5:05 p.m. ET by Mike Chiari
It appears as though the Magic may finally be coming to their senses and seriously considering a trade of Dwight Howard. According to Ken Berger of CBS Sports, Magic general manager Otis Smith is exploring trade options and Howard's preferred team, the New Jersey Nets, are the leading trade candidate.
The two teams worked on a trade earlier in the season, but it fell through. Orlando may now be getting desperate, however, and willing to accept the best offer. The general feeling is that Howard has been leading the organization to think that they have a chance to re-sign him, but perhaps they realize that it is unlikely at this point.
Berger suggests that the Nets would have to give up center Brook Lopez, rookie guard MarShon Brooks, draft picks and perhaps more for Howard. It may not be ideal, but the Magic can't afford to lose Howard for nothing, so a trade makes the most sense at this point.
UPDATE: Tuesday, March 13 at 3:00 p.m. ET by Zachary D. Rymer
A source has told The Sporting News that the Magic are holding out hope of resurrecting trade talks with the Los Angeles Lakers.
Apparently, the Magic have realized that they're not going to get a better player for Howard than Andrew Bynum, who has been linked to the Magic in past Howard-to-the-Lakers rumors. 
The big question from the Lakers' side of things is whether giving up Bynum is even a good idea. He's been healthy this season, and he has emerged as one of the top big men in the game. Trading him for Howard would be an upgrade, but it would also be risky given Howard's iffy feelings about playing for the Lakers.
We shall see. There's still plenty of time for the Magic and Lakers to hammer something out. As long as the Lakers are as willing as the Magic, of course.
UPDATE: Tuesday, March 13 at 2:25 p.m. ET by Mike Chiari
Despite the Orlando Magic's best effort to keep Dwight Howard in the fold and whispers that a big acquisition at the trade deadline could be enough to do so, Howard still intends to join the New Jersey Nets, according to Adrian Wojnarowski of Yahoo! Sports.
Dwight's gone, and [Magic CEO] Alex Martins is the only person who doesn't believe that, a league source with knowledge of Howard's intentions told Yahoo! Sports.
If true, then Howard is doing little more than leading the Magic on at this point. It seems inevitable that Orlando is going to keep Howard through the deadline in an effort to work out a long-term contract, but if Wojnarowski's sources are accurate, then the Magic are likely to lose Howard for nothing.
The Magic are in an incredibly tough spot and would probably be best off dealing Howard, but that is seemingly less and less like a possibility.
UPDATE: Tuesday, March 13 at 11 a.m. ET by Mike Chiari
Not surprisingly, it looks as if the Orlando Magic are doing everything possible to retain All-Star center Dwight Howard as he can opt out of his contract at the end of the season. According to ESPN's Ric Bucher, the Magic have promised Howard that they will add a quality player by the trade deadline and allow him to decide whether general manager Otis Smith and head coach Stan Van Gundy should be retained.
It hasn't been clear exactly what Howard is looking for in a team, but if he wants to be the franchise guy that everything runs through, then it would be silly for him to leave the Magic. They are willing to give him ultimate power on front office decisions and will surely offer him a fat contract, so if Howard doesn't decide to stay, then he never had any intention of doing so.
Bucher mentions Milwaukee Bucks small forward Stephen Jackson as a possible target for the Magic since he and Howard have talked about playing together. If Orlando is able to secure a deal for Jackson, then it seems as though it would put it in a much better position in terms of re-signing Howard.
UPDATE: Tuesday, March. 13, 8:10 a.m. ET by Donald Wood
While the whole season has been about Dwight Howard asking the Orlando Magic for a trade, the lack of movement involving the All Star center or around him has fans and experts alike questioning what the team's plan is.
ESPN NBA insiders Marc Stein and Chris Broussard are reporting about the Magic's deadline decisions and where they are leaning:
The Orlando Magic's strategy for the moment on Dwight Howard, according to sources close to the process, calls for spending the next 48 hours or so making one last hard push to acquire the sort of difference-maker that would encourage Howard to commit his long-term future to the team that drafted him in 2004.

If no newcomer is acquired by Wednesday, sources said, Magic officials plan to spend the final 24 hours before Thursday's 3 p.m. deadline evaluating all of their trade options and then deciding Thursday whether to stick to their long-standing desire to roll the dice and keep Howard beyond the deadline or make the best available trade.
As this point of the season, there isn't too much the Magic can do as far as trading Howard goes. It's too small of a time frame to get such a large deal done, but Orlando may have been dragging their feet the entire time to ensure that he doesn't go anywhere.
If the idea was to keep the center in Orlando and surround him with piece to convince him to stay, the Magic better make a move fast to get Howard some help or they will watch D-12 walk away after this season ends.
Update: Monday, March 12 at 8:40 p.m. EST
According to a report from Marc Stein and Chris Broussard of ESPN.com, the Magic have laid out their plans for the next couple of days.
The next 48 hours will be spent trying to acquire a "difference-maker" whose presence will help convince Howard to commit to the Magic long-term. In other words, the Magic are going to keep doing what they've been doing over the next two days.
If the Magic haven't acquired anyone by Wednesday, the team will spend the final 24 hours before Thursday's trade deadline (3:00 p.m. EST) weighing their trade options. They will then decide whether to keep Howard, or to trade him away.
During all this, the Magic will continue to press Howard for a "definitive answer," something that he has avoided giving to this point.
If there was any doubt, this report should make it clear that the Howard situation has reached crunch time. Orlando's options remain wide open. The Magic are either going to trade for someone else, trade Howard or do nothing.
This thing will be over soon enough.
Update: Monday, March 12 at 3:00 p.m. EST
According to the New York Daily News, a Golden State Warriors executive said the Magic turned down Monta Ellis and David Lee for Howard, telling the Warriors they're only going to trade Howard for a "major player."
Presently, Ellis is the league's ninth-leading scorer and Lee is averaging nearly a double-double per game at 19.1 PPG and 9.8 RPG.
It's unclear if the Warriors' offer was both Ellis and Lee or just one at a time in two different offers. If it was Ellis and Lee, the Magic probably did the Warriors a favor by turning it down. Indications are that Howard would not sign an extension with the Warriors if he were to be traded to the Bay Area. Had the Warriors given up two of their stars for Howard just to rent him, they would have regretted it after watching Howard leave as a free agent.
You can't fault the Warriors for trying, but it's pretty clear they're wasting their time with their pursuit of Howard.
Update: Monday, March 12 at 1:25 p.m. EST
And in yet another turn of Dwight Howard fun, the highly sought after center has reported interest in the two places that everyone has interest: L.A. (Clippers, mind you) and Miami.
Chris Mannix of SI.com writes:
Two teams sources say tell SI Howard will have interest in: Clippers and Miami. There are cap issues, but the interest is real.

— Chris Mannix (@ChrisMannixSI) March 12, 2012
Both teams would have to make some serious concessions to even make it possible, and it is more than likely that Howard would have to take a cut to make it happen too.
As with most of the rumors regarding Dwight Howard, this will amount to nothing - at least for now.
If there is going to be a deal for D12, it is going to go down on deadline day when this season-long game of chicken has to end.
Free agency is another matter entirely.
Update: Sunday, March 11 at 9:25 EST
The Magic may not be as intent on keeping Howard as originally anticipated.
CBS' Ken Berger says,
"The Orlando Magic would like to seriously engage the Bulls in trade talks for Dwight Howard, but the All-Star center's apparent reluctance to make a long-term commitment to Chicago has all but killed the discussions, league sources told CBSSports.com."
Berger also indicates that a source says, "(Howard is) telling everyone he's leaving".
With the trade deadline rapidly approaching, it appears as though the Magic aren't giving up hopes of cashing in on Howard before he heads for greener pastures.
Update: Wednesday, March 7 at 4:45 p.m. EDT
According to Adrian Wojnarowski of Yahoo Sports, Magic CEO Alex Martins is not fielding calls about trading Howard. Instead, he is telling teams to call about offering someone the team can put next to him in the starting lineup. 
The March 15 trade deadline is approaching, and the Magic are still telling teams to spare them the trade calls unless they're offering a player to join Howard. Martins is a businessman, and sources say he played a part in rejecting the deal that general manager Otis Smith would've done with the New Jersey Nets in January. Martins has a chance to be the hero who saves the franchise star in Orlando, a fast-coming executive fighting the clock on Howard's opt-out.
We are approaching zero-hour, and the Magic have a hard decision to make. It is easy to say that they would be making a mistake not trading him, but he is the face of the franchise in the prime of his career. Unless someone offers a package that gives Orlando a new face of the franchise, why would the team accept it?
The theory of getting something instead of nothing does apply, but it has to be a viable something to make the deal.