Peyton Manning Press Conference: Video Highlights, Twitter Reaction and Review
March 7, 2012

Joey Foley/Getty Images
It was rumored on Tuesday that the Indianapolis Colts and longtime quarterback Peyton Manning would be parting ways on Wednesday.
That rumor became a reality in the form of a press conference starring Manning and team owner Jim Irsay. Neither of them made any effort to hide the fact that the occasion was very emotional. There were plenty of tears, and both Manning and Irsay were noticeably choked up.
If you happened to miss the presser, here you'll find a breakdown of what happened and how the sports world reacted to it.
Highlights
Before Manning took the podium, Irsay took a few minutes to introduce him and to share a few kind words about what Manning meant to the Colts throughout his 14-year tenure with the team.
"This is difficult because of the things Peyton has done for our city, our state and our franchise," Irsay said, per ESPN.com. "There will be no other Peyton Manning."
Irsay also promised that no other Colt would ever wear Manning's No. 18 out on the field.
When Manning took the podium, he had a very hard time fighting back the tears. 
"We all know that nothing lasts forever," Manning said, his voice wavering. "Times change, circumstances change, and that's the reality of playing in the NFL."
Manning didn't pretend to know what's going to happen next. For today, at least, all that really matters is what's happened in the past.
"I haven't thought about yet where I'll play but I have thought about where I've been," he said. "I've been blessed."
After Irsay and Manning had shared some words with the media in attendance, the floor was opened for questions. At that point, both of them seemed to be more relaxed, and they didn't hold back with their answers. 
Reaction
Wednesday's press conference really struck a chord for all those who ventured to watch it. Quite a few people were stirred by what was going on, and virtually everyone appreciated the classiness with which it was carried out.
The Washington Redskins tipped their cap to Manning and Irsay via their Twitter feed:
That was a very classy, very honest press conference by @NFLColts, Peyton Manning, Jim Irsay.

— Redskins (@Redskins) March 7, 2012
Nick Scurfield, who covers the Houston Texans for HoustonTexans.com, expressed a similar sentiment:
Manning, Irsay both very classy in their press conference. A dignified way to end an era for the #Colts

— Nick Scurfield (@NickScurfield) March 7, 2012
Jim Trotter of Sports Illustrated was particularly impressed with the way Manning handled himself:
did anyone doubt that peyton would be polished and poised and nail his departure speech? #colts

— Jim Trotter (@SI_JimTrotter) March 7, 2012
Quite a few people were just plain sad to watch the press conference unfold. ESPN boxing guru Dan Rafael was one of them:
It's a sad day in sports to watch Peyton Manning leave the Colts. But I guess business is business in sports. A real shame it is that way.

— Dan Rafael (@danrafaelespn) March 7, 2012
Of course, some people chose to have a sense of humor about the whole thing. Tennis star Andy Roddick felt something was amiss:
The colts cutting Peyton feels like the north pole kicking out Santa

— andyroddick (@andyroddick) March 7, 2012
Bleacher Report lead college football writer Adam Kramer made a joke about Irsay's well-publicized taste in music:
And now, Jim Irsay will close things about by playing "Free Bird."

— Adam Kramer (@KegsnEggs) March 7, 2012
Awful Announcing clearly found the whole thing to be a little too sappy:
This Peyton Manning news conference must be what watching a sad Lifetime movie feels like.

— Awful Announcing (@awfulannouncing) March 7, 2012
On balance, some humor, plenty of emotion, but nary a sign of disrespect. Considering this is Twitter we're talking about, the reaction we got was a pretty rare kind of mixed bag.
Final Thoughts
I'll be honest. Despite the fact I knew the press conference was coming, and despite the fact I had a loose idea of what to expect, watching Manning and the Colts bid goodbye to one another got to me.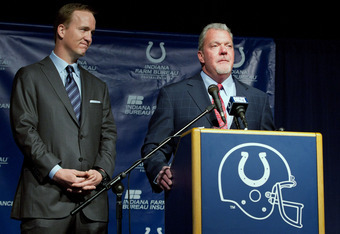 Joey Foley/Getty Images
I think this has a lot to do with the fact that, against all odds, a breakup that was spiraling towards an ugly end ultimately had a happy ending. The mood in the room was sad, to be sure, but Manning and the Colts parted ways while at the same time expressing their appreciation for what happened during Manning's tenure with the team. The press conference was a separation, but it was also an odd sort of celebration.
This is exactly what needed to happen. Manning was in Indianapolis too long and he did too many great things while he was there to leave the team with a scowl on his face. It would have been awful for everyone if Manning's departure had turned into a LeBron James situation.
Instead, what we got is one of the most harmonious breakups in the history of sports. Manning and Irsay kept it short and sweet, and they definitely kept it classy.
Hats off to both of them for ending their partnership on such a positive note.