Paul Pierce Trade Rumors Tracker: Latest Updates on Celtics Star
March 6, 2012

Elsa/Getty Images
The Boston Celtics have been at the center of trade rumors as the March 15 deadline approaches, and nobody on the roster can avoid it.
Not even face of the franchise Paul Pierce.
Update: Thursday, March 15 at 8:32 a.m. ET -- Nicholas Goss
ESPN's Chris Broussard reports that Celtics general manager Danny Ainge offered Paul Pierce to the Portland Trail Blazers, who were not interested in acquiring the veteran star.
While Boston Celtics boss Danny Ainge has said Rajon Rondo will not be traded, he is still actively seeking offers for members of the Big Three. The Celtics offered Paul Pierce to Portland -- I'm not sure what they asked for in return -- but the Blazers were not interested because of the two years and $32 million remaining on Pierce's contract.
It's not surprising that the Blazers would turn down a chance to acquire Pierce. Bringing in aging talent that is still owed a lot of money is pretty much the opposite of what they're trying to do. Portland's objective should be to get rid of older talent and bring in younger players and/or dump salary for the summer.
Last week Mitch Lawrence of the New York Daily News reported that GM Danny Ainge was looking to unload Kevin Garnett, Ray Allen or Pierce in an attempt to land Josh Smith from the Atlanta Hawks. With the versatility and age of Smith, it's likely the Hawks would demand Pierce in any potential deal. He is by far the most valuable of the Big Three.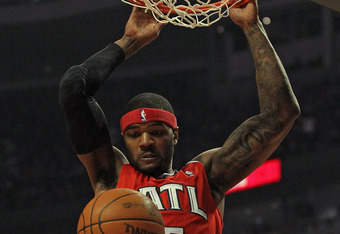 Jonathan Daniel/Getty Images
Yahoo! Sports NBA expert Adrian Wojnarowski went on NBC's Sportstalk recently and confirmed that Ainge and head coach Doc Rivers have agreed the Celtics are not championship contenders, and if the right deal comes along then the trio will be broken up.
Not a surprise, but when Wojnarowski said Pierce is the player most likely to get traded, eyebrows were raised. Since getting selected with the 10th overall pick in the 1998 draft, Pierce has spent his entire 13-year career in Green and White. So why has loyalty flown out the window?
Contracts.
Garnett and Allen are both in the last year of their deals and are free to sign with any team when the season concludes. Pierce still has two years and roughly $32 million left on his deal. Any team willing to surrender valuable assets would be ensured of at least 2.5 years of his services.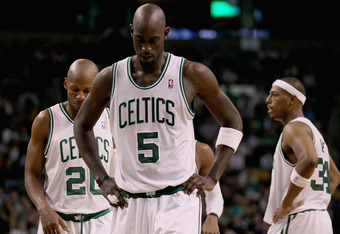 Elsa/Getty Images
You'd assume there would be a boatload of offers for a player with championship experience and one who still averages 18 points, 5.4 assists and five rebounds while shooting 43 percent.
Not quite according to Steve Bulpett of the Boston Herald.
"According to multiple league sources, there just hasn't been much call for the Big Three," Bulpett reports.
At the age of 34, it seems like teams are just waiting for the wheels to fall off on a player who has logged 997 regular season and 110 playoff games.
Yet he hasn't shown any signs of falling apart yet, and is one of the few players capable of taking and making a shot with the game on the line. Just ask teams like the Denver Nuggets and Philadelphia 76ers how important that is.
So while the Rajon Rondo trade rumors continue to fly even though he is under an affordable long-term contract and is only 26, keep an eye on the chatter around Pierce.
All things considered, he is the guy that makes sense to deal.
Will it be for Smith? Will it be to a team with championship aspirations?
The Paul Pierce trade rumors are just beginning to heat up.