WWE News: NFL Star BASHES CM Punk on Twitter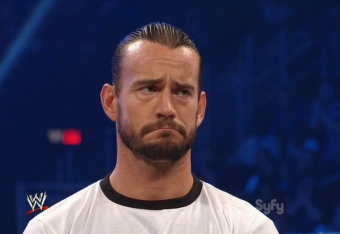 Screen capture courtesy of Images5.fanpop.com

As the last several weeks have particularly shown, WWE champion CM Punk has been no stranger to the dark side of Twitter.
For better or worse, "The Straight Edge Superstar" has never been afraid of holding back his true feelings.
Twitter, for some odd reason, just happens to be his soapbox for redressing the injustices of the world.
For instance, pop star Chris Brown, one of the objects of Punk's disdain, was just engaged in a mano-a-mano duel with the "Cult of Personality."
The back-and-forth tweets, which were the modern equivalent of pointed arrows, made headlines all over the Internet.
Now, Punk has made Twitter history again, but not for anything he's recently done.
Another celebrity, NFL star Shawn Merriman, has taken it upon himself to renew his Twitter feud with Punk after reportedly making enemies with him last year.
Apparently, the animosity between the two started when the Buffalo Bills linebacker, who was coincidentally down in Costa Rica where the WWE was touring in early 2011, struck out with a few divas at a hotel pool.
Punk, who was observing Merriman's brash attempt at being a pick-up guru, was compelled to make light of the situation on Twitter, to which the the three-time Pro Bowler curtly responded.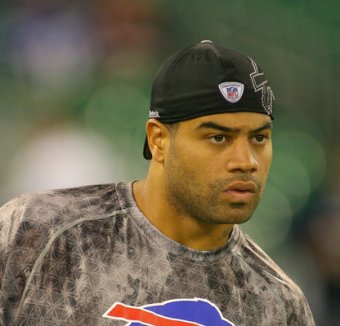 Needless to say, Shawn Merriman isn't a CM Punk fan
One year later, and in the absence of any provocation, Merriman has tweeted a series of scathing remarks aimed at Punk (h/t 411Mania.com):
F*ck C.M. Punk, he's still a punk forever in my book. I'm sure my supporters feel the same way... And WWE, I ain't hosting y'all new network until somebody whoop C.M. Punk cuz he's a p$ssy.

Serious, who the f*ck is C.M. Punk other than a soft butt...wrestling gone soft f off... If god is my witness, C.M. Punk was wearing a thong laying by the pool tanning his cheeks in Costa Rica, now tell me I'm lying... C.M. Punk wants no part of Lights, trust me...

And WWE, I ain't hosting sh#t until C.M. is dethroned... I ain't a hater at all, but if you like dudes tanning by the pool (in) a thong that's cool. I think he had pillows under his stomach.

(In response to a CM Punk fan) Shaddup he's a coward

#cmpunkthong start it now people

Please get #cmpunkthong trending y'all would make my night
Suffice it to say, Merriman's ego has not yet recovered from the rejection he endured at the (dainty) hands of the divas.
While Punk's judgment to poke fun at Merriman's "game," or lack thereof, may have been questionable at the time, the linebacker's random diatribe—a year removed from the incident—reeks of abnormal anger issues.
Even more disturbing is the insulting image Merriman has painted of Punk in order to exact revenge.
Why is there anything wrong with sunbathing one's buttocks, anyway? After all, it prevents unsightly tan lines.
All kidding aside, it seems as if Merriman has been having recurring nightmares about that fateful day by the poolside in Costa Rica.
Merriman's nightmare may usually play out like this: As he nonchalantly swaggers toward who he believes to be Kelly Kelly lying on her stomach in the sweltering sun, he is aghast to find out CM Punk's head has been transposed onto her body.
Punk turns his head and erupts in laughter, "You can't have this!"
You can imagine Meriman's eyes are struck wide-awake every time like a bolt of lightning as he uncomfortably contorts his cold sweat-ridden body.
Wait, didn't I say I was done kidding?
This article is
What is the duplicate article?
Why is this article offensive?
Where is this article plagiarized from?
Why is this article poorly edited?