2012 NFL Draft Predictions: Why Andrew Luck Won't Be Indianapolis Colts' Savior
February 27, 2012

Christian Petersen/Getty Images
Over the past two years every compliment that can be bestowed on a quarterback has been bestowed on Andrew Luck. Never mind that he's yet to take an NFL snap, experts agree he's the second coming of Joe Montana—who was drafted in the third round, by the way.
While he does pass the eye test quite nicely, and his collegiate record speaks for itself, there are good reasons why I wouldn't run out and invest in a Luck jersey just yet.
There is evidence that suggests buyer beware.
In the latest issue of ESPN The Magazine, KC Joyner discusses Luck's chances of success in the NFL—or should I say in Indianapolis since it's already a foregone conclusion he'll be a Colt?
Joyner's article offers historical and statistical evidence that might make Jim Irsay rethink his position, such as: "Of the 30 passers taken first, only 13 have made the Pro Bowl."
That's sobering. It proves that drafting a quarterback at No. 1 is no safe bet.
I wanted to take that thought a step further, so I looked at the 16 NFL quarterbacks drafted first overall since 1980. Most of them made the Pro Bowl, which is all well and good, but is that what teams draft quarterbacks at No. 1 to do?
No, they're drafted that high to win Super Bowls.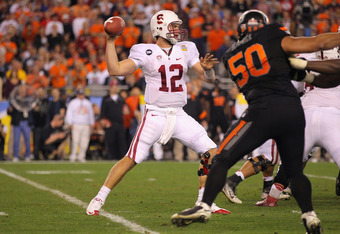 Doug Pensinger/Getty Images
Since 1980, only four have done that (no, I'm not counting Drew Bledsoe): John Elway, Troy Aikman, Peyton Manning and Eli Manning. For players with only one expectation, 25 percent is not a good success rate.
In other words, the odds aren't in Luck's—or the Colts'—favor.
Joyner also offers more statistical evidence for this. He starts off by dividing Luck's season into halves, with six teams in each half. The first was filled with cupcakes with easier defenses. In the second half the competition improved.
Against stiffer competition Luck's yards per attempt (YPA) fell significantly. After his first six games his YPA was an impressive 9.6 but after his final six it was only 8.0.
That's not all. Most damning is Luck's Bad Decision Rate, which is defined as the frequency a QB makes mental errors that lead to a turnover or near turnover.
In the first half of the season it was .6 percent. Incredible if you ignore the weak competition. Against the stronger teams it ballooned to 4.9 percent. This is concerning when you consider the average BDR for NFL quarterbacks is a paltry 2.5 percent.
Even more concerning is Luck's BDR actually regressed from his junior to his senior year, despite having one of the best offenses in his conference.
That's not to say Luck won't be successful in the NFL, but success isn't enough. Expectations for Luck, and all No. 1 quarterbacks, are very high. Since he'll be replacing a Hall of Famer, I'm sure Irsay is expecting more than "successful."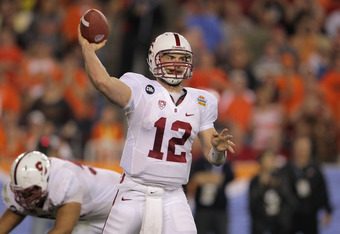 Doug Pensinger/Getty Images
Especially since the Colts have already had it both ways. They had the fortune of drafting one of the greatest quarterbacks of all time, Peyton Manning. They also had the misfortune of drafting one of the biggest bust quarterbacks of all time, Jeff George.
Both quarterbacks were drafted first overall and both were viewed as can't-miss talents.
Joyner's article highlights this dilemma perfectly, while it raises concerns about Luck's ability to be successful in the NFL. However, I doubt there's anything to prevent Luck from being picked No. 1. Barring some kind of injury revelation, his path is clear. Enough experts agree that he's the real deal.
As we all know, in the NFL, the only thing worse than drafting a bust QB is missing on a great one. Only time will tell which one Luck is.