San Diego Chargers Offseason 2012: Part 8: Defensive Backs
February 23, 2012

Stephen Dunn/Getty Images
The following is the eighth installment in a nine-part series analyzing every position, from the front office to the defensive backfield.  To access previous installments. Click here.
Defensive Backs
2012 will be a pivotal season for Chargers defensive backs.  Veterans Quentin Jammer, Antoine Cason and Dante Hughes will be playing out the final season of their contracts.  Strong safeties Bob Sanders and Steve Gregory are both unrestricted free agents.  And youngsters Marcus Gilchrist, Shareece Wright and Darrell Stuckey should have expanded roles as they get more comfortable in the Chargers defensive scheme. 
The biggest position battle this offseason will be at cornerback where Cason and Gilchrist will compete to see who will start the season opposite Quentin Jammer.  2010 was an outstanding season for Cason.  In his first year as a starter he snagged four interceptions and showed he could hang with some of the best pass catchers in the league.  In 2011 however, Cason struggled at times and was demoted in favor of rookie Marcus Gilchrist for a couple of games in the middle of the season.  Gilchrist showed promise logging four starts and tying Cason with two interceptions.  Both players will have something to prove but the stakes will be higher for Cason with a potential payday looming at season's end. 
Don't expect the Chargers to add any corners to the roster in 2012.  With five capable cover guys already under contract the team shouldn't need to address this position until 2013.
The Chargers are also set at free safety where veteran Eric Weddle continues to improve and is showing the league he is deserving of the large contract he received last offseason.  Weddle finished 2011 tied for the league lead with seven interceptions, was selected to his first Pro Bowl and was voted first-team All-Pro by the Associated Press.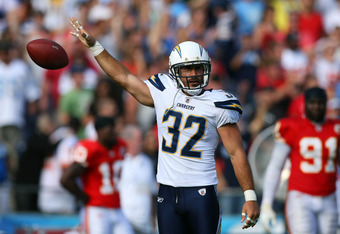 Donald Miralle/Getty Images
The other safeties in the group are Bob Sanders, Steve Gregory, Paul Oliver and Darrell Stuckey.  The Chargers hoped to squeeze the last bit of football life out of Bob Sanders and they did.  Unfortunately Sanders only had enough in the tank to get through the first two weeks of the season.  Sanders was placed on injured reserve ending his season and most likely his career. 
Gregory and Oliver are both free agents and while the Chargers value their versatility it's probable that one or both will be let go this offseason. 
Stuckey stood out on special teams last year and head coach Norv Turner said he expects Stuckey to compete for more playing time on defense in 2012. 
The biggest hole in the secondary is at strong safety.  The Chargers will look outside the organization to find the playmaking safety that has eluded them since the departure of Rodney Harrison in 2003. 
If the Chargers plan to add a safety through free agency there are several candidates including Washington's LaRon Landry and Atlanta's James Sanders.  Landry is still recovering from a torn Achilles tendon and James Sanders only started 15 games over the past two seasons with the Falcons and Patriots. 
The Chargers could look to draft players like Alabama's Mark Barron, Notre Dame's Harrison Smith or Kentucky's Winston Guy Jr.  Barron is considered a can't-miss prospect who should be able to start right away.  The Chargers would have a hard time passing up on him if he's available when they pick at 18.  If Barron is off the board or the Chargers decide to use their top pick on another position, Smith might be an option in the second round and Guy Jr. could be a possibility in the third round.