NHL Trade Rumors: 5 Reasons Cory Schneider Is the Guy for Vancouver Canucks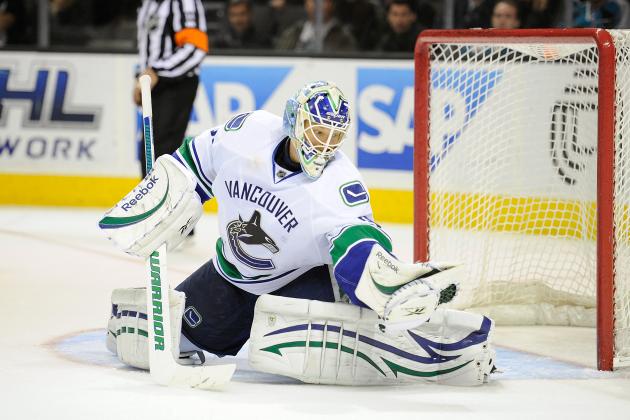 Thearon W. Henderson/Getty Images

With the Feb. 27 trade deadline just four days away, there are a few rumors circling around Vancouver Canucks backup Cory Schneider.
Most of the rumors don't have much traction, as they include significant salaries coming the other way—ones that the Canucks cannot afford to take on even if they wanted to.
While it's easy to dismiss the trade deadline speculation, there's no denying that a decision has to be made very soon.
As an upcoming restricted free agent, and a proven start-worthy goaltender, the Canucks will not be able to keep him and Roberto Luongo.
Given Luongo's contract, it's assumed that Schneider will be the one to go—most likely at the NHL entry draft—but that could be a mistake.
The following are five reasons why the Canucks should do everything they can to trade Luongo and re-sign Schneider.
Begin Slideshow

»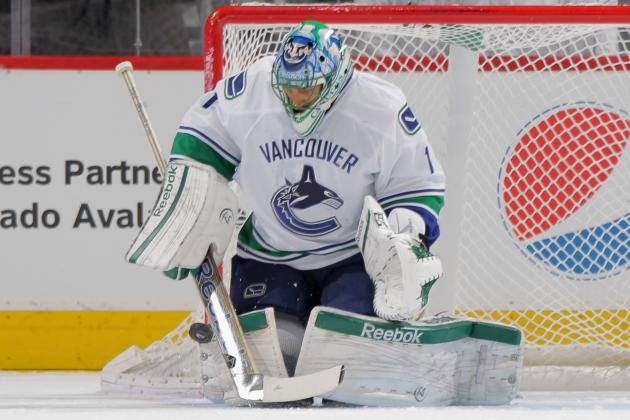 Doug Pensinger/Getty Images

There's no denying that if two players are equal in skill, the younger player is more valuable.
At just 25 years old and possibly not even in his prime yet, Cory Schneider has a long and successful career ahead of him.
Luongo, at 32, is not old by any means, but that is approximately seven fewer years the Canucks could rely on him in net in comparison to Schneider.
There's no telling when Luongo's age will impact his ability in net, but some NHL players have been known to start their decline at around 32 years old, while others could stay elite until they're 40.
If the Canucks trade Schneider away, they'd be taking a big gamble that Luongo can keep up his health and performance for the next 10 years.
With all else equal, Schneider is without a doubt the more valuable goalie in this situation.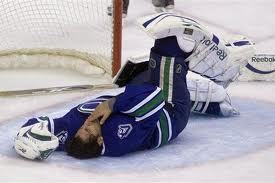 Earlier this season, Roberto Luongo missed five games due to an upper body injury.
In the '09/10 season, he missed a week with a hairline fracture of a rib.
In the '08/09 season, he missed 24 games with a groin injury.
In the '07/08 season, he missed four games with a bruised rib.
Don't get me wrong, he's no Rick DiPietro, but the history is there. No player with a history of annual injuries should be signed to a long-term contract. If this does become a problem, the Canucks could find themselves with an injury-prone goalie and no Cory Schneider.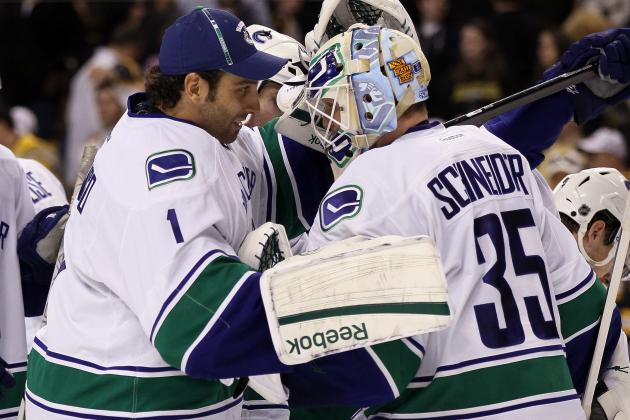 Elsa/Getty Images

Back in the first slide when I said "all else equal," you were probably thinking that was a pretty stupid thing to say. But, these two goaltenders' stats are pretty close to equal:
2011/12 Season
Record
Luongo: 25-11-6
Schneider: 13-5-0
Point Percentage

Luongo: .667
Schneider: .722
Goals-Against Average
Luongo: 2.32
Schneider: 2.25
Save Percentage

Luongo: .921
Schneider: .928
2010/11 Season
Record
Luongo: 38-15-7
Schneider: 16-4-2
Point Percentage

Luongo: .692
Schneider: .773
Goals-Against Average
Luongo: 2.11
Schneider: 2.23
Save Percentage

Luongo: .928
Schneider: .929
As you can see, not only are these numbers very close to equal, but Schneider actually has slightly better numbers in almost every column.
Don't get me wrong, this is not a knock on Roberto Luongo's regular-season stats, but rather showing that Schneider's stats are among the elite.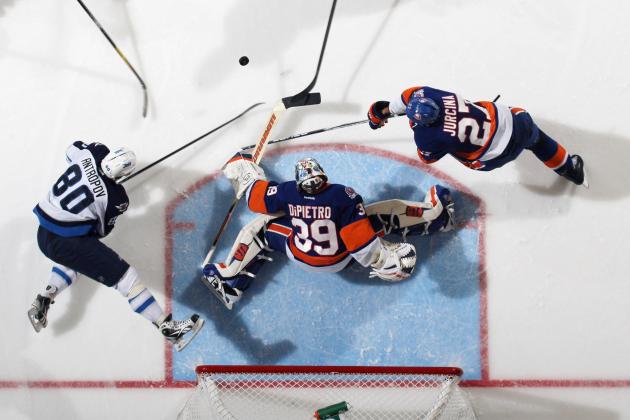 Bruce Bennett/Getty Images

Long contracts in the NHL are not a good idea. If you don't believe me, just ask Garth Snow how he likes paying Alexei Yashin and Rick DiPietro every year.
Of course, the New York Islanders' mistakes are a bit of an anomaly, but Alexander Ovechkin, Mike Richards, Vincent Lecavalier, Jeff Carter, Ilya Bryzgalov and Jaromir Jagr are among the names of contracts who have not worked out, or seemingly will not work out, as planned—and Luongo's name could be there too.
Luckily, Luongo has played well since signing the contract, keeping his trade value up. But it could be in the Canucks' best interest to trade him before the contract comes back to bite them.
If they do this, they could re-sign Cory Schneider, and do it right this time—to a shorter, less expensive contract.
Of course, eventually Schneider will likely be worth as much as Luongo is making, but as he's still on an entry-level contract, and has yet to play a full season as an NHL starter, it would be impossible for him to demand or expect that much following this season.
If he doesn't end up worth that much, the Canucks would be able to cut ties and let him hit the market—an option they don't have with Luongo.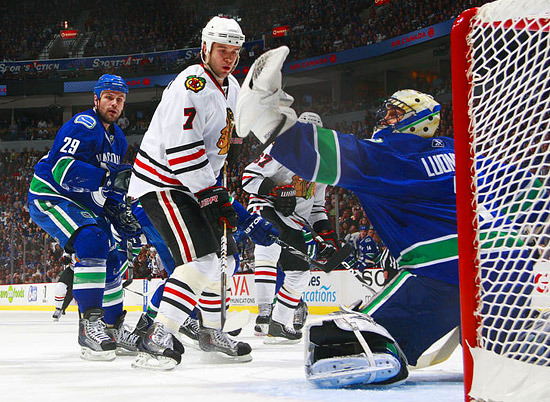 When it comes to this subject, there is no shortage of Luongo defenders. No, the Canucks didn't have enough offense in the finals against Boston, and yes, Luongo did play great in some playoff games.
But when you're playing a position that can completely control the outcome of the game, and you're considered one of the best in the league, playing great in one game does not excuse allowing eight goals in the next.
Ever since Luongo allowed the weak, double-overtime, series-ending goal against Anaheim in his first year with the Canucks, Luongo has not had playoff consistency.
There isn't a Canucks fan out there who won't get butterflies if the Canucks have to face Chicago, Dustin Byfuglien or the Boston Bruins this spring.
If the Canucks trade Cory Schneider, they're putting all their faith in Luongo's abilities in the playoffs, and with three straight questionable postseason performances, that's a risky bet to make.