Kansas City Chiefs Free Agency: Tracking 2012 Signings, Targets and Rumors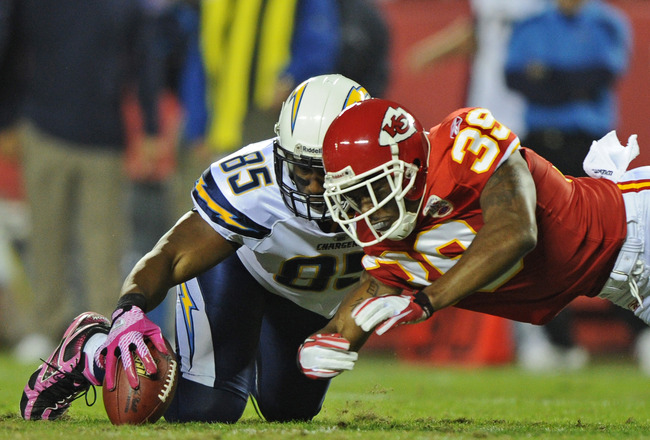 Peter Aiken/Getty Images
Last season was a roller-coaster ride for the Kansas City Chiefs organization.
In one year, they saw three of their star players participate in just three games combined, changed head coaches and came up a field goal short of repeating as AFC West Division champs.
With the '11 campaign now behind us, it's time to look forward to the upcoming free-agency period and what's in store for the Chiefs in next month's NFL draft.
In the following slides, I will be discussing everything from the team's salary cap status to players to keep an eye on for the draft. Hopefully the Chiefs will push the right buttons over the next few weeks in order to get themselves back on track in 2012.
Tracking Free Agent Signings, Re-Signings and Roster Moves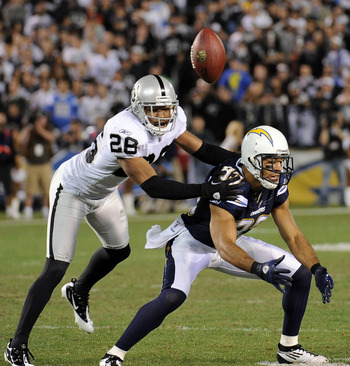 Harry How/Getty Images
The Chiefs have made several low-key signings so far, with their biggest addition being ex-Raiders cornerback Stanford Routt. I expect the signings and rumor mill to heat up over the next few weeks as we get closer to the start of the '12 NFL free-agency period.
April 4, 2012: The Kansas City Chiefs have re-signed free agent CB Travis Daniels to a one-year deal.
Daniels will be heading into his eighth year in the league, with this season being his fourth with Kansas City. He will provide quality depth at corner-back, considering that he can come of the bench and contribute in the secondary and on special teams as well, as he has showed the last three years with KC.
March 22, 2012: The Kansas City Chiefs have signed RFA Jovan Belcher to a one-year deal and have placed a second round tender on the inside linebacker.
Belcher has started 34 games at his ILB spot for KC over the last three seasons and figures to be a candidate to start again in 2012 after signing this recent tender.
March 17, 2012: The Kansas City Chiefs have signed free agent QB Brady Quinn to a one-year deal. The financial terms of Quinn's deal have yet to be released to the media as of this time.
The former Notre Dame star has made stops in Cleveland and Denver during his five-year tenure in the NFL. Other than one season, he has mainly been a backup QB and hasn't seen the field at all since 2009. He will give quarterback Matt Cassel competition, but he isn't likely to unseat him the Pro-Bowl as the starting QB on this team next season.
Earlier in the day, the Kansas City Chiefs also signed free agent RT Eric Winston to a four year, $22 million deal. Winston had started 87 straight games a member of the Houston Texans, and and is currently one of the premiers players at his position in the league.
He should come in and immediately start at right tackle for the Chiefs, as he provides a massive upgrade over last year's starter Barry Richardson. With Winston on the field, KC will instantly have a much better offensive line and his presence should really help Matt Cassel and Kansas City's running game, since Cassel should have more time in the pocket and Chiefs' backs will have bigger lanes to run through when they are running behind him next season.
March 15, 2012: The Kansas City Chiefs have signed free agent TE Kevin Boss to a three-year deal worth $9 million. Boss played his first four NFL seasons as a member of the Giants before going to Oakland for a one-year stint last year.
With the addition of Boss, it appears that the Chiefs are very serious about upgrading their offense this offseason. He will likely add more depth to the tight end position, and could be utilized very well in two TE sets with talented third-year tight end Tony Moeaki. The former Western Oregon star should give QB Matt Cassel another weapon on offense in 2012.
March 14, 2012: The Kansas City Chiefs have signed free agent RB Peyton Hillis to a one-year deal worth $3 million. Hillis played for the Cleveland Browns for the past two seasons and rushed for 1,177 yards back in 2010.
Hillis' signing marks the first signing for KC since the FA period began on Tuesday. He will bring an extra dimension to the Chiefs' running game that has been missing the past few seasons. With star RB Jamaal Charles set to return to the team next season, I look for Hillis to be his primary backup and to get many touches in both short yardage and goal-line situations for Kansas City's offense in 2012.
March 12, 2012: The Kansas City Chiefs have re-signed veteran DE Amon Gordon to a 2-year deal. Gordon started started two games for Kansas City last season.
The move likely came because Gordon had by far the best season of his five-year NFL career. The ex-Seahawk picked up 23 tackles and two sacks for KC, and was able to convince the Chiefs brass that he still has something left in the tank even at 30 years of age. I expect Gordon to continue to make an impact in the DL rotation for Kansas City's defense next season.
March 6, 2012: The Kansas City Chiefs released LB Demorrio Williams. Williams played four seasons in KC, after beginning his career with the Atlanta Falcons.
His release was not a surprise as the Chiefs are deep at linebacker right now, and Williams was unable to make an impact at ILB over the past two seasons, thanks to the emergence of Derrick Johnson. The former Nebraska Cornhusker should only be considered for a backup role or on special teams by other squads at this point in his career.
March 5, 2012: Chiefs' beat writer Adam Teicher is reporting that the Chiefs have franchised wide receiver Dwayne Bowe. The tag will be worth about $9.5 million for the year according to the report.
The tag was expected for Bowe, as it gives KC more time to work out a long-term deal with their star receiver. However, there's always some uncertainty with a one-year deal and it's not out of the question that the Chiefs could elect to trade him later this offseason if they can get an offer that they can't refuse.
Feb. 29, 2012: The Kansas City Chiefs signed free agent WR Zeke Markshausen. The former Northwestern Wildcat was in Chiefs camp last year before being signed to the team's practice squad.
Similar to free agent cornerback Jacques Reeves, who was signed last week, Markshausen is just another player that will likely be used as camp fodder later this year.
Feb. 25, 2012: Kansas City Chiefs head coach Romeo Crennel indicated KC would be crazy to not consider potential free agent Peyton Manning if he is available.
Feb. 24, 2012: The Kansas City Chiefs signed free agent CB Jacques Reeves. The Lancaster, Texas native has played for both the Houston Texans and Dallas Cowboys in the past.
At this point, he doesn't appear to be anything more than camp fodder for this team.
Feb. 20, 2012: The Kansas City Chiefs sign free agent CB Stanford Routt to a four-year, $20 million contract. Routt played his first seven seasons with the Oakland Raiders, where he started a total of 53 games for the silver and black.
The 6'1", 195-pound defensive back projects as a starter for KC next season if it is unable to retain incumbent starting CB Brandon Carr.
Feb. 14, 2012: The Kansas City Chiefs signed free agent S Kyle McCarthy. He previously played for the Denver Broncos and mainly was used on special teams for Denver.
His signing creates more depth at the safety position for KC next season, and he is a capable player on special teams as well.
Feb. 9, 2012: The Kansas City Chiefs re-signed TE Jake O'Connell to a one-year deal. O'Connell was a seventh round pick of the Chiefs back in '09 and caught only seven passes for 52 yards last year. For his career, he has amassed 12 receptions for 90 yards in three NFL seasons.
He projects to be nothing more than a situational TE for KC next season.
Salary Cap Status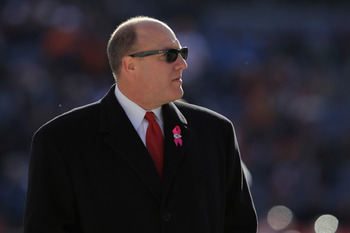 Doug Pensinger/Getty Images
Chiefs' 2012 cap room
According to Spotrac, one of the best sites out there for sports contracts, the Chiefs currently have $93,549,373 worth of contracts that will count against the '12 NFL salary cap. With the NFL salary cap projected to be around $125 million after inflation, this leaves KC about $37 million under the cap.
KC is in much better shape than many other teams as far as money to spend on future free agents is concerned, considering it doesn't have too many key players it needs to re-sign this offseason. After the recent signing of free agent CB Stanford Routt, it's a good possibility the Chiefs will be more aggressive in free agency this year.
Problematic cap hits
It's no surprise that DE Tyson Jackson's contract is a problematic cap hit. Next year, he will be making $2.5 million and is slated to make $3.2 million in 2013. This wouldn't be such an issue if Jackson would have been an impact player in each of his first three seasons in the league. However, he has only played well last season, which makes him one the most overpaid players on the team.
Another player that sticks out to me is Jackson's college teammate Glenn Dorsey. Dorsey was drafted by KC back in '08 partly because of his pass-rushing ability, but he has only picked up four sacks in as many seasons with the Chiefs. He is supposed to bring in nearly $5.6 million next season, which is way too much money for the production that Kansas City has received from him over the past few seasons.
Matt Cassel also makes the cut for this list, mainly for the same reasons as the previous two players. In 2012, the ex-Patriot's cap hit will be nearly $5.5 million, which is too high for a player that has only provided one good season in his three years as the team's starting quarterback.
Value contracts
The best value contract that the Chiefs have on their current roster is Kendrick Lewis. Lewis played at a Pro Bowl-caliber level in 2011 and has given KC two solid seasons at his safety position. The former fifth-round pick is due to make only $490,00, which makes him an excellent value for how productive he has been for this team.

Breaking Down Last Year's Holes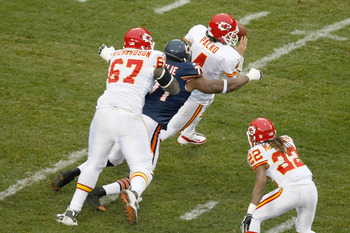 Scott Boehm/Getty Images
The Chiefs had many holes on their roster last year, but part of this was because they lost three of their star players to injury near the start of the season. Although they will likely get these key players back next year, KC still has many holes to fill from last season.
Right tackle
This a position the Chiefs have struggled at for years. Over the past two seasons, they have tried to plug in former fifth-round pick Barry Richardson at that spot, and it turned out to be a disaster last season.
Richardson graded out as one of the worst starting right tackles in the league, as he struggled both in run blocking and pass protection. Finding an adequate replacement for Richardson should be one of the top priorities for this team over the next few weeks.
Left guard
Even though the right tackle position was clearly the worst spot on KC's offensive line last season, left guard wasn't too far behind. Veteran Ryan Lilja manned the position last year for the Chiefs and, like his teammate Barry Richardson, he graded out as one of the worst players at that spot in the league.
It appears the Colts knew something that the Chiefs didn't know when they released him last year, and Kansas City needs to find a replacement for him sooner rather than later.

Defensive tackle
Last year, Kansas City elected to go with veteran Kelly Gregg as a stop-gap DT for a season. Gregg had a decent season, but he's also 35 and will likely not be retained this offseason. With second-year man Jerrell Powe and journeyman Anthony Toribio listed as the only two defensive tackles under contract, the Chiefs will have no choice but to go out and get someone to plug the middle of their defensive line for next season.
Running back

When Pro Bowl RB Jamaal Charles went down in Week 2 of last season with an ACL injury, you just knew it was going to be a tough season for the Chiefs at the running back position. Jackie Battle, Thomas Jones and Dexter McCluster all showed flashes of greatness in '11, but KC should clear up this hole when Charles returns this year.
Quarterback
For years, the QB position has been a constant revolving door for the Chiefs. Last season, KC used three different quarterbacks and, for the most part, saw horrid play from that position once again. There's a good chance the Chiefs will bring back Matt Cassel this season and choose to not re-sign Kyle Orton, but they should strongly consider taking a QB in the draft regardless of if they are able to land Peyton Manning in the next couple weeks.
Inside linebacker
Some of you might take a double take when seeing this position on here because the Chiefs already have one of the best ILBs in the league in Derrick Johnson. However, I am obviously referring to the man that plays next to him, Jovan Belcher. Belcher racks up a lot of tackles but doesn't give his defense many big plays and he easily could be replaced this offseason. That being said, the inside linebacker is not a huge hole for the Chiefs going forward.
Tight end
Last season, the Chiefs were almost immediately hit with some back luck at the tight end position. Second-year TE Tony Moeaki went down with a season-ending ACL injury in the last game of the preseason, which left a giant hole in that spot for the entire season. Veteran Leonard Pope had a few nice plays while filling in for Moeaki, but overall, tight end was one of the biggest holes on the Chiefs' offense in 2011.
Safety
The Chiefs had a hole at safety last year mainly because star safety Eric Berry was only for nearly the entire year with a torn ACL. With Berry back in the fold in 2012, I expect this position to be on of the team's strengths when you consider that he will be paired with the talented Kendrick Lewis in KC's defensive backfield.
Listing the Chiefs' 2012 Free Agents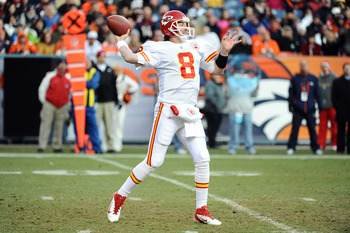 Garrett Ellwood/Getty Images
Spotrac lists the following Chiefs players as unrestricted free agents (UFAs). These players will be able to negotiate with other NFL teams unless KC can agree to new contracts with them before March 13.
QB Kyle Orton
TE Leonard Pope
WR Dwayne Bowe Update: Chiefs' beat writer Adam Teicher is reporting that the Chiefs have franchised wide receiver Dwayne Bowe. The tag will be worth about $9.5 million for the year according to the report.
OT Barry Richardson
DE Wallace Gilberry
RB Thomas Jones
TE Anthony Becht
DT Kelly Gregg
FB Le'Ron McClain
WR Jerheme Urban
S Jon McGraw
CB Brandon Carr
C Casey Wiegmann
RB Jackie Battle
The following players are listed as restricted free agents. This means the Chiefs can offer them a one-year tender, which could also be matched with draft picks from any other teams that would be interested in these RFAs.
An approximate $2.61 million tender equates to first-round compensation, an approximate $1.84 million tender qualifies for second-round consideration and the lowest base tender of approximately $1.26 million requires matching the RFA's original draft pick.
CB Reshard Langford
LB Jovan Belcher
Determining Contract Value and Worth for Every KC Free Agent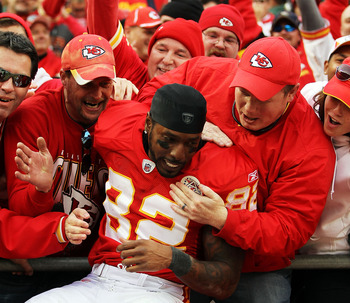 Jamie Squire/Getty Images
After reviewing the Chiefs' 2012 free agents, it's clear there is some talent on this list. When there's talent, there are also bigger salaries those players will demand from season to season. Wideout Dwayne Bowe is obviously the best player on this list, with CB Brandon Carr and QB Kyle Orton not too far behind him, and they could both get paid handsomely if KC decides to re-sign them this offseason. Many of the other players are either role players and will not demand as much money as the previous three.
I have predicted each of the Chiefs' free agents contract value for the '12-13 season below. Remember, this number is just an estimate.
QB Kyle Orton: $8 million (estimated)
Toward the end of last season, the Chiefs signed Orton off waivers from the Broncos and are trying to retain him this offseason. KC won't want to pay him anywhere near the salary it has given Matt Cassel, so I see $8 million as a strong possibility for him.
TE Leonard Pope: $700,000 (estimated)
Last year, Pope made $630,000 for catching just 24 passes and scoring one touchdown all season. If KC decided to bring him back, I don't see him getting much of a pay increase from the Chiefs to be a backup TE to Tony Moeaki next season.

WR Dwayne Bowe: $10 million (estimated)
Right now, it's hard to tell if Bowe will be franchised by the Chiefs, or if they will be able to re-sign him to a long-term deal. If he is tagged, he will likely make more than my estimate, but if he is signed to a bigger contract, I could see the former LSU star getting a four-year deal around $40 million from GM Scott Pioli and Co.
OT Barry Richardson: $1.5 million (estimated)
I see Richardson taking a pay cut this year mainly because he will likely be a backup on this team. Heck, $1.5 million isn't a bad salary for a non-starter.

DE Wallace Gilberry: $1.5 million (estimated)
Gilberry took a big step back last season when he only produced 2.5 sacks from his defensive end position. Suddenly, he is staring at a pay decrease rather than a big payday this offseason if the Chiefs elect to hang on to him.

RB Thomas Jones: $1 million (estimated)
The 33-year-old running back had one of the worst seasons of his NFL career last year and is hardly a serviceable backup these days. If KC retains him, it will be because of his influence in the locker room and he will likely get the ball in only short-yardage situations.

TE Anthony Becht: $925,000 (estimated)
Two years ago, Becht had a salary of nearly $1 million as a member of the Arizona Cardinals. Sadly, he will likely never reach that salary again in the NFL, even if the Chiefs re-sign him and expect him to contribute to their offense next season.

DT Kelly Gregg: $1.5 million (estimated)
Gregg played sparingly as the team's starting defensive tackle last season, but his days as an NFL starter might be over. If KC were to re-sign him, it would be in more of a backup/mentor role.

FB Le'Ron McClain: $2.5 million (estimated)
Last offseason, the Chiefs signed former Baltimore Raven Le'Ron McClain to be their starting fullback. After a solid first year with the team, he is due a bigger payday in 2012, especially since Pro Bowl FBs are at a premium in today's NFL.

WR Jerheme Urban: $810,000 (estimated)
Last year, wideout Jerheme Urban made $640,000 for keeping the bench warm for most of the season. He has never been able to find much playing time as a member of the Chiefs, and his future with this team and as an NFL receiver in severely in jeopardy right now.

S Jon McGraw: $825,000 (estimated)
The former second-round pick made just $810,000 last year as a Chief. With Eric Berry making his return this season, I look for the Chiefs to elect to bring back McGraw, since he will provide depth at the safety position and is still a solid special teams player.

CB Brandon Carr: $10 million (estimated)
Carr is one of the more underrated cornerbacks in the league and has stepped up his overall level of play in each of the past two seasons for KC. Since he plays at a premium position on defense, he could easily be making $10 million next season.

C Casey Wiegmann: $1 million (estimated)
At this point, all signs point to Weigmann retiring later this offseason. If he decides to come back for his 18th NFL season, there's a good chance he would serve as second-year center Rodney Hudson's backup.

RB Jackie Battle: $700,000 (estimated)
Battle got his chance to show the Chiefs that he could be their featured back last season and he didn't deliver. KC could bring him back to use him on special teams and in a limited role on offense for the '12 season if Battle agrees to it.

CB Reshard Langford: $625,000 (estimated)

Langford did not earn much of his $480,000 salary last season when he was getting beat in coverage and not making any plays on defense for the Chiefs. If KC were to bring him back, it would certainly be for around the league minimum.

LB Jovan Belcher: $700,000 (estimated)
Similar to other Chiefs' free agents on this list, I believe Belcher will be brought back for depth purposes. The only reason why I see his contract amount going up is because he had one of the smallest salaries on Kansas City's roster last season, and I still see him contributing to the team in some capacity in 2012.

Projecting Which Free Agents Will Be Re-Signed and Which Will Walk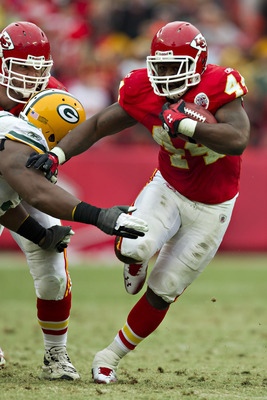 Wesley Hitt/Getty Images
Obviously, the Chiefs will have many decisions to make regarding the future of their 2012 free agents in the next couple weeks. Fortunately for KC, the Chiefs don't have to worry about re-signing many of their core players since they have already locked up guys like Jamaal Charles, Derrick Johnson, Tamba Hali and Brandon Flowers over the past two years.
Here are my predictions for which Chiefs' free agents will be re-signed and who will walk.
Kyle Orton: Released
Orton did a great job in his three-game stint with the Chiefs at the end of last season. However, he wants to go to a team where he is certain that he will be the starter, and that doesn't appear to be Kansas City with Matt Cassel still on the roster.

Leonard Pope: Released
In his three seasons with the Chiefs, Pope hasn't shown enough to give KC a reason to re-sign him. Although he filled in nicely for starter Tony Moeaki last season, I see Pope's days as a Chief coming to an end soon.

Dwayne Bowe:
Chiefs' beat writer Adam Teicher is reporting that the Chiefs have franchised wide receiver Dwayne Bowe. The tag will be worth about $9.5 million for the year according to the report.
Estimated contract: 4 years, $45 million

Barry Richardson: Re-Signed
I could see how many would think Richardson shouldn't be retained this offseason because of how poorly he has played at RT for the Chiefs in each of the last to seasons. However, Kansas City still does not possess much depth at either of the tackle positions and he could be a decent backup on this offensive line for next year and beyond.
Estimated contract: 1 year, $1.5 million

Wallace Gilberry: Released
The University of Alabama product showed a ton of promise when he racked up seven sacks back in 2010. However, he managed only 2.5 last season and KC doesn't need to bring him back when it already seems to have better options at that position.

Thomas Jones: Released/Retired
After rushing for an anemic 3.1 yards per carry last season, Jones' days as an NFL running back are likely over. The Chiefs will likely go after a RB in either free agency or the draft to replace the 12-year veteran.

Anthony Becht: Released
Becht was mainly brought in last season to help out at the tight end position for the short term. There is no room on the roster for the former first-rounder going forward.

Kelly Gregg: Released/Retired
Gregg played well at times in his first year with the Chiefs in 2011. However, he will be 36 later this year and he could easily retire. Plus, KC clearly needs to get younger at the defensive tackle position.

Le'Ron McClain: Re-Signed
The ex-Raven did a solid job last season as the team's fullback. Although he didn't get as much action in games as the Chiefs probably would have liked, he showed he is a good leader and deserves to be retained since he is one of the better FBs in the AFC right now.
Estimated contract: 3 years, $8 million

Jerheme Urban: Released
Urban was brought in to help the Chiefs WR corps, but he has failed to do so in his two seasons with the team. The former Arizona Cardinal has just four catches for 35 yards and a touchdown during that span, which is grounds for termination.

Jon McGraw: Re-Signed
At 32 years old, McGraw's value as an NFL safety has certainly declined. That being said, he is still a good player to have on special teams and for depth in the secondary going forward, which gives the Chiefs enough reasons to bring him back to Kansas City next year.
Estimated contract: 1 year, $700,000
Brandon Carr: Released
As much as I would like the Chiefs to keep Carr, I just don't see it happening. Now that Kansas City has signed free agent CB Stanford Routt, I don't see any way the Chiefs would give Carr a big contract when they already have another starting cornerback on the team.

Casey Wiegmann: Released/Retired
Wiegmann has been considering retirement for awhile now, and I think that he will actually retire this offseason. The Chiefs are fully prepared for his departure, as they have already drafted C Rodney Hudson to take over for him next season.

Jackie Battle: Released
Battle finally got his chance to shine in '11 when star RB Jamaal Charles went down with an ACL injury in Week 2.. Unfortunately, the former Houston Cougar was unable to take advantage of his opportunity and he is clearly too slow at the RB position for KC to keep him around for another season.

Reshard Langford: Released
Langford doesn't deserve a roster spot with this team in 2012 after repeatedly getting burned in coverage when he came in the game last season. There's always a chance they could keep him for depth purposes, but I think it's time the Chiefs cut ties with him for good.

Jovan Belcher: Re-Signed
Belcher was easily the worst starter among the Chiefs' linebacking corps last season. He could easily lose his starting job for next season, but he should be brought back by KC because he still has some upside and could be a quality backup for this team in the future.
Estimated contract: 1 year, $700,000

Projecting the Chiefs' Cap Space After Re-Signings
Jamie Squire/Getty Images
Available cap space (projected): $20 million
After all the re-signings are completed, the Chiefs will have a projected $20 million to spend on free agency and the draft. This might seem like a lot of money, but it really isn't that much when you figure how expensive NFL contracts can be today.
This will give KC enough cap space to sign at least one or two top-tier free agents after the FA period begins on March 13. However, the Chiefs will have to be very conservative about anyone else they wish to sign in free agency this year considering they will have the draft to contend with in April.

Biggest Needs After Re-Signings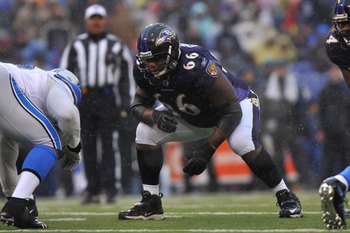 Larry French/Getty Images
Right tackle
Even if the Chiefs decide to bring back fifth-year RT Barry Richardson, they still have a gaping hole on the right side of their offensive line for next season. Richardson will likely provide depth at that position, as KC will presumably go out and either sign a free agent or draft a player to groom as its future right tackle.

Left guard
Kansas City took a risk last year when it decided to release Pro Bowl LG Brian Waters. In the end, the move paved the way for young right guard Jon Asamoah to be thrust into the starting lineup, but it also downgraded the Chiefs at left guard since they went with the struggling Ryan Lilja for nearly the entire year. There is no question in my mind that the Chiefs brass is looking for a new left guard in any way that they can get one this offseason.
Defensive tackle
With Kelly Gregg more likely to retire than to be re-signed by the Chiefs this offseason, the team will have no choice but to address the defensive tackle position over the next few weeks. Second-year man Jerrell Powe doesn't seem to be ready to take over yet at that position considering that he only appeared in one game last season. It's important KC gets a solid player to fill this spot since the DT is usually the anchor of a classic 3-4 defensive scheme.

Backup RB
After watching him play last season, it's a fair assumption to say that 12-year vet Thomas Jones will not be back as Kansas City's backup running back. The question becomes, who will the Chiefs target to take over for him in 2012? With Pro Bowl RB Jamaal Charles coming back from injury and KC likely adding a new back this offseason to complement him, this running game could easily start off where Charles left it back in 2010.

Quarterback
Since the Chiefs are not likely to re-sign Kyle Orton, there is a very good chance that Matt Cassel will be the presumed starter heading into free agency if they lose out on the Peyton Manning sweepstakes. With Cassel as their starter, this gives KC another hole on its offense. The Red and Gold will have a young and talented offense in 2012, but unless they can get a much better option than Cassel, their quarterback position will be holding them back from reaching their maximum potential.
Inside linebacker
Even though I predicted the Chiefs will likely re-sign ILB Jovan Belcher, that doesn't make them any better off at the spot opposite Derrick Johnson next season. With not too many viable ILB options in free agency this year, look for them to go after a linebacker in the draft next month.

Identifying Potential Free Agents the Chiefs Could Sign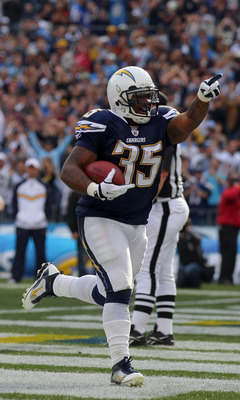 Donald Miralle/Getty Images
Right tackle
This is a position that I believe the Chiefs are more likely to address in the draft considering there will be several solid RT prospects in this year's draft class. Of course, they could always take a chance and try to bring back former Chief Jared Gaither, as there will be little else as far as free agent right tackles this year.
Left Guard
If KC decides to roll with Ryan Lilja at left guard for the '12 season, the Chiefs offense will be in trouble this year. There are a handful of free agent guards that could fill his role, but Saints' LG Carl Nicks and Ravens' LG Ben Grubbs are the two that stick out to me the most. Both are talented, less than 28 years old and could provide some stability for KC at a position that has been lacking that for years.

Defensive tackle
The Chiefs are one of many teams that will head into free agency this year in need of a solid DT for the middle of their defensive line. KC could be in luck because it could have its man in Miami's Paul Soliai. He is 6'4, 355 lbs. and a force from the nose tackle position. Ex-Cleveland Brown Shaun Rogers could be a good fit as well.

Backup RB
This is yet another position where the Chiefs might just opt to draft a player in April. However, there are two free agent running backs from the AFC West that might end up being a better partner in crime to Jamaal Charles than any rookie next season. I'm talking about San Diego's Mike Tolbert and Oakland's Michael Bush, both of whom are the bigger type of back that KC needs to complete a balanced ground attack.

Quarterback
There is little doubt that the Chiefs will pick up a new QB this offseason, but the question still remains if they will try to fill that need with a free agent. Unfortunately, there will not be many top-tier signal-callers on the market this year for KC to go after. As of now, the Chiefs' best shot at landing a quality QB before the draft could be signing possible free agent Peyton Manning if the Colts release him in the next few days.
Projecting Contract Values for Chiefs' Free Agent Targets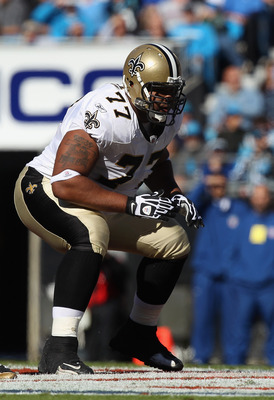 Streeter Lecka/Getty Images
Here is the list of potential free agents that the Chiefs are most likely to target when the free agency period begins on March 13.
LG Carl Nicks: 5 years, $35 million
Saints' guard Carl Nicks is arguably the best free agent OL that will hit the market this year. The 26-year-old will likely command a big contract after making the Pro Bowl in each of the past two seasons. If the Chiefs can land him, his addition would help lock down the left guard position on the Chiefs' offensive line for years.

LG Ben Grubbs: 5 years, $35 million
If Carl Nicks is the best left guard in this year's free agent class, then Baltimore's Ben Grubbs is not too far behind him. The former Auburn star might be a year older than Nicks, but he has seemingly played better every season he has been in the league and was named to his first Pro Bowl last season. He is due for a big contract and the Chiefs will have to be willing to shell out some money to this talented guard.

DT Paul Soliai: 4 years, $28 million
Soliai is one of the best defensive tackles in the AFC and would be the youngest of these three options at just 28 years old. However, this will likely mean that there will be a higher demand for him on the market, which will force the Chiefs to pay him around $7 million a year.

DT Shaun Rogers: 2 years, $6 million
Rogers has been linked to the Chiefs in the past, mainly because of his connection with head coach Romeo Crennel when they were both with the Browns organization. After playing out his one-year contract with the Saints, KC could nab Rogers in free agency for a cheaper, more cap-friendly deal.

RB Mike Tolbert: 2 years, $5 million
For the second straight year, Chargers RB Mike Tolbert will be up for free agency. Last season Tolbert earned just over $1.8 million with San Diego and he could come at a bargain for a team like the Chiefs. Not to mention, he would look great with Jamaal Charles in the Kansas City backfield.

RB Michael Bush: 2 years, $10 million
Last year, Bush proved he can be a featured back for a team as he ran for nearly 1,000 yards for the Raiders' ground attack. There's a good chance he will be clamoring for a much bigger contract than his current one-year, $2.6 million deal. If KC could get either Bush or Tolbert this offseason, it wouldn't have to spend a draft pick on a running back in April.

QB Peyton Manning: 4 years, $60 million
If and when the Colts decide to release quarterback Peyton Manning, he would become the most sought-after NFL free agent in a long time. The four-time MVP's last contract was a five-year deal for $90 million from Indianapolis, and it's almost a certainty KC would have to offer around $15 million a year to have any shot at acquiring the future Hall of Fame QB.

Analyzing the Chiefs' Draft Strategy, Positions of Need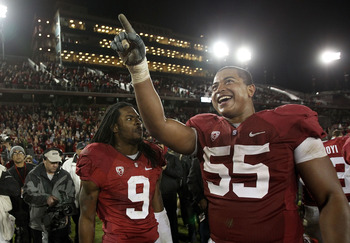 Ezra Shaw/Getty Images
Heading into April's draft, the Chiefs' draft strategy will likely not deviate from that of the past three years. Kansas City GM Scott Pioli seems to pride himself on going after players that are either team captains or are high-character players.
That being said, he did take a couple chances toward the beginning of last year's draft when he selected wideout Jonathan Baldwin and linebacker Justin Houston, both of whom had character concerns. I expect Pioli and his staff to take a chance on a player or two once again this year but take mostly high-character players in the rest of the draft.
Obviously, the Chiefs' positions of need for the draft will depend on what they do in free agency this year. If they aren't able to add another QB or RT in free agency, I expect them to go with Stanford's Jonathan Martin in the first round and possibly take a quarterback later in the draft. Other than those two positions, I see them taking at least one interior lineman, an inside linebacker and another skill player on offense in this draft as well.
Draft Names to Keep an Eye on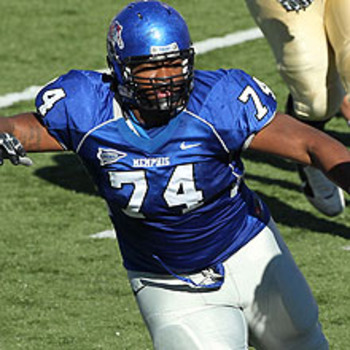 Offensive tackle
Zebrie Sanders: Sanders is the prototypical Scott Pioli offensive lineman. He is big, athletic and, most importantly, versatile. He projects to be a right tackle at the next level, but could also play left tackle as well.

Offensive Guard
David DeCastro: Stanford's David DeCastro could be a viable option in the first round if the Chiefs like him enough to take him that high. He seems to be the most NFL-ready out of any of the guards in this year's class and he could start right away for Kansas City if it were to land him in April.

Quarterback
Nick Foles: Although there are a handful of QBs to keep an eye on in this draft for the Chiefs, Arizona's Nick Foles stands out to me the most. At 6'5, he already has perfect size for that position and he possesses one of the best arms out of any signal-caller in his draft class.

Defensive tackle
Dontari Poe: Many scouts believe Poe might the first DT tackle off the board in April's draft. He already has NFL size for that position at 6'5, 350 lbs. and seems to get off the line very quick for a man his size. I think he could be there in the second round for the Chiefs to select their defensive tackle of the future.

Inside linebacker
Audie Cole: The NC State product seems like another prototypical Scott Pioli draft pick. He plays hard, is very instinctive, has a high football IQ and would be able to free up Pro Bowl ILB Derrick Johnson to make even more big plays for this defense in the future.

Running back
Terrance Ganaway: If the Chiefs opt to not sign a RB in free agency, Baylor's Terrance Ganaway could be a viable option for this offense. He is decent size at 6'0", 240 lbs. to complement the speedy Jamaal Charles in the KC ground game.

Keep Reading

Kansas City Chiefs: Like this team?