Oregon Football vs. USC: 7 Reasons Why 2012 Ducks Will Play Better at Troy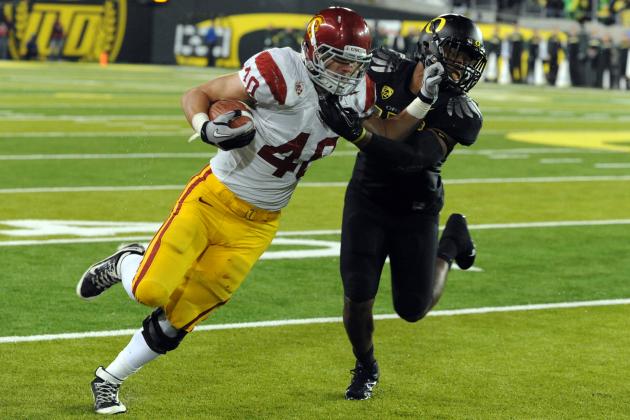 Steve Dykes/Getty Images

Last November, the Oregon Ducks fell to the USC Trojans 38-35 for their first conference loss in two years. The Trojans played a great game at Autzen Stadium and bullied the Ducks for three quarters until Oregon's desperate rally fell short.
There are just over eight months until the teams clash again at the Los Angeles Memorial Coliseum, which is expected to be the game of the year out west, if not in all of college football. Many pundits have already pegged the Trojans as one of the favorites to win the BCS National Championship behind quarterback Matt Barkley and nine returning starters on both offense and defense.
But the Ducks are the three-time defending Pac-12 champions and have designs of their own to crash the BCS title game. Duck fans carry optimism following a Rose Bowl win and with Oregon's recent status as a national contender.
So why is there a sense that Oregon will be much improved in their next encounter against an even more powerful USC squad?
Here are seven reasons:
Begin Slideshow

»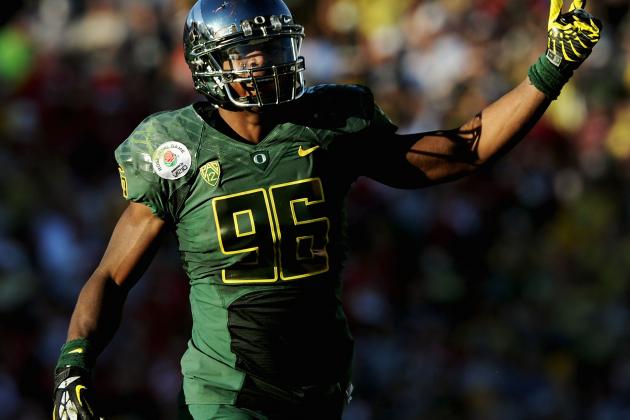 Harry How/Getty Images
Oregon's best pass rusher, DE Dion Jordan, hopes to be healthy.
One of the key factors in Oregon's victory at Stanford was their ability to pressure quarterback Andrew Luck. This part of Oregon's defense was prominently absent versus USC after Dion Jordan and Dewitt Stuckey left the game with injuries in the first quarter.
This decimated the defensive line pressure and forced the Ducks to play Brandon Hanna and Kiko Alonso nearly all game without their regular rotation.
Oregon is looking to add highly-touted freshman Arik Armstead into the mix. His athleticism could be a big boost in helping to disrupt the timing and coordination of the USC passing game.
Health and talent should provide greater flexibility and pressure for defensive coordinator Nick Aliotti.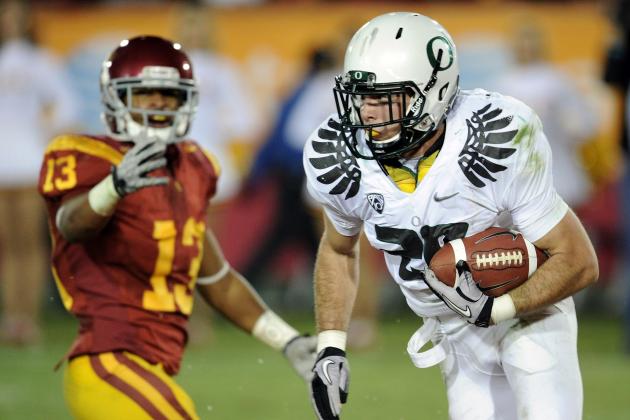 Harry How/Getty Images
Safety John Boyett has had a lot of experience against the Trojans.
Last year, USC quarterback Matt Barkley teamed with wide receivers Marquise Lee and Robert Woods in torching the Ducks' secondary. Lee was the primary target as Woods gamely played his way through injuries.
Next year, the Trojans may look to pass even more, which is the bread and butter for most Pac-12 teams.
Oregon's secondary included freshmen Troy Hill, Ifo-Ekpre Olomu and Terrance Mitchell. Though they improved greatly during the season they experienced growing pains against USC's talented receivers. Next year they will all be seasoned and ready for prime time.
Senior John Boyett, who had an interception in their last meeting, is expected to lead their improved squad. He will also provide hard-hitting, toughness and the kind of attitude the secondary needs to fight through the adversity of a big game.
Incoming 2012 recruits Reggie Daniels, Oshay Dunmore and brothers Arik and Stephen Amoako, could also be pressed into duty if their talent and readiness are needed to give the Ducks more coverage.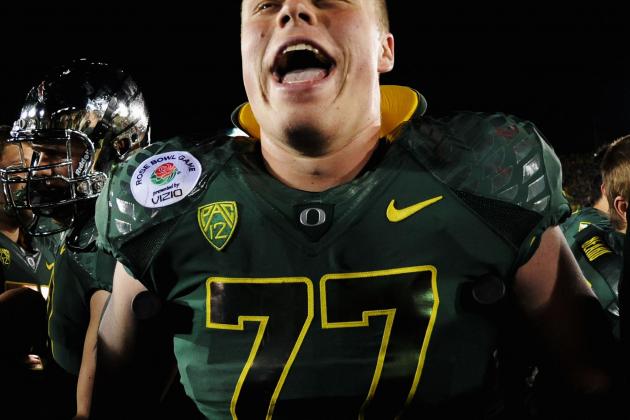 Harry How/Getty Images
Left Guard Carson York is expected to be healthy next season.
For most of their last encounter, the Trojans' defensive line quickly penetrated the Ducks' offensive line. Consequently, the Ducks struggled to open holes for LaMichael James and Darron Thomas was pressured into quick decisions.
The Ducks do lose Darrion Weems and Mark Asper, but bring back plenty of experience with center Hroniss Grasu, Nick Cody, Jake Fisher and others.
Newcomer and highly-rated Kyle Long will likely play left tackle for his last year of eligibility. There are also 2011 recruits waiting in the wings who could see time this year.
Best of all, Hamani Stevens is returning from his LDS mission and figures to bring another talented body to the offensive line.
Oregon may not win the battle against USC's awesome defensive line, but they should close the gap. If the offensive line can hold their own and provide a little more protection and time, the Ducks will be much more effective in moving the chains.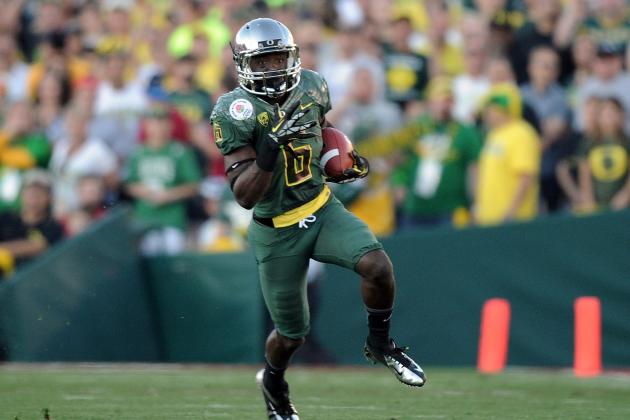 Harry How/Getty Images
USC football needs no introduction to the Black Mamba.
LaMichael James' departure to the NFL will be a loss to the Oregon program, but he was hardly a factor in the USC game.
Instead, the stars of the Ducks' comeback were De'Anthony Thomas and Kenjon Barner. The speedy tandem ran around and through the Trojan defense to mount Oregon's furious fourth quarter rally.
They are back for more.
One thing really stood out in watching Barner and Thomas: they were unflappable, unfazed and locked into the game. Barner brought a renewed intensity that fueled the Ducks. Granted, the Trojans were tiring, but the Ducks kept playing harder.
Quarterbacks Bryan Bennett and Marcus Mariotta are more questionable. Though hailed as excellent talents for Oregon's spread offense, they will need to prove confident leadership leading up to the USC game.They provide a much improved and more unpredictable running threat at quarterback, which will be the most important area to watch and perhaps the x-factor to the Ducks' season.
Coach Chip Kelly will have more variety and versatility in his offensive schemes.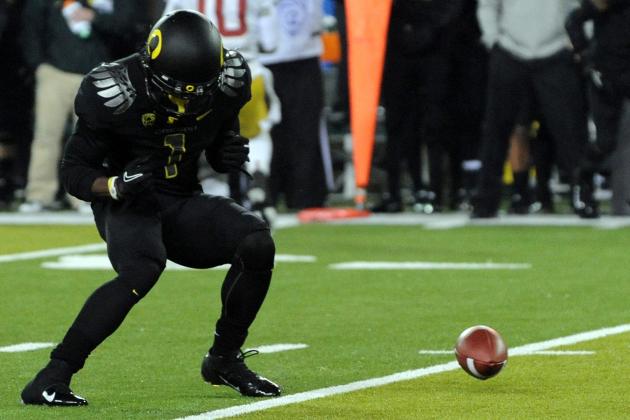 Steve Dykes/Getty Images
Josh Huff and company look for some air time.
Oregon wide receiver Rahsaan Vaughn dropped the ball on a fourth-down play in the first quarter.
Josh Huff dropped a third-down pass in the third quarter.
Throughout 2011, the Ducks had inconsistencies at receiver. They dropped too many passes that killed drives. The Ducks cannot afford these kinds of miscues against a great opponent.
In 2012, the Ducks should be vastly improved at wide receiver and will likely throw the ball more. This will be crucial for the Oregon to stretch out the field and allow more gaps for their rushing attack.
Redshirt freshmen Devon Blackmon, Tacoi Sumler and B.J. Kelley are athletic and speedy. New 2012 recruit Dwayne Stanford is a 6'5" target who could also contribute right away. They will provide the aerial dimension to help diversify the Oregon attack.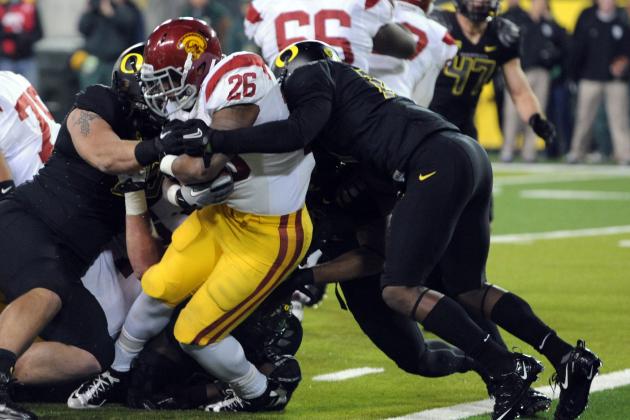 Steve Dykes/Getty Images
It will take a total team effort to wear down the Trojans.
USC fans understand how close their team came to blowing their win. Throughout the fourth quarter, their fatigued defense gave up several big plays to Oregon's suddenly functional offense.
Much of this blame falls upon the bench where scholarship limitations have hurt USC's depth. This could prove to be the Achilles heel that sacks mighty Troy.
Oregon, on the other hand, will have increased depth at nearly every position. Besides tight end, the Ducks are loaded and ready to apply multiple players to their platoon system on both offense and defense.
For two years, the Ducks have ruled the Pac-12 in the fourth quarter. And though other programs have begun to emphasize more conditioning in their preparations and practices, the Ducks have a full-throttle system designed to wear down their opponents.
The Trojans will have to play for a significant lead in the second half. If it's tight, the Ducks will have at least a solid edge.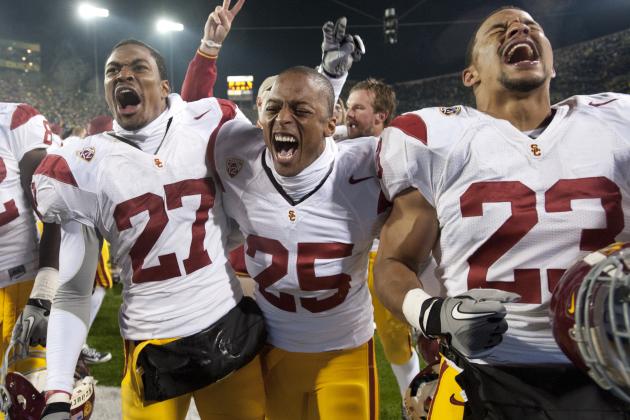 Steve Dykes/Getty Images
A picture can be a thousand motivations.
No team wants to lose, but oftentimes the short-term misery will provide long-term benefits.
Following the USC loss, Oregon was derailed from any BCS Championship talk, but winning the Rose Bowl was going to happen, win or lose to USC.
For USC, this became the game that let the nation know the Trojans were back. It has been their biggest springboard for launching next year's title hopes. Maybe the Oregon win provided the impetus to Matt Barkley's return for "unfinished business."
Oregon will be more motivated after their loss to USC. Spring practices, summer workouts and autumn games will require increased focus and effort because Oregon knows USC will also be better. There will be no letdown after a Rose Bowl win and aspirations for a national title.
The Ducks know that they must win the day in the Coliseum if they are to attain their ultimate goal of winning the BCS National Championship.