Chip Kelly's Offense Figures to Utilize Oregon Ducks' Talented Receivers
February 9, 2012

Jonathan Ferrey/Getty Images
The Rose Bowl celebration has hardly ended, but the Oregon Ducks' offense will be looking for an upgrade. Gone are its reliable stars LaMichael James and Darron Thomas, who routinely powered the engine of its explosive rushing attack.
Sure, De'Anthony Thomas and Kenjon Barner are expected to anchor the ground game, but the Ducks will need their wide receivers to produce more than occasional vintage moments. Truth be told, the Ducks' 2011 receiving inconsistencies were more often a discordant melody, an 8-track player in a Maserati.
The Ducks will fine-tune their offensive machine with two classes of talented receivers looking to burn by opposing Pac-12 secondaries. 
New Hampshire state of mind
Chip Kelly is not married to a specific scheme of the spread offense. Rather, Kelly's New Hampshire roles were an ongoing experimentation of offense.
In Lenn Robbins' article, "Kelly's Winding Road Leads Oregon to the Top," Sean McDonnell, head coach for the Division I FCS New Hampshire Wildcats, recalled Kelly talking him into running the Wing-T—more often used in youth or high school football—for one specific opponent. Though the Wildcats fell 42-41, Kelly was unafraid to unleash a new attack, even with only a few practices.
Kelly draws upon all his resources and players in designing a system. Rob Moseley of Eugene's The Register-Guard wrote a fascinating piece of Kelly's flexible thinking in his article "A Beautiful Mind." In 1999, during his stint as the Wildcat's offensive coordinator, Kelly took a power running team and transformed it into one of the nation's most feared aerial assaults. His quarterbacks went on to post record-breaking numbers, not something Pac-12 fans would expect from Kelly's most recent teams.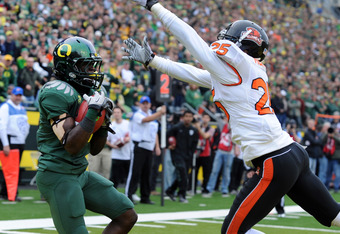 Steve Dykes/Getty Images
Just don't be surprised when Kelly suddenly rips up his old playbook, or if he decides to dust off old diagrams for new innovations. History shows that Kelly likes to throw the ball. The opportunity is now ripening with fresh quarterbacks and promising new receivers. 
A flock of receivers
Oregon's returning wide receivers should be more prolific next season. A healthy Josh Huff and a more experienced De'Anthony Thomas figure to head the corps. Returning athlete Daryle Hawkins, after a year at receiver, still has potential to break through. Kelly and wide receivers coach Scott Frost emphasize blocking execution, so returning experience will be valuable.
Ducks fans have eagerly anticipated the debuts of redshirt freshmen Tacoi Sumler, Devon Blackmon and B.J. Kelley. Sumler is a speedster and is projected to give the Ducks a true deep threat. Blackmon also showed deep-threat ability in the 2011 Under Armour All-America Game with a 58-yard touchdown and with another near deep completion.
The latest class of receivers is also intriguing. Dwayne Stanford at 6'5" is a different type of receiver than the speedy Sumler or versatile Huff. He is viewed as more of an end-zone target who can use his height against opposing defensive backs.
"My greatest strength is in the red zone. I'm a matchup nightmare," Stanford said on "The Morning Sports Page" with Chad Doing. Stanford also articulated his excitement in watching Lavasier Tuinei haul in the Rose Bowl MVP. He sees himself in a similar role.
The Rose Bowl proved to be an invaluable showcase for Oregon in recruiting Bralon Addison and Chance Allen. Their interest in the Ducks was suddenly reported on recruiting sites within days of Tuinei's heroism. Addison in particular has been lauded for his athletic prowess, and, like Thomas and Huff in previous seasons, could soon produce with Kelly's Tazer (or TAZR) position.
Kelly clearly has a more loaded lineup to enact more variations on offense. The next several months will be a trial of practice and performance before Kelly's recipe is unveiled. 
QB blockbuster starring Bryan Bennett and Marcus Mariota
On April 28, Ducks fans will be filing into Autzen Stadium for the team's annual spring football game. This performance will be a double feature for fans wishing to analyze and opine on which Ducks quarterback will win the job next September.
Fans and experts will continue the quarterback debate, but Kelly is going to play the quarterback he feels will best score points and win games. The Oregon quarterback must make correct decisions, check off opposing defenses and throw accurately to receivers, tight ends and backs. He must also sell handoffs and adjust to defenses, even as Kelly urges his players to pick up their frenetic pace.
Rarely does a national contender have so many interesting questions and possibilities, but the Ducks have an awesome collection of talent. It promises to be an exciting year.