Golden State Warriors: Andris Biedrins Era Unofficially Over, Ekpe Udoh Shines
February 21, 2012

Ezra Shaw/Getty Images
What is that sound you hear out in Oakland?
It is the din from Golden State Warriors' fans that are excited about the play of Ekpe Udoh.
With Andris Biedrins mired in a season-long slump (or a three-year slump, if you will), posting a trifling 2.4 points and 4.6 rebounds per contest in 25 games played—it was time for head coach Mark Jackson to make a change.
Biedrins had been shut out nine different times this season, scoring zero points. He seemed to be on his way to a baker's dozen Krispy Kreme doughnuts.
Worse is the fact that it actually is for lack of trying—as he has 45 total field-goal attempts for the season. Put it into perspective: In back-to-back contests against Sacramento (February 4) and Oklahoma City (February 7), Monta Ellis took 46 shots all by himself.
For the season, Biedrins is averaging just a little more than 17 minutes per game, a reflection of Jackson's own lack of confidence in his big man. He had been seeing fewer minutes of late—with the recipient of Biedrins' playing time being sophomore Ekpe Udoh.
A 6'10" tweener, Udoh has the length to play both power forward and center. Also, he has subbed in significantly for Biedrins as the season has worn on—averaging nearly 20 minutes per game.
Though he has only averaged 4.1 points entering last night's contest against the Los Angeles Clippers, Udoh has been a more formidable force when given ample playing time. In the very least, Udoh has given himself and his team a chance by taking shots when he is able.
Meanwhile, whenever Biedrins is on the floor—it's as if the Warriors are playing four-on-five basketball.
Clearly, Golden State has come to the realization that it is not getting anything worthwhile out of Biedrins—which is a shame—because he has played his entire career with the Warriors. He has seen the highs, the lows and the lowest of lows. But his utility in Golden State is wearing out, and the Warriors' patience is wearing thin.
The Warriors set the bar high, wanting to contend for the playoffs this season. Thus, their 11-17 record heading into Monday's game desperately called for a lineup shake up.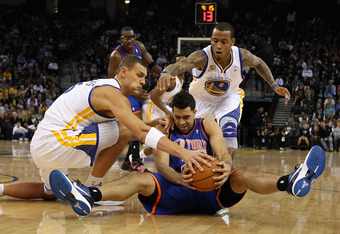 Ezra Shaw/Getty Images
Coincidentally or not, Biedrins was a victim of flu-like symptoms and he sat out last night's game against the Clippers.
However, make no mistake—adding Udoh to the starting lineup was a necessary move no matter what. Even if Biedrins had been healthy, Udoh should have found his way into the Warriors' starting five. The flu bug seems to signal a passing of the starting-center torch—if you will.
It's not a surprise, though. Udoh's marginal progress demonstrates he is indeed trending upward. And with Biedrins reaching the nadir of his career, culminated with his illness Monday—Udoh was awarded with a start last night.
Though Udoh is only in his second season, and is a bit undersized at center—defensively he is playing superior basketball this season—posting 3.5 rebounds and 1.7 blocks per game in fewer than 20 minutes.
Udoh's plus-minus rating is a staggering 111, far and away from the top on the team—and 136 points better than that of Biedrins (negative 25). In fact, Udoh ranks 45th in the league in plus-minus rating, despite averaging fewer than 20 minutes a game and playing for a team that has been outscored by 54 points for the season.
The numbers speak for themselves. Last night it became evident that Udoh deserves to be in the starting lineup for the remainder of the season. In the Warriors' 104-97 win over Los Angeles yesterday, Udoh posted career highs in offensive rebounds (six), field goals made (nine), field-goal attempts (14) and points scored (19) in 37 minutes played.
He also provided solid effort on defense, holding Clippers' center DeAndre Jordan to five points on two-of-six shooting.
As his teammate, Biedrins is likely happy by the performance of Udoh last night, but in terms of his own job security—Biedrins should be sick to his stomach for a while longer. Udoh's coming-out party proves one thing: The Andris Biedrins era is over.

Follow me on Twitter: @nathanieljue