NBA: Are Golden State Warriors Fans Most Obsessive Fanbase in NBA?
February 8, 2012

Justin Sullivan/Getty Images
An interesting online article in the Wall Street Journal of all places claims that fans of the Golden State Warriors are the NBA's most obsessed. How is this fervid fanatacism measured? Two words: fantasy basketball.
In surveying 27 markets that have at least one basketball team (excluding Toronto), Yahoo! Sports found that the San Francisco-Oakland metropolitan area has the highest ratio of fantasy basketball participants in the country. One out of 223 people in the Bay Area plays fantasy basketball. Rounding out the top five include Los Angeles (which houses two NBA franchises), Boston, Portland and Salt Lake City.
But does this survey really speak to the obsession of basketball in the Bay Area? Or rather is it a clear indication of the obsession with fantasy sports?
After all, the Warriors have been a perennial obsolescent franchise for the better part of the past two decades. Clearly Warriors fans can't be that excited about a team that has one playoff appearance in the last 17 seasons—compiling a wincing .377 winning percentage in that same time frame. It certainly can't be their own team that Warriors fans are excited about when it comes to playing fantasy basketball.
So what is it? What makes Golden State fans so engaged in fake basketball? Why do they care so much about adjusted their weekly lineups, scrambling for players who accumulate a gaggle of blocked shots and steals?
Well, for starters, there are a lot of dudes in the Bay Area. Lots. Especially dudes who are in the age bracket 18-40. It's fairly well known that the Bay Area, particularly the Silicon Valley, possesses a high male populace.
Even San Francisco has a majority of males—50.8 percent in 2009 (the national percentage for the same year was 49.3). Thus, the significant number of men in the Bay Area contributes to the higher number of fantasy basketball owners.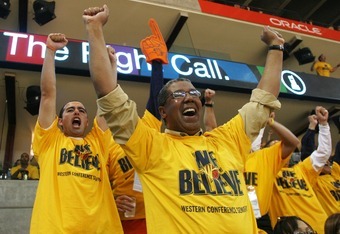 Sara Wolfram/Getty Images
But there is another factor that might play a part in Bay Area fantasy basketball play—number of smartphone users. With strong ties to the tech-rich Silicon Valley, and a tight number of large cities in such a compact region, the Bay Area is clearly the hotbed for digital, mobile and wireless media.
Walk around downtown San Francisco, or espy cell-phone-using drivers in the Silicon Valley, and no doubt there are a plethora Bay Area residents tapped onto their mobile devices. This access to technology affords fantasy basketball users the opportunity to make lineup adjustments on the go—anywhere and often.
The racial demographic in the Bay Area is a reason, too. The region boasts a population of over 1.6 million Asian American residents, according to the 2010 Census numbers. It's been indicated informally that Asian Americans' favorite sport to follow (and play) is basketball.
Furthermore, with the success of Yao Ming in the last decade, basketball has grown in popularity throughout Asia as well. Thus, fantasy basketball has become an interest in many Bay Area residents who are Asian American.
So, while San Francisco and Oakland may have a strong representation of fantasy basketball fanatics, that doesn't necessarily equate to them being Golden State Warriors fans as well. After all, the Dubs have been atrociously horrible for close to two decades. Why on earth would a metropolis' populace be so devoted to a team that has perennially missed the playoffs and had some of the worst debacles in NBA history (read: choking of head coach.)
True, the Warriors fanbase is a dedicated bunch. But as pertains to the Wall Street Journal, that commitment to a team should never get in the way of running a fantasy sports team. Everybody knows that. At least, Bay Area fantasy basketball (and smartphone) owners do.
Follow me on Twitter: @nathanieljue