Chicago Bulls Report Card: Grades for All Key Players Through First Half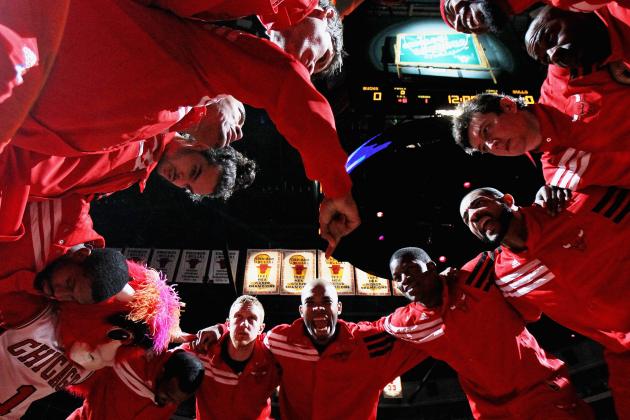 Jonathan Daniel/Getty Images

Wow, it is hard to believe that half of the NBA season is already gone.
I mean, it seems like the Bulls were tipping off the season against the Lakers on Christmas a few days ago. Did you realize that the All-Star Game is this weekend?
By the way, since we are on the subject, Derrick Rose was named to his third All-Star team and will be making his second consecutive start. Also, Luol Deng will make his first appearance and coach Tom Thibodeau will have the privilege of coaching the team for the East.
The Bulls have already played 24 games, with their 25th coming Wednesday night against Milwaukee. That means Chicago only has 31 games to play after the All-Star break.
With a record of 26-8, the Bulls are second in the East behind the only the Heat.
So let's see who has performed well during this first half of the season, and let's see who needs to pick it up the rest of the way.
I only focus on major players, so you won't find grades for Jimmy Butler, Brian Scalabrine, John Lucas III or the recently re-signed Mike James.
Make sure to follow me on Twitter @dachicagofan, and check out my weekly Bulls podcast every Wednesday on my site The MG Experience
Begin Slideshow

»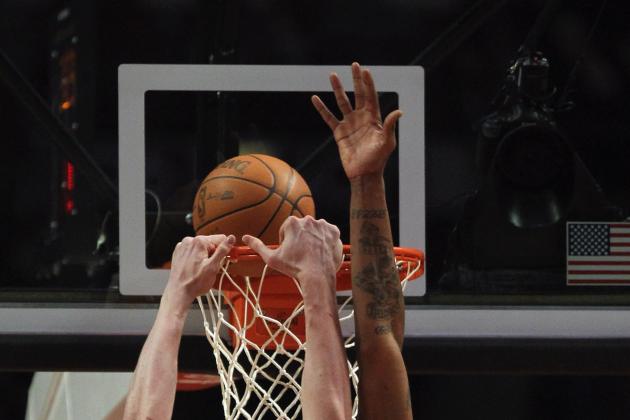 Jonathan Daniel/Getty Images

Omer Asik continues to be a rebounding machine but his offensive game still has yet to develop.
In my first trimester piece I gave Asik a C, and it's hard to change it, but I am going to.
I'm dropping Asik down to a C- because he really hasn't appeared to be the same player in February that he was in January.
His playing time has dropped by nearly five minutes and actually played less then a minute against Atlanta the other night. His points and rebounds have dropped in the last month as well but that might be strictly due to his lack of playing time.
A stat that can't be ignored is his lack of blocked shots. In January, he was averaging 1.4 blocks and now is averaging only .4 blocks per game.
If Asik isn't providing solid defense and a shot blocking presence in the middle, he isn't bringing much to the table.
Maybe the Bulls can take some time to work on his offensive game during the All-Star break.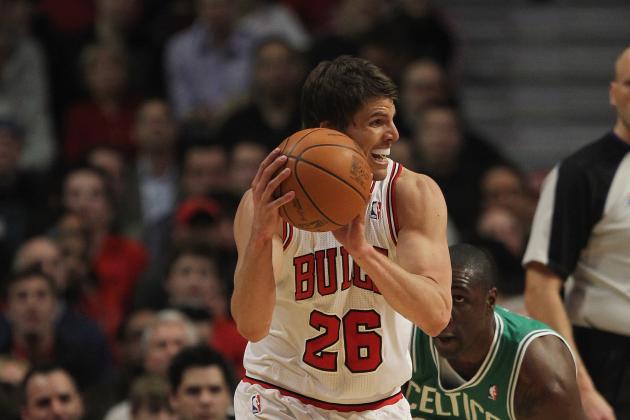 Jonathan Daniel/Getty Images

The grade I gave Kyle Korver last time was maybe the most talked about one in the comments section. Last time I gave him a B+ based on his offense but an F on his defensive play.
While his offense remains stellar, I will admit that Korver's defense has improved a little bit. Playing good defense is mostly just the will and desire to actually do so, and he has shown a desire as of late.
Another thing I like is that Korver has started to take more two-pointers. While the majority of his shots are still beyond the arc, he is taking a few more inside it, as well.
Korver gets a slight increase in his grade this time around moving up from a C- to a C.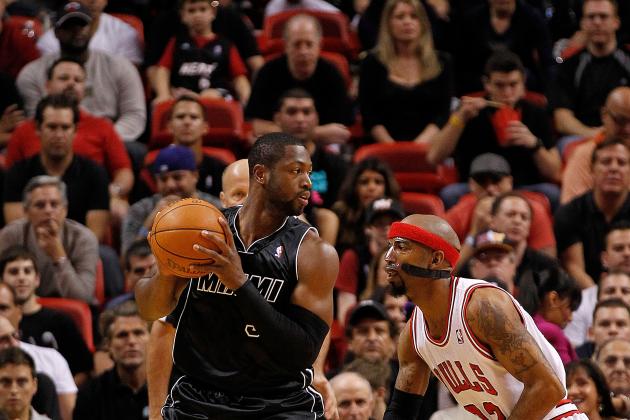 Mike Ehrmann/Getty Images

What can I say about Richard Hamilton?
Honestly not much.
He has yet to play a game in this month, and there is a good chance he won't at all.
Hamilton has been bothered by a groin injury as well as a leg injury. Plus, he was away from the team for a while as his grandmother passed away.
When healthy, he has looked good, but it's been almost a month since we have seen him take the court.
Did you know the Bulls haven't had their opening day starting five together since Jan. 4, and they haven't been as a team since Dec. 30?
I have no choice but to give Hamilton another incomplete, but if he doesn't return soon, it looks like the Bulls' lone off-season move will be ruled a bust.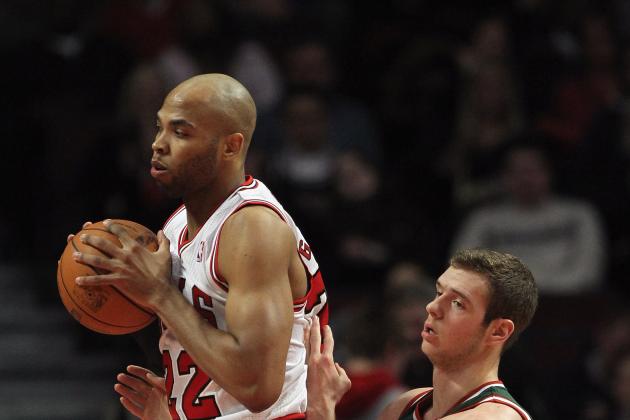 Jonathan Daniel/Getty Images

Taj Gibson is starting to look much more like the player we saw during his first two seasons.
It appears he is now fully recovered from that ankle injury and has actually improved his numbers, while actually losing a minute of playing time.
His loss in playing time has much more to do with the play of Carlos Boozer and Joakim Noah then it does with Gibson.
Much like Korver, I am going to give Gibson a slight increase in his grade and give him a C+.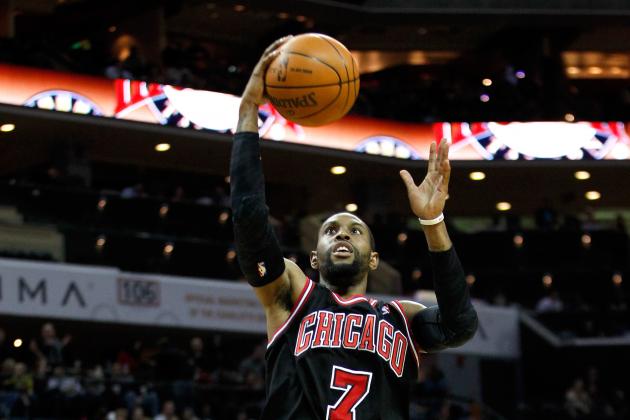 Streeter Lecka/Getty Images

C.J. Watson has been talked about a lot in the past few days since that Pau Gasol rumor came out.
Watson has played pretty well for the Bulls this season but like several players continues to miss games. To this point in the season he has already missed 11 games and missed the Hawks game the other day due to a concussion.
The one thing that has been exposed lately is Watson's lack of defense. Against top point guards like Rajon Rondo and Deron Williams he looked bad.
While he struggled on defense, it also led to some struggles on offense.
In his last three starts he averaged about 10 points, three assists while only shooting about 33 percent from the field. On the season he is shooting over 38 percent from the field.
His poor defense has lead to Mike James seeing the court a lot more then anyone expected.
I'm going to give Watson a C+ this time around.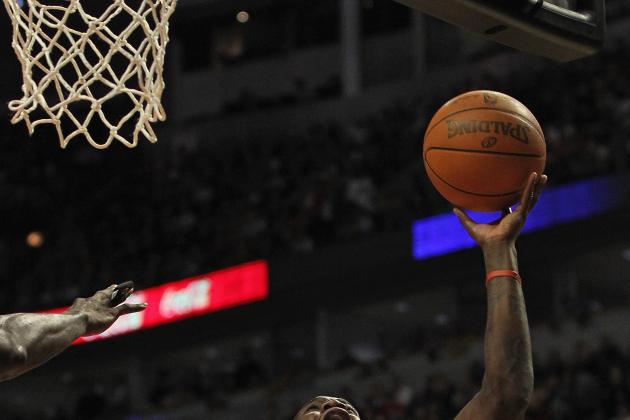 Jonathan Daniel/Getty Images

Ronnie Brewer is starting to look like a guy who is ready to go back to his role as part of the "Bench Mob."
Brewer has started all but eight games this season and has played in all 34 of the Bulls' games. He has found himself mostly starting for Hamilton but slid over to small forward when Luol Deng was out.
While his overall field goal percentage has stayed steady, his 3-point percentage has dropped, and his points per game average has dropped by over two points.
I'm going to give Brewer a B-, and let's hope Hamilton is able to return soon.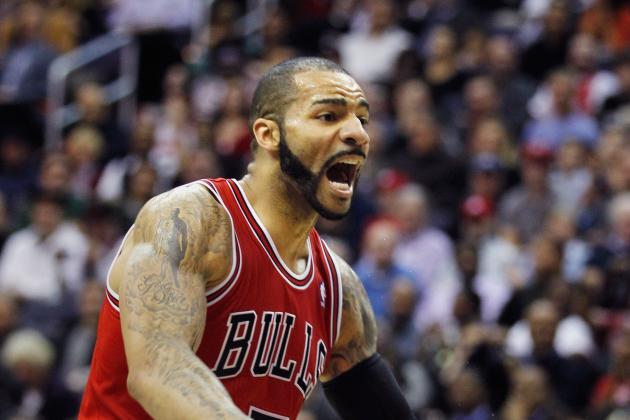 Rob Carr/Getty Images

People like to attack Carlos Boozer and seems like most of the fan base would put him on the first train out of town, but it is hard to really knock him.
On the season he is averaging 15.6 points and 8.4 rebounds. In February he is averaging 16.8 points and 7.8 assists and has scored less than 16 points only twice in the month.
He also seems to have finally developed a good chemistry with Joakim Noah, and each have been on the receiving end of some good passes from each other.
I'm giving Boozer a solid B and think it is time for people to start embracing him for what he is instead of hating him for what he isn't.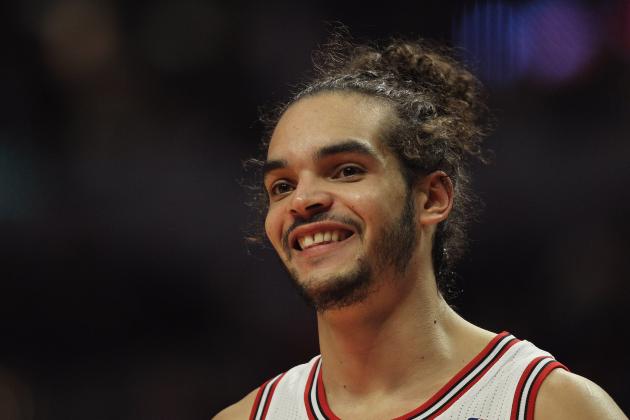 Jonathan Daniel/Getty Images

Now this is the Joakim Noah we have come to know and love.
Noah looked sluggish to start the season and wasn't the double-double machine we saw last season.
All of that changed in February as he is averaging nearly 12 points and over 10 rebounds a game. He has also nearly raised his season averages to a double-double as they currently sit at 9.6 points and rebounds.
Looking ahead to a possible rematch with the Heat in the conference finals, the Bulls need Noah to be that X-factor and they will need him to play like he is now.
I'm giving Noah the biggest increase and giving him an A-. Once I start seeing more 15 points and 16 rebound games like he had against Boston last week, he might work his way up to an A+.
Jonathan Daniel/Getty Images

I gave Luol Deng an A last time around and see no reason that should change this time around.
Deng just continues to do whatever is asked of him by coach Tom Thibodeau.
With Derrick Rose out last week, we got to see Deng be the distributor having back-to-back games with double digit assists.
Also, don't forget that even though he is suffering from a wrist injury, he is still averaging over 38 minutes a night.
His selection to the East All-Star was very much deserved, and I look forward to seeing him this weekend right where he belongs with the best in the league.
Maybe he can do some recruiting of Dwight Howard since the next guy doesn't like doing it.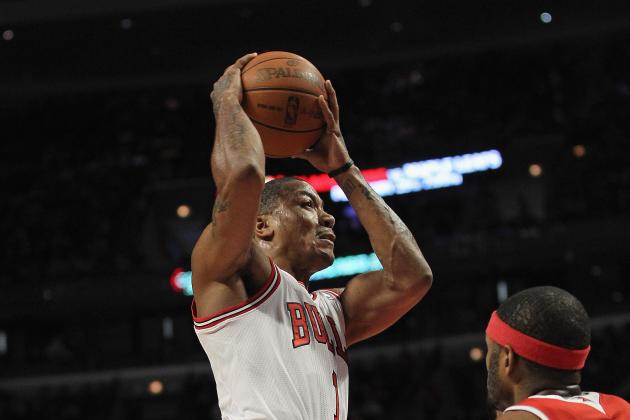 Jonathan Daniel/Getty Images

Much like Deng, I gave Derrick Rose an A and see no reason to change that now.
Even banged up he continues to produce. He clearly wasn't 100 percent against Atlanta the other day but still scored 23 points while dishing out six assists and grabbing five rebounds.
The only concern with Rose is that he has already missed 10 games this season. He only missed six games during his first three years in the league.
His shot at repeating as the league MVP might be a long one but you could argue he is playing even better than he was last season.
Let's hope that Rose comes out in the second half healthy because if he isn't the season might become a lot shorter then expected.