Chicago Bulls: Why Fans Should Forget about Pau Gasol and Dwight Howard
February 20, 2012

Ronald Martinez/Getty Images
A low post presence has been the white whale for Chicago Bulls fans ever since Jerry Krause traded Elton Brand away during the 2001 draft.
First it was Kevin Garnett. Bulls' fans desperately wanted to bring him back to where he played his senior year of high school. Reports at the time had the Bulls offering Luol Deng and Tyson Chandler. Unfortunately Garnett went to Boston during the summer of 2007 and the rest is history.
The next white whale was Pau Gasol. Once Garnett got traded Gasol moved to the front of the line in Bulls fan's minds. Conflicting reports had the Grizzlies owner Michael Heisley refusing to deal Gasol to Chicago and other reports said the Bulls refused to part with Deng. As we all know Gasol ended up being traded to the Lakers and championships were won.
The white whale has taken many forms over the years since including the Bulls' very own Carlos Boozer. Interesting that fans pined for Boozer for several seasons and now after a little over the year would rather put him on the first train out of town.
Most recently it has taken the form of Dwight Howard
Now according to a report from Chris Sheridan a former white whale might be available:
Derrick Rose has let it be known to Bulls management that he wants to play with Pau Gasol if Chicago is able to swing a trade with the Los Angeles Lakers for the veteran power forward from Spain, a source close to Rose told SheridanHoops.com on Sunday.

The Spanish news outlet Marca was the first to report Sunday that Rose has given his blessing for the Bulls to go after Gasol with a package that would be centered around Carlos Boozer and another player.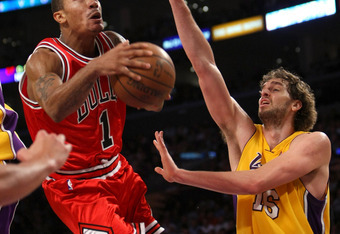 Stephen Dunn/Getty Images
An interesting thing about that report is the first paragraph makes it sound like Rose has requested that Gar Foreman makes this trade while the second paragraph makes it sound like management approached him and he has said OK.
Is the report true?
I don't know, only Rose and Bulls management know for sure. I personally find it difficult to believe that Rose would ask for this trade. He has no known relationship with Gasol and has been pretty quite in the past when it comes to the roster.
If he wants to make demands why isn't he demanding to play with Howard?
If the trade were to take place it would be Gasol for Boozer and most likely C.J. Watson. It could work a few other ways but it would be Boozer and at least one other player.
Would the Bulls make the deal?
I would assume yes. Gasol is an upgrade on both ends of the court and while Watson will be missed, his minutes will shrink dramatically once Rose and Rip Hamilton are healthy. Also, the Bulls would save a bit of money since Gasol only has two years remaining on his contract while Boozer has three.
Would the Lakers make the deal?
Probably not. While Watson would be an upgrade for them at the point guard spot, how would Boozer make them better or younger?
Would getting Boozer help them acquire Dwight Howard?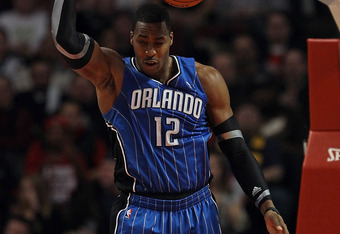 Jonathan Daniel/Getty Images
While a three-team trade would work under the cap, I doubt the Magic want Boozer in exchange for Howard.
Bulls' fans need to stop thinking the Bulls are going to make a drastic trade. Nothing has shown John Paxson or Foreman having the willingness to rip apart this team in midseason.
Management seems content riding out this season and seeing how well they do.
So forget about Howard. He has yet to say he wants to play in Chicago and I'm sure the last thing the Magic want is to see him return twice a year in a Bulls uniform. The Bulls' best bet is to wait until the summer when he is a free agent and then use the amnesty clause on Boozer to clear some cap space.
Gasol is just a bad dream returning. Swapping Gasol for Boozer doesn't improve the Lakers and if the Bulls need Rose's blessing don't you think the Lakers need Kobe Bryant's blessing as well?
The Lakers are looking for that next star they can build around and Boozer doesn't fit that role.
So my advice is be happy with the roster the Bulls have and hope that come May and June they are healthy and have enough to get past the Heat and beat whoever comes out of the Western Conference.
Make sure to follow me on Twitter @dachicagofan, and check out my weekly Bulls podcast every Wednesday on my site, The MG Experience.