2012 Daytona 500: What to Expect in the Duel 150 Races
February 20, 2012

Jared C. Tilton/Getty Images
Today, we've got the field set for Thursday's Duel 150 qualifying races in Daytona.
Roush Fenway Racing dominated in pole qualifying today, with Carl Edwards getting the pole locked up and Greg Biffle locked up second for the Daytona 500 grid.
We'll see Thursday where everyone will start, or even make the Daytona 500.
With what drivers and teams learned from the Bud Shootout, I would expect everyone to remain calm during the duels until the last few laps.
With restrictor plate racing, it does not matter where you start.  
Drivers can maneuver their cars from dead last in 43rd to the lead in under 10 laps.  
The only drivers that should be driving crazy are the few drivers fighting to get into the Daytona 500.  
Although with how aggressive drivers got in the Bud Shootout and how much fun they had, I wouldn't be surprised if we saw a few wrecks in both Duel races.
While the Roush Fords like Edwards and Biffle looked great in qualifying today, expect the rest of the field to be all over them.
Kyle Busch looks beyond strong after his performance Saturday night, but his aggression might come back to haunt him, as it usually does.
I'll be interested to see if Kyle can keep himself out of trouble this Thursday.
I expect the veteran Chevy drivers like Jeff Gordon, Tony Stewart and Dale Earnhardt Jr. to show some of their strength in the Duel 150s.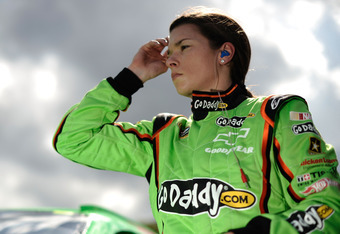 Jared C. Tilton/Getty Images
With the return of pack racing and NASCAR not making any rule changes, I'm curious to see how everyone bump drafts in the turns.
All it takes is one driver to get too aggressive and it could wreck 10 cars or more. 
I do believe that the drivers will use their heads and avoid making any daring moves too early.
I also believe that Danica Patrick will make some daring moves in her Duel race. She has to get use to this pack racing after she got use to tandem drafting. I firmly believe she'll figure it out fast. 
Danica has looked strong in race trim, and while she did not have a good qualifying run today, I don't think it's any barometer for what she can do on Thursday and in the Daytona 500.
Thursday should be another great day of racing.