Peyton Manning: The Good, Bad & Ugly of Colts' Star Saga
February 16, 2012

Joe Robbins/Getty Images
We will find out what is to come of Peyton Manning's stay in Indianapolis and his career as a whole, but this story has taken some peculiar turns. Now, news of a secret surgery that took place last year has further muddied the picture.
According to Julie Hayes of Yahoo! Sports, "He could completely heal his damaged nerve and return to playing at full-strength only to have to repeat this whole process in a year or two when these degenerating discs start to cause more problems. To be blunt, that's career-ending news."
We are left to wonder, should he or shouldn't he be trying to play again?
Only Manning and the doctors know that for sure, but this entire situation can be summed it with the title of my favorite Clint Eastwood movie:
The Good
Draft Selections
The Indianapolis Colts are in a great position from a football standpoint. They are coming off a horrible year, but Andrew Luck is there for the taking.  He is as good a QB prospect as the league has seen in a while, and the franchise seems to be all in for him. It's an exciting new start under center.
The team also has four picks in the first 100 selections of the draft. They are in good position to start a rebuilding effort.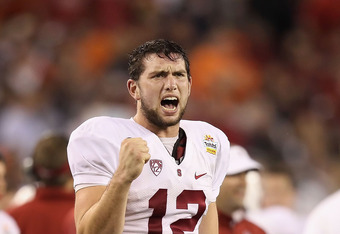 Christian Petersen/Getty Images
Salary
If and when Manning is released, or brought back in an incentive-laden contract (which I doubt will happen), the Colts will stand to save millions. That will create a nice chunk of money for the Colts to spend on free agents.
Nothing helps rebuilding like draft picks and cash for free agents.
Manning's accomplishments
No matter what happens from here on out, Manning's accomplishments will never be tarnished. He will go down as one of the five best QBs in history, whether he calls another audible at the line of scrimmage or not.
As this story unfolds, that fact shouldn't be lost amidst the drama.
The Bad
The injury
Manning's injury seems bad, and if the newest information is accurate, it could be reoccurring. Beyond football, it's sad to think he could have an issue with his neck or back for any extended period of his life.
The most important thing he can do is to take care of himself and respect the severity of the injury.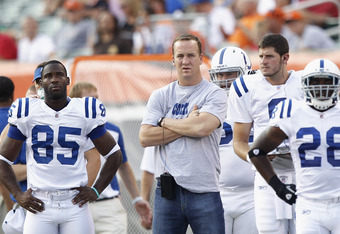 Joe Robbins/Getty Images
The pressure
As if the pressure from being the No. 1 overall pick isn't enough, imagine taking over for Peyton Manning.
That is what it looks like Andrew Luck may be in store for. It's a good and bad situation—if he struggles early, the good part will drop way out of sight.
The Ugly
Jim Irsay's handling of the situation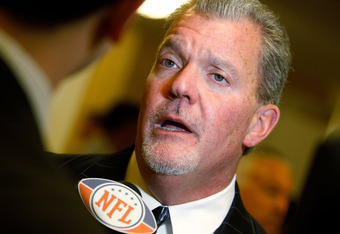 Sean Gardner/Getty Images
The Colts owner is steadily making a tough situation worse with his constant posturing for public approval. It seems everyone knows he wants Manning to move on, but because he's afraid of the backlash, he won't just admit it.
Instead, he says things like this (via John Clayton of ESPN.com): "We want him back if he wants to come back. We can work out the contract if he wants to work it out. It's going to be Peyton's call." 
It's not Peyton's call.
Were it his call, he'd say, "Yeah, give me my bonus and a helmet, use that No. 1 pick on a receiver, and let's go play some football."
Irsay's deceitful strategies insult fans' intelligence.