Daytona 500 2012: 15 Bold Predictions for This Year's Great American Race
Jared C. Tilton/Getty Images
It's time for the Daytona 500
It's that time again! NASCAR's offseason is almost over, and the Great American Race is upon us.
This year, the 54th running of the Daytona 500 promises to be an exciting one, and it always delivers as the Super Bowl of NASCAR.
The race will be next Sunday, February 26th at 12:00 p.m. EST at the Daytona International Speedway.
The festivities start with the Budweiser Shootout at 8:00 p.m. on Saturday, February 18th and the running of the Gatorade Duels on Thursday, February 23rd, starting at 1:00 p.m. EST.
If there is anything we know about the Daytona 500, it's that it's draft racing at its best, and anything can happen.
Among the other few things we know:
Grammy Award-winning rocker Lenny Kravitz will perform at the pre-race ceremonies.
Jane Lynch and recently announced SI Swimsuit cover girl Kate Upton will be grand marshals.
WWE superstar John Cena will be the honorary starter.
We don't know who will perform the national anthem, but the USAF Thunderbirds will do the flyover afterwards.
Oh, and by the way, there is also the matter of that record $19 million-plus prize fund for this year's drivers. I don't know about you, but I can't wait to see how it shakes out.
Here are some bold predictions for this year's race.
Begin Slideshow

»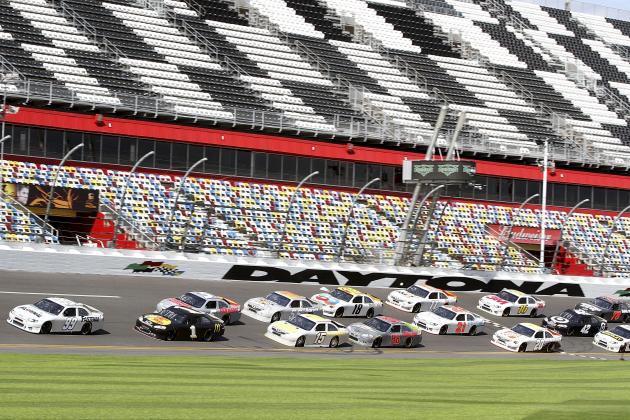 Jerry Markland/Getty Images
Pack racing will be back at Daytona
I know it's not just me who really doesn't like the two-car tandem style of racing at the restrictor-plate tracks like Daytona and Talladega.
I'm hopefull that NASCAR's recent efforts to revise the rules for restrictor-plate will result in the elimination of the widely unpopular style.
During the three-day test session at Daytona last month, there were as many as 20 cars running in a draft.
Hopefully, the drivers are down with the changes, as this could mean the return of pack racing.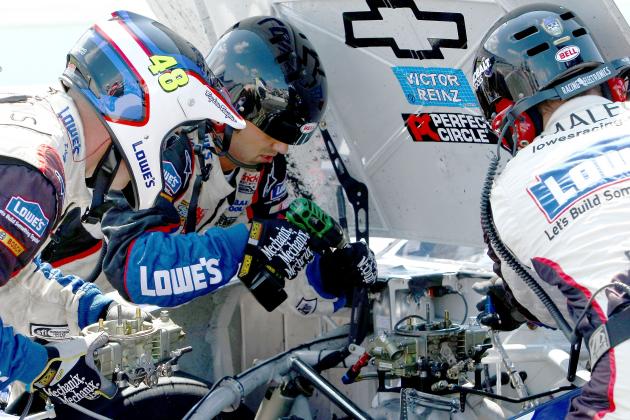 Chris McGrath/Getty Images
The old carburetor racing is history
NASCAR's latest technological leap is making the transition from carburetors to electronic fuel injection (EFI).
The fans may not notice any big changes when it comes to EFI, but it's a step in the right direction for the teams.
While EFI is nothing new, it is to NASCAR after over 50 years of adjusting carburetors.
Teams will now be able to retrieve data after practice and qualifying to help make pre-race adjustments to their EFI systems. They will also retrieve telemetry post-race data that will impact their performance decisions for future races.
This is all in place at the Daytona 500, and it may come in handy in making pre-race performance decisions.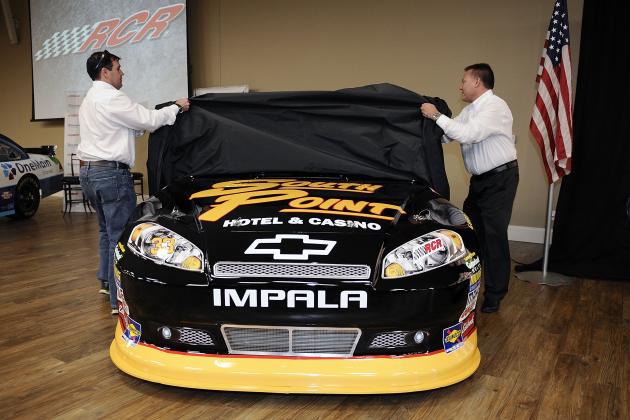 Jared C. Tilton/Getty Images
This one?
Manufacturers also run for the title at the Great American Race. Toyota? Dodge? Chevrolet? Ford?
Last year, it was Ford who swept both races at Daytona.
This year? It will be a Chevrolet.
Twelve of the regular Sprint Cup Series drivers use Chevrolet cars this year. To find out who, keep reading the slide show.
If you want a hint, just think previous winners.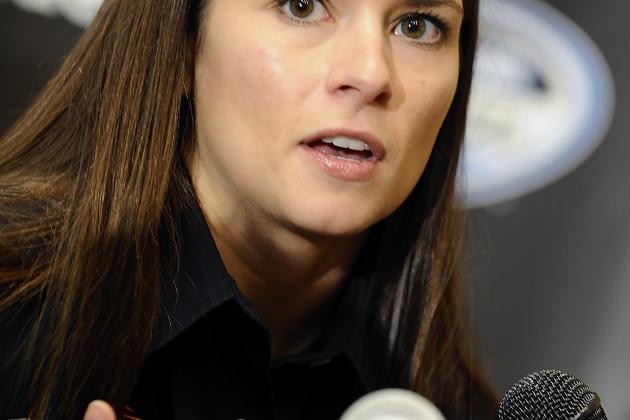 Jared C. Tilton/Getty Images
Not this year Danica, learn and come back
This will be Danica Patrick's debut at the Daytona 500. There is a lot of hype surrounding her running this year, and it's all justified.
While there are occasional out-of-nowhere winners at the Daytona 500, Patrick won't be one of them.
There is a lot to learn for her to win here, and while she might show glimpses of future success, at the end, it will come down to the big dogs this year.
The 29-yeard-old Wisconsin native might be the most successful woman in American open-wheel racing history, but she is out of her league here.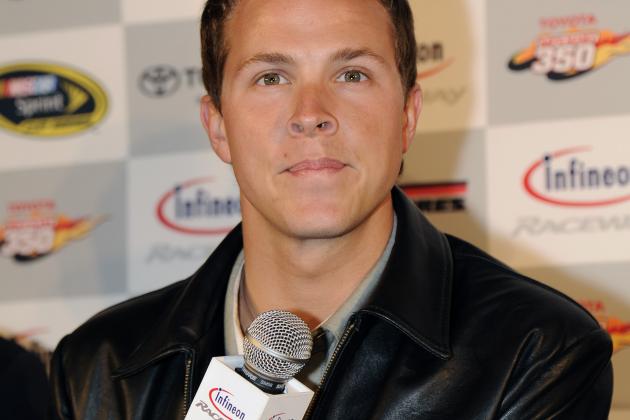 Thearon W. Henderson/Getty Images
Trevor Bayne won it last year.
Every now and then, there comes along a feel-good, Cinderella winner of the Daytona 500.
It happened last year with Trevor Bayne.
While you could argue that most winners are feel-good stories, few really come out of nowhere to win the Great American Race.
Don't expect it to happen this year.
While Lady Luck always has a say in the final outcome, this year's race looks like one for the veterans.
Veterans are loading up, and the winner should come from an established draft-saavy racer.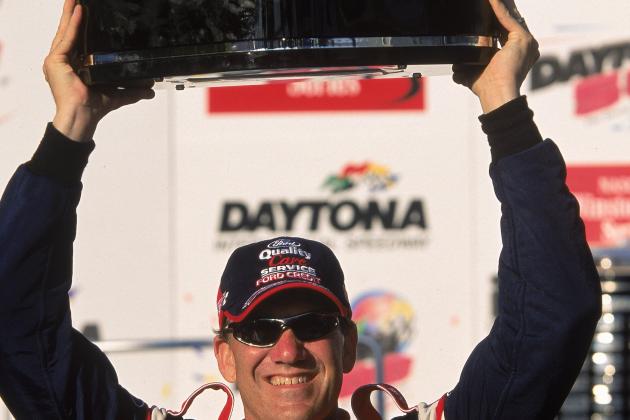 Jamie Squire/Getty Images
Dale Jarrett was the last driver to win from the pole
You have to go back to the year 2000 to find the last driver to win the Daytona 500 from the pole. Following his title in 1999, Dale Jarrett won the Daytona 500 for the third time in 2000, and since then, no one has been able to do it.
It gets tougher to do it every year, and this year will be no different.
Let's start to call it the curse of the pole.
Last year, Dale Earnhardt Jr. won the pole, but after crashing in a practice session on the previous Wednesday, Kurt Busch got the honor.
Busch finished fifth, and Earnhardt Jr.? Twenty-fourth place.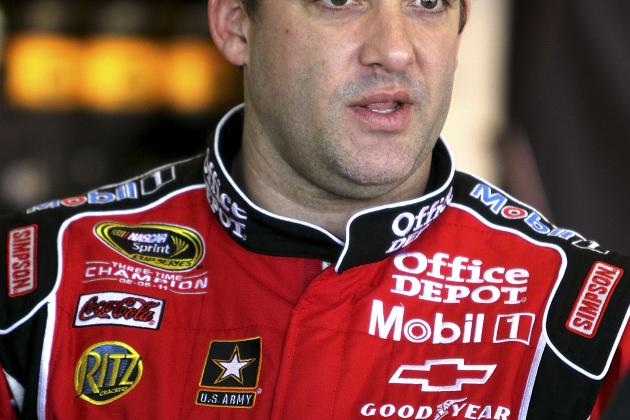 Jerry Markland/Getty Images
Sprint Cup Champs, just don't win at Daytona. Sorry Tony.
Another curse in the making?
Again, you have to go back to the year 2000 to find the last time a defending Sprint Cup champion came the following year and won the Daytona 500.
Dale Jarrett did it in 2000, and Jeff Gordon did it a year before.
Before those two, you have to dig deeper in the time machine all the way back to 1983, when Bobby Allison won it fresh off his second Series championship in 1982.
That doesn't bode well for Tony Stewart, the 2011 Sprint Cup Series champ.
I guess it's a relief then for five-time champ Jimmie Johnson. It will be the first time in five years he will not be the Series Cup champ entering the Daytona 500.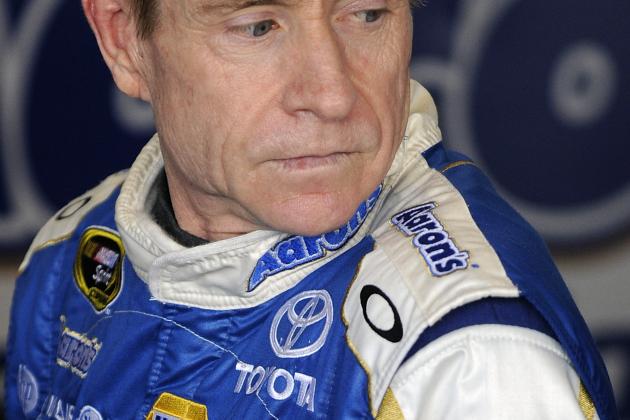 Jared C. Tilton/Getty Images
Mark Martin, is he the best ever not to win the Daytona 500?
It took Dale Earnhardt 20 attempts and Darrell Waltrip 17 attempts to win the Daytona 500.
Tony Stewart, Mark Martin, Bobby Labonte? These are just some of the great drivers to have never won the Great American Race.
And as of 2012, it will remain that way.
Why Stewart? See my previous slide.
Martin has 40 wins, but none at the Daytona 500. His loss in 2007 had to be heartbreaking, and even though he is still very competitive, his best is behind him.
Labonte has 21 wins and a Series Championship (2000) to his credit. Last year, he finished fourth and was an instrumental part in Trevor Bayne's win.
Just like Martin, he is still a respected, skilled and crafty veteran who could win, but it just won't happen this year.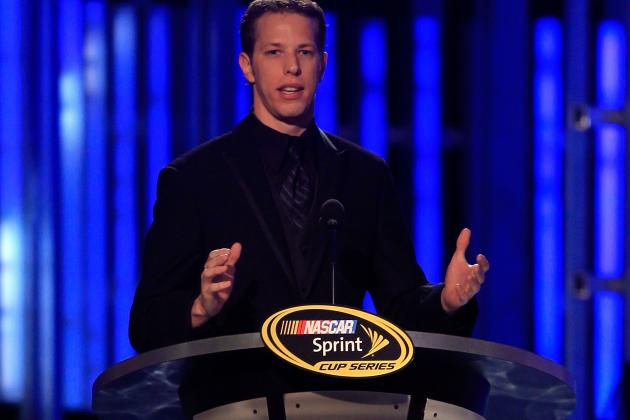 Chris Trotman/Getty Images
Keselowski is the man now at Penske Racing
With the departure of Kurt Busch from Penske Racing, Brad Keselowski is now the man on the team, as Busch's replacement, AJ Allmendinger, is yet to be a force to be reckoned with.
He is trying to follow the giant footsteps of former Penske champs Bobby Allison, Rusty Wallace and Kurt Busch.
Keselowski is a promising driver and showed a lot of potential last year with three wins and a fifth-place series finish.
But running behind the spotlight is not the same as being in it.
That being said, this will be a learning experience and a year of growing pains for Kesolowski and the Penske team.
And that does not include a win at the Daytona 500.
Jerry Markland/Getty Images
Carl Edwards must still be feeling like he let the championship slip away
Carl Edwards was just a few feet short of winning the Daytona 500 for the first time last year.
After being out of the spotlight for most of the race, he made his move late and ran out of track to win.
A reversal of roles came for him during the season, as he led the points race, and Tony Stewart caught him and won the Series Cup championship on a tie-breaker.
Edwards is in his eighth Daytona 500 and 15th start at the track, where he averages a 17.6 starting position and an average finish of 17.7.
He is once again part of the Roush Fenway Racing team with Matt Kenseth and Greg Biffle after re-signing last August.
Last year, he could have used their help. This year, he will need it if he is to win the race.
Not happening.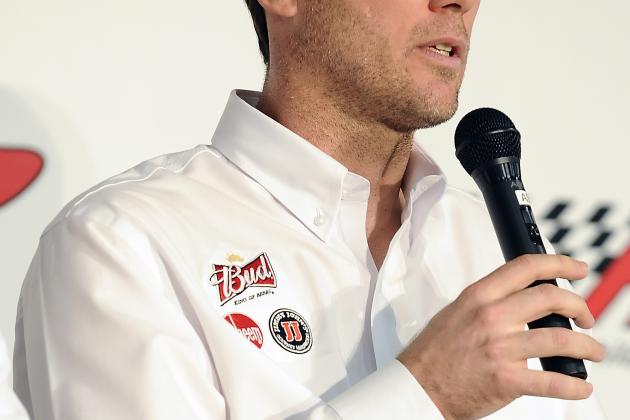 Jared C. Tilton/Getty Images
Kevin Harvick is still looking to replicate his 2007 win
Kevin Harvick is the man who replaced a legend.
He is the driver that took over Dale Earnhardt's car, and while he has been successful with 18 wins, 174 top-10 finishes and five poles, those were enormous shoes to fill.
After winning the Daytona 500 in 2007, he had a close call in 2009 with his second-place finish to Matt Kenseth, and he's won the Bud Shootout in back-to-back years (2009 and 2010).
Last year, his engine broke down on the 22nd lap, leading to his disappointing 42nd place finish.
While he is one of the best draft racers, is part of one of NASCAR's best teams and has had his fair share of success here, this year will not be the one for his second win at this race.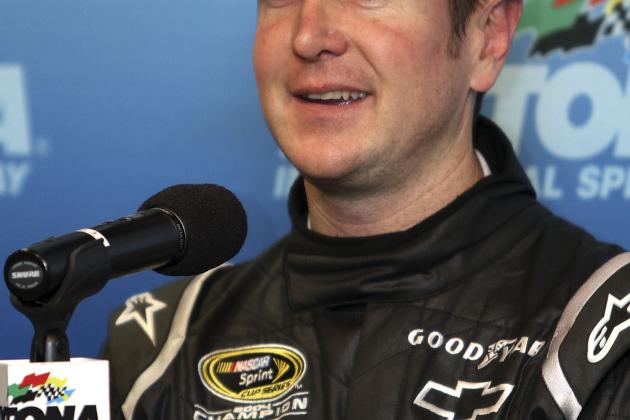 Jerry Markland/Getty Images
Another year, yet another close call for Kurt Busch
After his widely publicized meltdown at Homestead-Miami Speedway last year, 2004 Sprint Cup champion Kurt Busch was let go from Penske Racing.
Much smaller, one-car Phoenix Racing and owner James Finch welcomed him with open arms.
If someone in the past decade knows the heartbreak of being successful and not being able to win the Daytona 500, it's Kurt Busch.
He has three second-place finishes: to Michael Waltrip in 2003, to Jeff Gordon in 2005 and in 2008, when he helped push then teammate Ryan Newman to the win.
Driving the No. 51, he was the fastest in practice last month at 206.058 mph, but he will need a lot more than that to win this year.
Now, he is part of a one-car team. Who will come there to help him? Who will he hook up with?
At least he will be in a Hendrick Motorsports-built car, with a Hendrick engine and sponsorship from Hendrickcars.com. Maybe someone from Hendricks will, if given the chance.
Don't expect that—or a win—to come his way.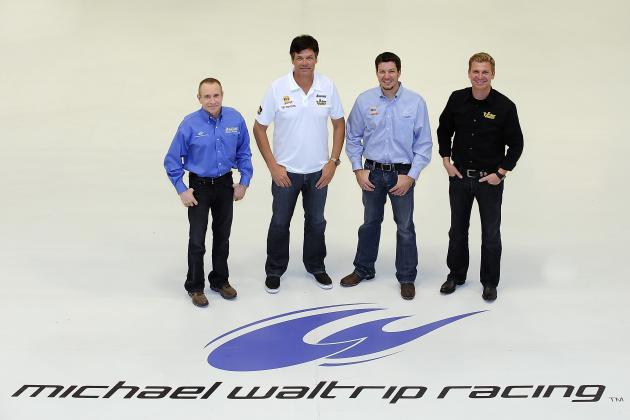 Jared C. Tilton/Getty Images
Waltrip Racing is full of experience and drafting skilled racers
If there is a team out there, flying under the radar and capable of pulling an upset, it's Waltrip Racing.
Michael Waltrip Racing is comprised of two-time Daytona 500 winner Michael Waltrip, Mark Martin, Clint Bowyer and Martin Truex. All four are experienced drivers with great skills and grasp of draft racing.
If there is someone who has a knack for showing up at the right time in Daytona, it's Michael Waltrip.
Watch out for this team, as they will hook up early and often, and I am sure they will have a say in who will win this race.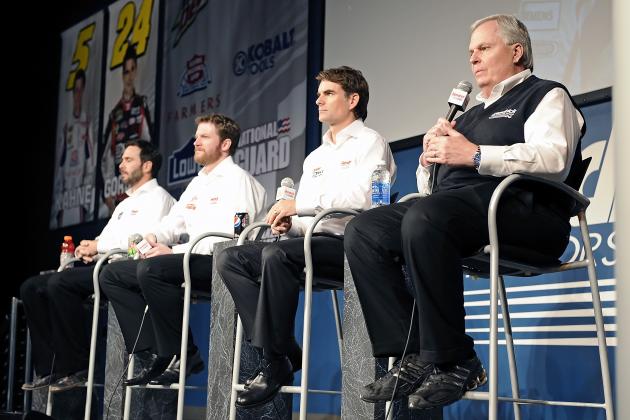 Jared C. Tilton/Getty Images
Hendrick Motorsports will show why they are the top team in NASCAR
Hendrick Motorsports is the powerhouse in NASCAR.
Only a team like that can lose veteran icon Mark Martin and replace him with a young talent like Kasey Khane.
And it's not only about the team's 10 Sprint Cup championships; Hendrick Motorsports dominates everywhere.
Ask 2011 Sprint Cup Series champ Tony Stewart, who made his motors last year.
This year at Daytona, Hendrick has been dominating the speeds at practice and undoubtedly has the most skilled draft drivers on its team.
The 2012 winner will come from this group—just check my final slide.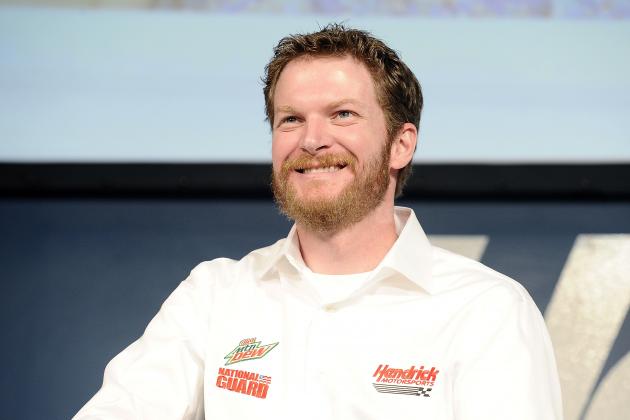 Jared C. Tilton/Getty Images
Jr will be all smiles after he wins the Daytona 500 again
It has been quite a few years since Dale Earnhardt Jr. won the Daytona 500. One of the most skilled draft racers, Dale Jr. won it back in 2004.
He always looks like he has a shot at winning but has not been able to replicate that win. His best finish since was second place in 2010 behind Jamie McMurray in overtime.
He is due for the big win again, and in his fifth year with Hendrick Motorsports, the nine-time NASCAR Most Popular Driver will win the Great American Race.