Daytona 500 2012: Hendrick Motorsports' Outlook for the Season Kickoff
February 15, 2012

Jared C. Tilton/Getty Images
2011 once again showed the power of Hendrick Motorsports as a team to be reckoned with in NASCAR.
Though Jimmie Johnson failed in his quest to secure a sixth straight championship, Hendrick Motorsports as an organization played a major role in Tony Stewart's historic championship run—It supplied his engines.
That is almost definitely considered a hollow victory...but that was last year.
With the departure of Mark Martin and the arrival of Kasey Kahne, owner Rick Hendrick is most likely expecting that he will, as an owner, occupy four of the 12 Chase spots after the checkered flag drops at Richmond when the regular season concludes.
Let us not get ahead of ourselves, the sole concentration right now is the big race coming up on Feb. 26.
Hendrick drivers have performed well at the Great American Race: Among the four current drivers, they have accounted for five Daytona 500 wins. Kasey Kahne is the only current Hendrick driver without a ring on his finger.
Here is a synopsis of what to expect from the Hendrick-affiliated drivers:
Jimmie Johnson
Surprisingly, Johnson's performances at Daytona, in general, are fairly shoddy. He has not had a truly decent finish there since the 2009 Firecracker 400. Johnson is pretty much hit or miss at this track where points races are concerned.
In 10 tries at the Great American Race, Johnson has finished 27th or worse five times. On the other hand, he has finished in the top five four times, including a win in 2006. His only mediocre finish was 15th in his very first attempt a decade ago.
Therefore, Johnson is really just a coin flip for this race. If he is on the lead lap with less than 50 laps to go, expect him start the season strong.
Jeff Gordon has won this race three times. He is my pick to win this year's installment of the season kickoff. Since 1993, he has an average finish of 15.5 at Daytona International Speedway, along with six total wins.
Unlike Johnson, Gordon has finished all over the place. He is the antithesis of a coin flip in terms of finishing at the Daytona 500. However, three victories at said race are nothing to simply gloss over, and my feeling is that he can make it four in 2012.
Jr. has a slightly better overall average finish at Daytona than Gordon (15). As far as the Daytona 500 itself is concerned, Jr.'s finishes more closely resemble Jimmie Johnson. Please get your coin out and be ready to call heads or tails.
In 12 tries, Earnhardt Jr. has finished 24th or worse five times. He has won once, had top-five finishes thrice and two other top-10 finishes. His only mediocre finish was, like Jimmie Johnson, his first attempt that saw him cross the line in 13th. It may be just a coincidence, but those numbers are eerily similar to the five-time champion. Who knows what 2012 will bring?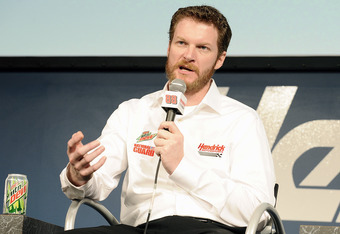 Jared C. Tilton/Getty Images
Kasey Kahne
His performance is the hardest of the four drivers here to prognosticate. He has never been part of an organization, or had the budget, quite like the entity that is Hendrick Motorsports.
In the past, he has not performed poorly at the Great American Race, but has also never finished in the top five. He will be under enormous pressure to perform well in his first official outing for his new employer.
Prediction
Barring any cataclysmic major wrecks that take out a good portion of the field, including two or more Hendrick drivers, a top-10 finish by one of these drivers is almost a given. As stated, Jeff Gordon is a strong candidate to win the 54th running of the Daytona 500.