NY Yankees Trade Rumors: 8 Reasons to Deal for Andre Ethier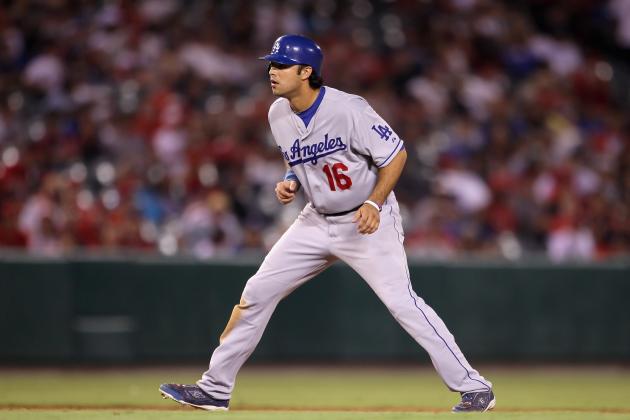 Jeff Gross/Getty Images

This January, Yankees General Manager Brian Cashman indicated that his team was in search of a quality DH. He also made it clear that he would prefer utilize his deep bullpen in a trade rather than acquiring a player from the free agent market. Naturally, a statement like this has sports fans making speculations as to who the next DH in pinstripes will be.
On January 31st, Jim Bowden of ESPN presented the idea of the Yankees trading for Andre Ethier from the Los Angeles Dodgers in this article (Insider required). Following Bowden's publication, Mike Axisa from River Avenue Blues wrote this article, which has been getting Yankees fans thinking realistically about what it would be like to have Andre Ethier as the DH in New York. Fans have a reason to be excited about this possibility, and here are 8 reasons the Yankees should deal for Andre Ethier.
Begin Slideshow

»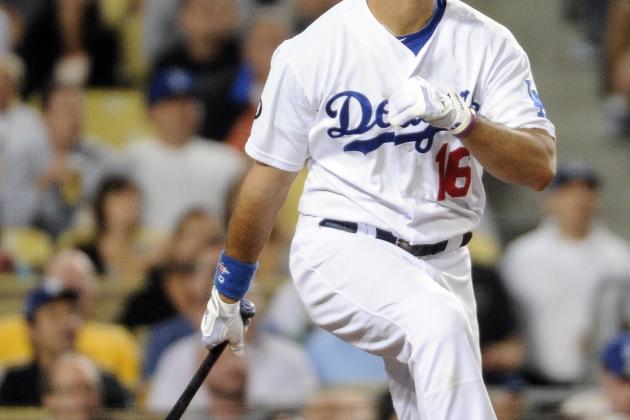 Harry How/Getty Images

Cashman proclaiming that the Yankees need a DH wasn't exactly breaking news The idea that the Yankees need to find a solid bat to add to their lineup has been resonating among fans for awhile now. In fact, if you type in "Yankees need" on Google, the first suggestion presented is "Yankees need DH". Something tells me I wasn't the only one attempting to run that search.
Though the idea of acquiring a solid DH has been in the back of the Yankees heads for quite some time, the issue was brought to the forefront after the Yanks dealt potential DH Jesus Montero to the Seattle Mariners in return for pitcher Michael Pineda. The void is certainly there, and Andre Ethier could be the man to fill it.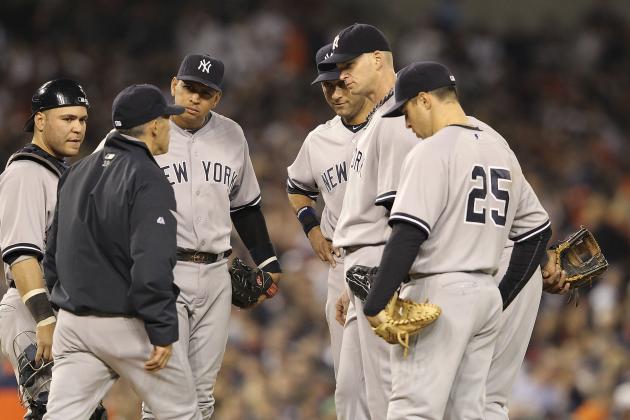 Leon Halip/Getty Images

As Cashman recently indicated, the Yankees currently possess a deep bullpen and perhaps would be willing to deal one or more pitchers in return for a DH. After signing Hiroki Kuroda and trading for Michael Pineda, the Yankees will have seven pitchers battling for five jobs. These pitchers also include: C.C. Sabathia, Ivan Nova, Phil Hughes, A.J. Burnett, and Freddy Garcia.
In the ESPN Insider article previously mentioned, Jim Bowden suggested the Yankees trade catcher Austin Romine and pitcher Dellin Betances to the Dodgers in return for Ethier. This could possibly be something for the Yankees to look at, but the fact-of-the-matter is that the Yankees have a large arsenal of players and prospects to put on the trading block.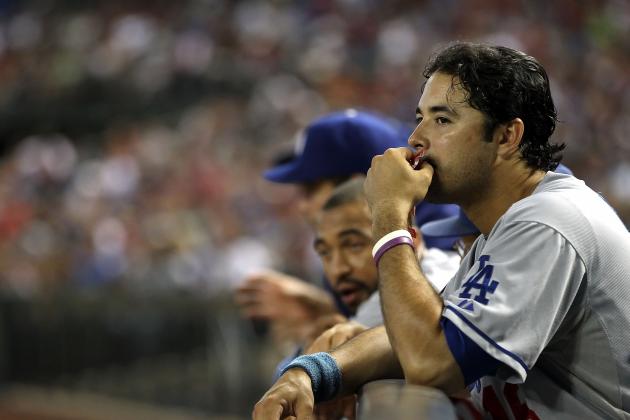 Christian Petersen/Getty Images

With kids entering the MLB at such young ages today, 30 may initially sound old for a player. The fact of the matter is that players can excel well into their 30's and even low 40's, especially at the DH position. Ethier most likely has, at the very least, five more solid years left in the tank. He could certainly help add some relative youth to a lineup that some feel is aging.
With the recent retirement of Jorge Posada and others such as Derek Jeter and Mariano Rivera seemingly a few years from doing the same, the addition of Ethier could provide some promise and stability for the future.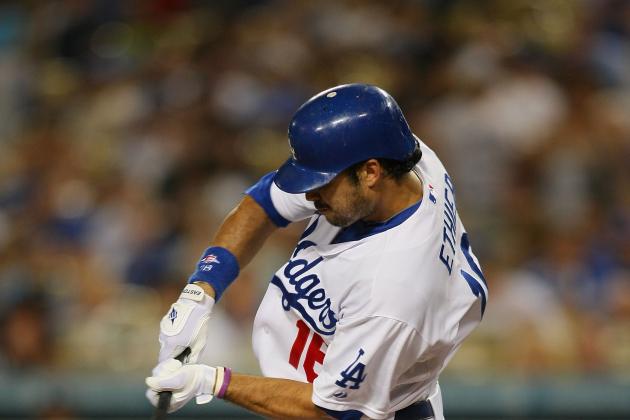 Victor Decolongon/Getty Images

Most likely, the majority of the pitchers that the Yankees will be facing will be right-handed. This bodes well for lefty hitter Andre Ethier, who has been unstoppable against righty pitchers throughout his career. In the past three years, Ethier has compiled batting averages of .302, .318, and .321 against right-handed pitchers. In addition to that, he landed a 151 wRC+, which is the eighth best in baseball during that time.
Yankee stadium is certainly a lefty-friendly ballpark, and the team could pay off from having a lefty with a big bat.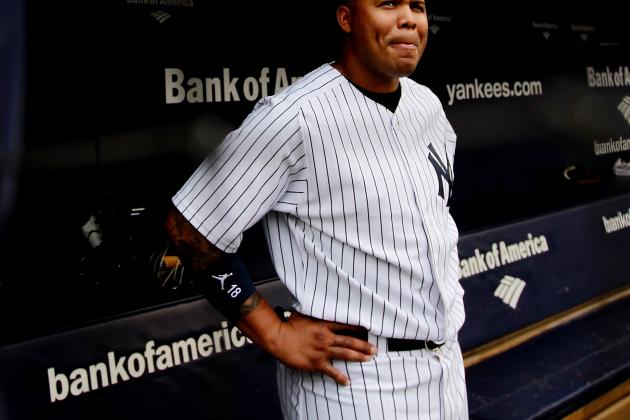 Nick Laham/Getty Images

Despite Ethier's impressive performance against righty pitchers, he struggles against lefties. In the past three seasons, he only compiled batting averages of .215, .279, and .329, with a 65 wRC+. This lands him as the fourth worst in the MLB.
That is where Andruw Jones comes in. Jones bats right handed and although he doesn't hit lefties with the quality that Ethier hits righties, he has a quality bat that can serve his team well with a south-paw on the mound. This dual-threat DH squad could be a handful for opposing teams.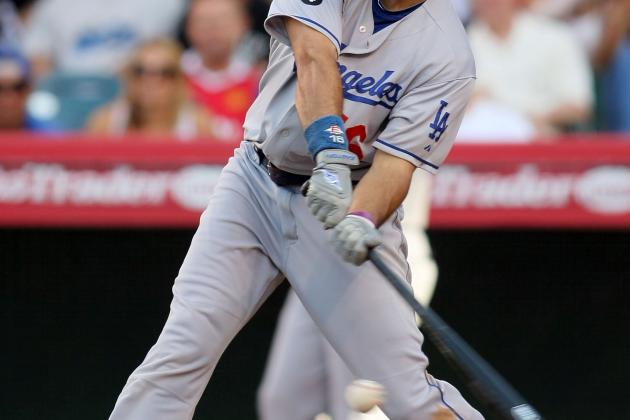 Victor Decolongon/Getty Images

Ethier has already established himself as a solid ball player. He is a two-time National League All-Star (2010,2011) and has won the Silver Slugger Award (2009) and a Gold Glove Award (2011). His resume sets him apart from minor league players that the Yankees may look to call on as a DH in 2012.
Before he was traded, Jesus Montero was expected to contribute to the Yanks as a DH. However, where Montero is relatively unproven, Ethier has put together three solid seasons in a row and is expected to continue his success. He has established himself as a premier player in the MLB, which would give the Yankees confidence in their investment.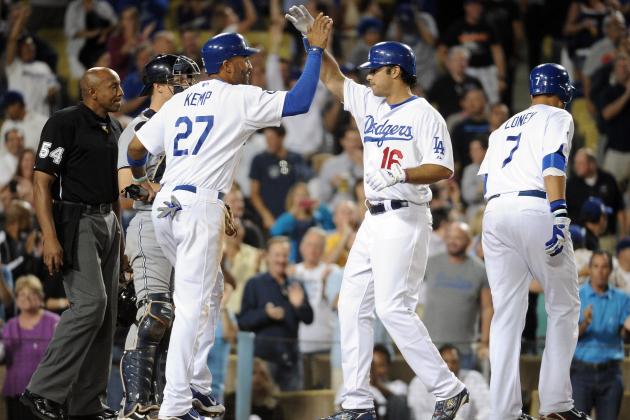 Harry How/Getty Images

Few people know this, but in 2009, Ethier received the "MLB Clutch Performer of the Year Award". This award is presented to the player that fans vote for and believe performs the best when the game is on the line. In that year, he tied the record with four game-winning home runs, compiling a league leading six game-winning hits in total.
Ethier has also displayed his ability to perform in the postseason. In his most recent playoff appearance (2009), Ethier earned a batting average of .355. He posted three doubles, a triple, and three home runs with a .806 slugging percentage and an impressive 1.235 OPS. When evaluating players, those who can perform under pressure, especially in the postseason, are favorable over ones who succumb to it.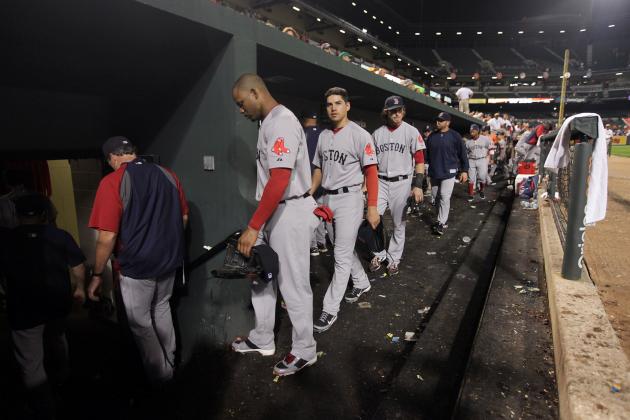 Rob Carr/Getty Images

Though this may be a stretch, it is always important to ensure that your divisional rivals don't snag a player that you happened to pass up on. Ethier's skills are well sought after across the MLB, and I wouldn't be surprised to see the Red Sox's ears perk up when they hear that the Yankees didn't make the Dodgers an offer for him.
Teams never want to see solid players end up with a divisional rival. Though it may not be the buying/selling point for the Yankees, keeping players off the divisional market is always something to consider.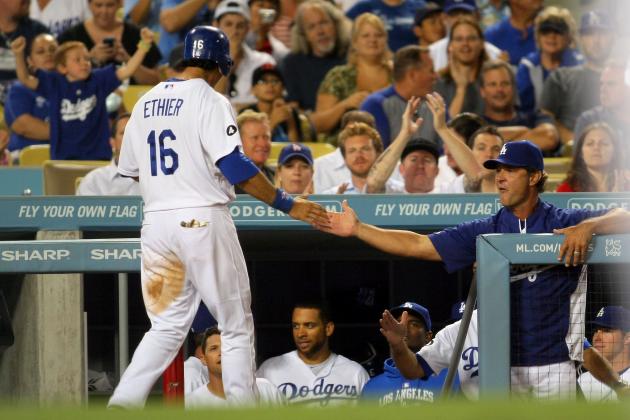 Victor Decolongon/Getty Images

There is no doubt that the Yankees need a solid DH and a big bat and their lineup. Ethier can fill both of those voids. The Yankees have the personnel to dish out a few pitchers and/or a minor league player or two in order to obtain Ethier.
The only issue that presents itself is the fact that Ethier is set to make close to $11 Million in 2012, which is around six times what the Yankees said that they wanted to spend on a designated hitter. Ethier certainly would be a very good fit on the Yankees, but they may choose to go a cheaper route, perhaps picking up Johnny Damon, Hideki Matsui, or Raul Ibanez—all of whom have been speculated to be potential candidates.
If the Yankees can some how pull off this trade, it would undoubtedly be to their benefit. Only time will tell whether the Yankees decide to invest on Andre Ethier, or pass him up for a cheaper option.