Miami Dolphins: Why the Dolphins Are Making a Mistake with a 4-3 Defense
February 2, 2012

Mike Ehrmann/Getty Images
Prior to last season, I ranked the Miami Dolphins as having the second-best front seven in the NFL. While that list did have its flaws—flaws that will be eradicated in this year's version—the Dolphins' defense overcame a slow start to live up to the billing I gave it this year.
For that reason, it comes as a major shock to me that the Dolphins are looking to transition to a 4-3 defense this year.
The team's 3-4 base allowed its best players to excel, with guys like Cameron Wake, Karlos Dansby, Kendall Langford and Paul Soliai all perfectly fitting Mike Nolan's scheme. Even with Nolan's departure, there are very few reasons supporting the Dolphins' decision.
Apologists for the decision will point to the Houston Texans' success this season.
Prior to last season, the Texans underwent the opposite surgery that the Dolphins are attempting to carry out this year. The Texans' front seven was the strength of their defense also, but nowhere near to the degree of the Dolphins', and the transition allowed them to become one of the best units in the NFL.
Pivotally for the Texans, however, they brought in a proven defensive coordinator in Wade Phillips. Phillips, despite his problems as a head coach in Dallas, was a defensive guru who would instantly command the respect of the young talent in Houston's front seven.
The Dolphins don't have this luxury.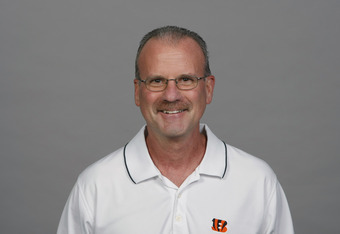 Handout/Getty Images
Kevin Coyle, the secondary coach in Cincinnati for Mike Zimmer, is now the team's defensive coordinator hoping to convince older players like Wake, Dansby and Kevin Burnett while deciding if Langford and Soliai should return and evaluating whether Randy Starks and Jared Odrick are long-term options on the interior of the defensive line.
Coyle must first command the respect of the group, however. Being an unproven coordinator and following in the footsteps of Nolan will put the pressure on Coyle to impress from day one. Unlike Phillips, he doesn't arrive to a younger group with a tried-and-true philosophy—in fact, it's the complete inverse. The scheme in Miami is proven, but Coyle's career is not.
His former team played a strict 4-3 base in Cincinnati and Coyle was hired because of the huge amount of success his secondary had working with Zimmer. Coyle showed he has the ability to recognize a player's strengths and minimize the exposure of his weaknesses in Cincinnati.
If he takes the same approach with the Dolphins' front seven, there will be no scheme change on South Beach.
In any defense, no matter the scheme, everything begins at the front. The Dolphins have had one of the best bases to play behind in the NFL over the past year or two with a quality rotation at defensive line.
The team's three starters—although I use that term lightly—are the prototypical 3-4 linemen.
Kendall Langford, who will likely not return as a free agent because of this scheme change, is best suited to play 3-4 end and will be a hot commodity on the free-agent market for many 3-4 defenses. He could stay and play inside in a 4-3 defense, but wouldn't be playing to his strengths. If he did return, the Dolphins would be paying him a lot of money in a position where they have other competition.
Paul Soliai, the team's starting nose tackle, is also a free agent and definitely won't return to play in a 4-3 defense. Soliai is a 3-4 nose tackle, nothing else, who was franchise tagged after last season because of his importance to the team's 3-4. At 28 years of age, Soliai will be looking for a huge pay day, which he will only receive from a 3-4 team.
Changing to a 4-3 scheme essentially tells both of those (former?) starters that they will not be returning to Miami.
The team's other starter on the defensive line remains under contract but will no longer be playing defensive end. Randy Starks has been one of the better 3-4 defensive ends in the NFL for as long as he has played in the scheme but will now move inside in the team's 4-3 defense.
Starks will be joined by former first-round pick Jared Odrick inside most likely. Odrick missed essentially all of his rookie season but showed himself as a prospective long-term option playing 3-4 end last season, starting seven games and notching six sacks.
Odrick, at roughly 300 pounds, is too big to play defensive end in a 4-3 so will slip inside and start next to Starks. Regardless of his potential, he remains an unknown commodity. Even as a 3-4 end, there was no guarantee he would be a capable starter this year. Asking him to move back to defensive tackle, which he played at Penn State prior to being drafted, is moving him even further away from the reasons why the Dolphins picked him up in the first place.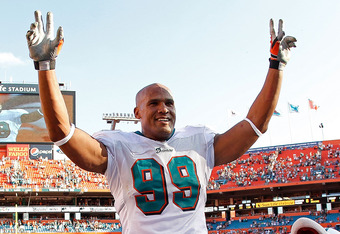 Mike Ehrmann/Getty Images
At best, the Dolphins will enter next season with two unproven, but talented starters on the interior of their defensive line. Outside of that, they are opening themselves to an endless list of new potential issues such as the continuity between both players or if neither player has the ability to adjust to the position.
Because of Jason Taylor's retirement, the Dolphins have only one legitimate option at defensive end for their new defensive scheme.
For a long time, Taylor was the team's best pass-rusher playing with his hand in the ground on the outside. These days, Cameron Wake is the staple rusher of the team's front seven. Wake excelled playing defensive end in Canada, but has played his whole NFL career as a linebacker.
In his three seasons as a 3-4 outside linebacker, Wake has notched 28 sacks, and 22.5 of those sacks have come in the past two seasons when he was a starter. Even though he successfully played the position in Canada, there is a major difference between playing end in the CFL opposed to the NFL.
Wake is 6'3" and roughly 250 lbs. The precedent is there for a smaller outside linebacker to move to defensive end, but Wake doesn't have the body type to set the edge in the running game. Elvis Dumervil, the most recent example of a player going from linebacker to end, is 5'11" but weighs 260 lbs.
Dumervil still struggles somewhat in the running game with the size of opposing offensive tackles.Wake is taller than Dumervil, but that actually makes things worse for the Dolphins as Dumervil's low center of gravity and bulk give him a better chance at playing defensive end.
As an outside linebacker, you more often than not face off against tight ends and fullbacks as opposed to locking horns with mammoth tackles on every play.
As a defensive end, Wake may get to blitz on every down, but whether he can sustain point of attack in the running game remains to be seen. He could prove to be a fatal flaw in the Dolphins' new defense. Considering he is their greatest weapon in the 3-4, he epitomizes why the Dolphins don't need to make this change to a new scheme.
Across from Wake there is little competition for a starting place.
Koa Misi has done basically nothing to encourage anyone that he can play in a 3-4, not least move to defensive end in a 4-3. Much like Wake, his body type will likely make him a risk on the outside. He is the same height as Wake but even lighter.
Ikaika Alama-Francis and Jason Trusnik have very little NFL experience between them. Neither figures to be capable of starting at defensive end for the Dolphins next season.
The New England Patriots did bring in two starting-caliber defensive ends out of the wilderness that is free agency when they transitioned to a 4-3 defense last season, but you cannot guarantee those players are available or that the coaching staff in Miami is good enough to find them this year.
The Patriots were able to attract players like Andre Carter, Mark Anderson and Shaun Ellis because of their reputation and the opportunity to work with Bill Belichick. The Dolphins don't have those kind of attractions to players with a new coaching staff in place.
Quality defensive ends such as Cliff Avril, John Abraham, Mario Williams and Robert Mathis will cost a huge amount to bring to Miami in free agency, while the only other available options are mostly just complementary pieces as opposed to players capable of improving the defense.
Last season, Mike Nolan brought Kevin Burnett over from the San Diego Chargers to create one of the most athletic pairing of linebackers together inside in the whole league. Burnett and captain Karlos Dansby have both played in 3-4 defenses since their careers began.
The likelihood is that Dansby should remain as the sole inside linebacker, while Burnett moves out to strongside backer. Presuming Burnett seamlessly moves to the outside—which isn't a guarantee—the Dolphins still need to find another starting linebacker to fill out their front seven.
Ultimately, moving to a new scheme on defense will require the Dolphins to concentrate their offseason activities on that area of the team almost completely. This was fine for the Houston Texans last year because their defense was their biggest obstacle to making it to the playoffs.
The Texans drafted J.J. Watt in the first round and Brooks Reed in the second round to eventually become starters in the front seven, while their biggest free-agent additions were safety Danieal Manning and cornerback Johnathan Joseph.
Moving to a 4-3 defense creates a lot of ambiguity around what was the strongest part of their team. In a 4-3 they will certainly need to bring in at least two new starters to add to a front already trying to find its identity.
Staying in a 3-4 defense allows them to focus on re-signing their own proven players and then look to bring in the one starter—outside linebacker—that they would need. With Jarret Johnson, Anthony Spencer, Ahmad Brooks, Bryan Thomas and Manny Lawson all available in free agency, the Dolphins would be able to set their defense and focus their main draft picks on fixing the weaker areas of the team.
In an ideal situation, the Dolphins could bring Matt Flynn in in free agency and then focus on improving the offensive line through the draft. This strategy would at least be working on the team's weaknesses opposed to blowing up its strengths.
The Dolphins finished 6-10 in 2011, though their sixth-ranked defense (in points) wasn't what prevented them from making the playoffs.
It's not too late to change your mind...
Tweeting @Cianaf