2012 Fantasy Baseball: Additional First Base Options
January 25, 2012

Mike Ehrmann/Getty Images
We already looked at the LestersLegends' top 15 fantasy baseball first basemen for 2012, but that doesn't mean there aren't additional options if you choose to wait on filling your first base slot to address shallower positions.
Alternatively, many leagues offer corner infield slots, which put these options on your radar.
Miami's Gaby Sanchez had nearly identical 2009 and 2010 seasons. Both years he had 572 at-bats, scored 72 runs and hit 19 HRs. His hit totals were within four off each other (156, 152), his RBI were within seven (85, 78) and his average within seven points (.273, .266).
While those certainly aren't elite numbers, a .270-72-19-80-4 line isn't the worst you can do, especially if it means you have an distinct advantage elsewhere.
Toronto's Adam Lind didn't return to his ridiculous .305-93-35-114-1 line that he posted in 2009, but his 2011 line of .251-56-26-87-1 was a solid enough improvement over 2010 (.237-57-23-72-0).
He's basically a two-category player (HR, RBI), which is fine if you can address the other categories elsewhere.
Minnesota's Justin Morneau is a risk/reward option. When he's on, he is as good as almost any first basemen in the league. He's dealt with concussions and other injuries that have limited him to just 150 games combined over the past two years.
Concussions are serious business, but he claims to feel much better than at this time last year. Have a backup plan if you roll with the former MVP.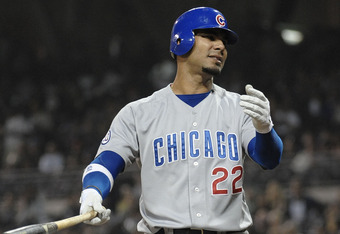 Denis Poroy/Getty Images
Carlos Pena returned to Tampa Bay. You know the deal with Pena. He'll give you power, but you'll have to live with his miserable batting average. His high water mark over the past three years is .227, which makes it a little tougher to swallow the 31.7 HRs and 88 RBI he averaged.
He hit just .133 against lefties last year, and the Rays will likely sit him in those situations this year. That means his power numbers can take a hit, but he won't be as damaging in the batting average department.
It took an smoking second half (.320 average, .914 OPS) for James Loney to recover from his feeble first half (.268, .653) to at least allow him to finish with a solid .288 batting average and mediocre .755 OPS. He's never been a power threat, but he averaged 89.3 RBI from 2008-2010. That number dropped to 65 last year.
I'd only consider Loney a late-round option at best.
Todd Helton isn't the player he once was, and you have to worry that his back will give him fits at some point given his age (38), but he still hit .302 last year with a .850 OPS.
Seattle's Justin Smoak did not impress last year, hitting .234 with a .719 OPS and 15 HRs in 427 ABs. He did start the year strong, hitting .284 with four HRs and 17 RBI in April.
He's a player to take a flier on late to see if he finally lives up to his potential.
Billy Butler played 11 games at first base last year. If he has (or gains) first-base eligibility in your league, he's definitely a player to plug in that slot. He'll be drafted regardless, but has more value if he's not just listed as a DH/Utility.
Also check out: