Super Bowl 2012: Examining How the Giants Fared Against Tight Ends in 2011
January 24, 2012

Rich Schultz/Getty Images
Rob Gronkowski and Aaron Hernandez, or the "Boston TE Party" combined for 169 catches, 2,237 yards and 25 total touchdowns during the regular season for the New England Patriots. 
Do you think the New York Giants secondary has quite the daunting task ahead of them in Super Bowl XLVI? 
Definitely. 
Each Patriots tight end brings his own unique and terrorizing skill set to the field and are the focal points of New England's potent attack. 
Let's dissect how the Giants fared against the opposition's tight ends in 2011. 
In Week 1, against the Washington Redskins, Fred Davis erupted for five catches with 102 yards in victory. Rex Grossman actually out-dueled Eli Manning, throwing for 306 yards and two touchdowns. Davis is a youthful tight end who certainly can get down the seam in a hurry. 
Then they held the Arizona Cardinals' Todd Heap to four grabs and 41 yards, but Kevin Kolb threw elsewhere in a 31-27 loss. 
After playing a handful of games against teams that don't prominently feature their tight ends in their offensive game plan, they squared off against Gronk and Hernandez in Foxboro in Week 9. 
Thanks to Manning's late-game heroics, they left New England with a win, but the tight end tandem was productive. 
Gronkowski caught eight passes for 101 yards with one touchdown and Hernandez reeled in four catches for 35 yards with a score. 
The following week they traveled to San Francisco and faced the elite Vernon Davis. Alex Smith connected with him only three times for 40 yards, but he did have a touchdown catch. 
The Giants went into a tailspin following their lost in the Bay Area. 
They lost four of five and were torched by some of the better tight ends in the game. The Eagles' Brent Celek caught six passes for 60 yards in Week 11 and the mammoth Jimmy Graham hauled in five passes for 84 yards with two touchdowns in a 49-24 Saints rout. 
Things didn't get any better on Sunday night against the Packers the next week. Jermichael Finley's six-catch, 87-yard, one-touchdown effort was instrumental in a 38-35 Green Bay win. 
New York does deserve credit for limiting Dallas' Jason Witten to three grabs and 12 yards in a huge Giants win in Week 14, and after a meaningless eight catches and 77 yards from the Jets' Dustin Keller in defeat, Witten recorded seven grabs and 69 yards in the season finale. 
In the postseason, they faced three teams who frequently utilize their tight ends. Tony Gonzalez was held in check, with only four receptions for 44 yards. However, as we know, Vernon Davis had his way with the Giants defensive backfield last week. 
He had three catches for 112 yards and two touchdowns. 
In conclusion, it doesn't seem like New York is specifically susceptible against opposing tight ends, but they did allow a handful of big games to the game's faster, more athletic ones.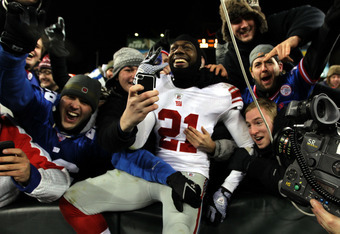 Jamie Squire/Getty Images
They are coming off a game in which their safeties were exposed by Vernon Davis and, most importantly, weren't able to slow down Gronkowski and Hernandez in early November. 
Safeties Kenny Phillips, Deon Grant and Antrel Rolle will have their work cut out for them in Super Bowl XLVI. 
The Patriots tight ends pose a threat to hit the big play down the seam on a laser beam from Brady, and are amazing running after the catch.