Joe Paterno: The Highlights of JoePa's Penn State Career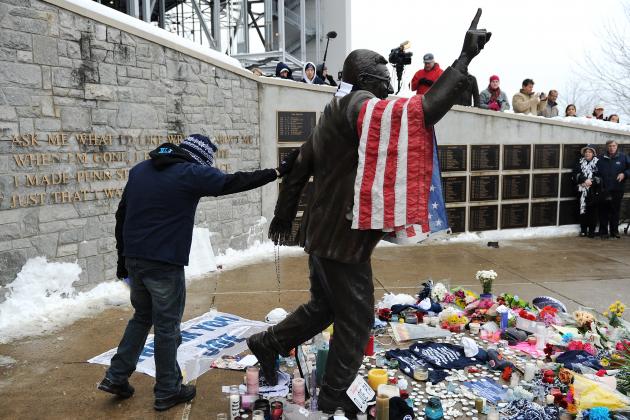 Patrick Smith/Getty Images

Joe Pa will always be remembered as a man of significance.
He is the equal of Bear Bryant, and is actually probably more esteemed as a human being. Sandusky's actions have left a cloud over Penn State, and for a time it caused me to question who Joe Pa was as a person.
I believe, though, that he is still the man we know.
His contributions to education at Penn State, his Grand Experiment that challenged the football team to have a university it was proud of, and the lack of NCAA sanctions throughout his career make him an unforgettable legend.
His last public interview tried to clarify whatever happened, and that he didn't know what to do with the Sandusky problem. Like many other news outlets, he deserves much praise, but was perhaps too loyal to Sandusky.
He was extraordinarily loyal to Penn State, helping the program reach national prominence, and he did things the right way. It was no flash, all substance.
The method paid off many times for Paterno, most notably in the 1987 Fiesta Bowl. You know the story: war-like Miami goes into the desert as one of the best teams ever and leaves with their tails between their legs.
That was Joe Pa. That is Joe Pa's legacy.
Every legacy has its highlights, and while his life ended tragically, it cannot completely spoil more than four decades of on-field success.
Here are the greatest highlights of Joe Pa's career.
Begin Slideshow

»
After being the only assistant taken by Rip Engle from Brown to Penn State, Paterno eventually succeeded his mentor as Penn State head coach.
In JoePa's third season at the helm, the then-Independent Nittany Lions finished 11-0 with a second-ranked finish.
Wins Over Ranked Teams: No. 6 Kansas, 15-14 (Orange Bowl)
| | | |
| --- | --- | --- |
| Opponent | Rank | Final |
| Navy | 10 | 31-6 |
| Kansas State | 4 | 25-9 |
| at West Virginia | 3 | 31-20 |
| at UCLA | 3 | 21-6 |
| at Boston College | 4 | 29-0 |
| Army | 4 | 28-24 |
| Miami (FL) | 4 | 22-7 |
| at Maryland | 3 | 57-13 |
| at Pittsburgh | 3 | 65-9 |
| Syracuse | 3 | 30-12 |
| vs. No. 6 Kansas | 3 | 15-14 |
| | 2 | Record: 11-0 |
Ohio State did have a momentous come-from-behind victory over USC in the Rose Bowl. Given this was the pre-BCS era, the matchup was significant for actually taking place between No. 1 and No. 2 teams.
Like the Boise State of their time, though, Penn State does deserve credit as a legitimate squad that year. The Broncos and Nittany Lions both pulverized weaker competition and squeaked out victories against ranked opponents.
Oh, yeah—it was also Penn State's first undefeated season in roughly 50 years.
"I'd like to know how the President could know so little about Watergate in 1973 and so much about college football in 1969."—Joe Paterno
Joe Pa will be remembered for his fire and wit. In 1969, Penn State proved its newfound consistency by posting a second consecutive perfect season.
This year, Penn State grabbed the longest winning streak in the country and in school history, triumphing in 22 straight outings.
Unfortunately, Darell Royal's Texas Longhorns captured the national title by winning the 1969 Game of the Century.
Another unscathed record leads to another unrecognized team.
Wins over Ranked Teams: No. 17 West Virginia 20-0 (Homecoming), No. 6 Missouri (Orange Bowl)
| | | |
| --- | --- | --- |
| Opponent | Rank | Final |
| at Navy | 3 | 45-22 |
| Colorado | 2 | 27-3 |
| at Kansas State | 2 | 17-14 |
| No. 17 West Virginia | 5 | 20-0 |
| at Syracuse | 5 | 15-14 |
| Ohio | 8 | 42-3 |
| Boston College | 5 | 38-16 |
| Maryland | 5 | 48-0 |
| at Pittsburgh | 4 | 27-7 |
| at North Carolina State | 3 | 33-8 |
| No. 6 Missouri | 2 | 10-3 |
| | 2 | Record: 11-0 |
By his eighth year on the job, Joe Paterno was already a living legend.
Having already garnered three undefeated and untied seasons, Penn State was becoming a well-known football force.
A quintessential example of such acknowledgement came in his third perfect season of 1973. Running John Cappelletti won the Nittany Lions' first Heisman Trophy.
The clean persona of the Penn State program was epitomized in Cappelletti's selfless Heisman acceptance speech, when he dedicated the award to his cancer-ridden little brother Joey.
Wins Over Ranked Teams: No. 20 Pittsburgh and No. 13 LSU
| | | |
| --- | --- | --- |
| Opponents | Rank | Final |
| at Stanford | 7 | 20-6 |
| at Navy | 7 | 39-0 |
| Iowa | 6 | 27-8 |
| at Air Force | 7 | 19-9 |
| Army | 7 | 54-3 |
| at Syracuse | 5 | 49-6 |
| West Virginia | 5 | 62-14 |
| at Maryland | 6 | 42-22 |
| North Carolina State | 6 | 35-29 |
| Ohio | 6 | 49-10 |
| No. 20 Pittsburgh | 6 | 35-13 |
| No. 13 LSU | 6 | 16-9 |
| | 5 | 12-0 |
Side Note: Penn State's six-point victory came against an NC State team coached by Lou Holtz.
In the later '70s, Joe Paterno's autonomy in Pennsylvania was challenged by Pitt.
For a decade, the Lions and Panthers mauled each other's national title hopes.
The rivalry brought much attention and reverence for both squads—Penn State won a national title in 1982 (and played for several others), while Pitt boasted running back Tony Dorsett, future NFL quarterback Dan Marino and a 1976 championship trophy.
Perhaps the greatest shocker in the pugilistic performances came in 1981, when Penn State usurped the No. 1 ranked Panthers 48-14. It would be Pitt's only loss of the year.
But not too long later, the Lions of Penn State would own the national stage alone.
By the 1980s, Joe Paterno was among the most successful coaches in sports.
In 1982, the coach had his 11th 10-win season and the Nittany Lions were facing tougher schedules annually.
The Nittany Lions played six ranked teams, including four Top Five squads. The lone blemish on the season was a blowout loss to Alabama at Legion Field.
The ironic truth is that Penn State likely did not deserve the title.
In 1998, Penn State tight end Mike McCloskey admitted that the game-winning catch he had made against then second-ranked Nebraska did not count. He had gone out of bounds. In the era before instant replay, there was no review of plays by the officials.
Nevertheless, the '82 team (led by quarterback and current ESPN analyst Todd Blackledge) took down Vince Dooley's undefeated Georgia Bulldogs and their star running back Herschel Walker in the 1983 Sugar Bowl.
During the Bear Bryant era, Joe Pa had never been able to defeat the bastion of the Bible Belt.
Yes, I mean Alabama.
Most notably, Penn State had lost to Alabama in the 1979 Sugar Bowl.
The Crimson Tide's stout defense had shut the Lions out of the end zone. A last-gasp attempt to tie the game with Bryant's suffocating squad was prevented, and Alabama triumphed 14-7.
But Bear Bryant had now gone, and Alabama had gone through a transition phase. Despite such adjustments, the Tide visited Beaver Stadium as the third-ranked team in America.
This time, the Nittany Lions survived the Tide, as a 34-7 romp whittled to a 34-28 escape. The victory was a game-changer for the '83 Nittany Lions team. The defending national champions had started the year 0-3, and were 2-3 before facing Ray Perkins' troops.
Penn State would later upset No. 4 West Virginia en route to an 8-4-1 season.
1986 was a landmark year for the Nittany Lions.
For one thing, it was the 100th year celebration of Penn State football.
But more importantly, for the first time, an undefeated Nittany Lions team became national champs.
The contrast between the straight-and-narrow Paterno and lax disciplinarian Jimmy Johnson only fueled the fire for the 1986 national championship.
The Miami players came ready for war, dressed in military-style fatigues for a pregame dinner, while Penn State came in ties and suits.
Penn State intercepted Miami's Heisman Trophy-winning quarterback Vinny Testaverde five times in a defensive game.
In the most-watched game in college football history, Penn State triumphed in a rare No. 1 vs. No. 2 postseason matchup.
For more information on the 1986 championship squad, look up the Penn State Football 1986 National Championship eight-part collection of the 1986 season highlights on YouTube.
Not much needs to be said here. His players say it all.
"I think he is one of the greatest coaches ever in college sports."—Ronald Reagan
Ronald Reagan seemed (for the most part) to understand how the 1987 Fiesta Bowl went Penn State's way.
He also mentioned the great statistics Paterno had garnered through the 1986 season.
Watch what the President wears as he comes in.
Joe Pa's humor with the President is also killer.
Then Vice President George H.W. Bush, a very close friend of Paterno's, must have been beaming.
By 1987, Joe Pa became the fastest major college football coach to reach 200 wins.
Following the second national title, though, Penn State took a dive.
In 1988, the school had its first losing season since Paterno had taken over. 1989 had been a nice recovery season, but there was some sweeping up to do before Penn State could rejoin the ranks of the national elite.
The opportunity manifested itself on November 17, 1990.
Entering South Bend, the team fought against Notre Dame. In '88, the Fighting Irish had been national champions and had posted back-to-back 11-win seasons for the first time in school history.
Lou Holtz and company would be denied a shot for a second title in three years as a last-second field goal secured victory for the Nittany Lions.
PSU would finish third in 1991, enough to prove that the Lion Pack were back.
Just in time to join a new conference...
Paterno's last undefeated squad was not named national champions.
Instead, they finished second to Tom Osborne and Nebraska.
After thrashing Ohio State 63-14 (no, that is not a typo), the Nittany Lions were bound for a letdown. After trailing 21-0 to Illinois, the Lions roared back to win 35-31.
While this victory knocked them from the top of the polls, "the Drive" gave Penn State its first Big Ten title in only their third year in the conference.
Besides beating Illinois and Ohio State, PSU had to beat fifth-ranked Michigan on the road.
The Illinois victory clinched Penn State's first trip to the Rose Bowl since 1923, and only its second appearance ever.
The last major bowl Joe Pa had to conquer was the Rose Bowl.
By 1968, he had won the Orange Bowl.
The Cotton Bowl fell in 1972.
The Sugar Bowl (and Georgia) went to Penn State for the 1982 national championship.
But Penn State had never won in Pasadena before. In fact, they had never even played there in the Paterno era.
That would change. Penn State throttled the Pac-10 champion Oregon Ducks to finished the regular season unscathed. In the process, Joe Pa passed Bear Bryant for the most bowl wins of all time.
It was the Nittany Lions' first Rose Bowl win ever, and the team made a case for No. 1.
Though Penn State would not finish undefeated and challenge Florida State for the national championship, the 1999 football team showed how dominant it was on the opening weekend.
Joe Pa also helped make history, as Penn State became one of the first teams to play a 12-game season.
Both Herbstreit and Corso (with his headgear) picked Penn State to win by a field goal.
Watch the game and see the final score.
Right before the Miami mini-dynasty started in 2000, Penn State decides to stop the Hurricanes one more time.
Instead of playing at a comfortable neutral site, the Nittany Lions went into the Orange Bowl, a place where Miami had gone 81-10 since 1985. While losses were becoming more frequent on the Hurricanes' home turf, it was still gutsy to schedule the threatening team.
The odds were against Penn State.
The Big Three of Florida had gone 10-0 on their home turfs against Big Ten teams in the '90s. Miami hadn't lost to a Big Ten team since 1984!!!
In a tense game between two top-10 teams, Joe Pa bested the Hurricanes yet again.
Nobody likes to lose—especially Joe Pa.
After an overtime loss to the Iowa Hawkeyes, the elderly Paterno raced across the field to yell at the referees.
It was a game, he contended, Penn State shouldn't have lost.
Thanks to Joe Pa's publicity of the issue (along with the "Clockgate" Michigan and Michigan State game the previous year), the Big Ten Conference became the first football conference to use instant replay.
Way to go, Joe Pa!
Jim Tressel and Ohio State had taken the Big Ten by storm.
Penn State, on the other hand, had four losing seasons in the past five years.
For obvious purposes, this era was called the Dark Years. Joe Pa needed a marquee win to prove he was still viable as a head coach.
On October 8, 2005, the Nittany Lions had some renewed confidence. No. 6 Ohio State was visiting, and this home game was a great opportunity to establish momentum.
With College Gameday visiting Beaver Stadium, Penn State could shock the nation and rejoin the elite teams. Most importantly, whichever team won this game gained the lead in the Big Ten.
In an epic game, Penn State surmounted Ohio State 17-10. The Nittany Lions would only lose one game all year (a controversial last-second touchdown scored by Michigan a week later), won their first BCS bowl, and finished the year as the No. 3 team in America.
Oh, yeah—he also beat Bobby Bowden.
Penn State was back.
"Ya know, right now we've been celebrating all these guys and coaches and everybody who's had great success playing...Anybody who's played college football, stand up!"—Joe Pa
Joe Pa joined friend Bobby Bowden as the first two active coaches to be inducted into the College Football Hall of Fame.
His speech highlights the humor that followed him into his later years.
Following a 10-7 win over Illinois, Joe Pa became the winningest coach in major college football history.
Paterno would be honored with a plaque and numerous compliments throughout the sporting community on ESPN.
We all know what happened after this, but no one can deny the success of Joe Pa. No one.
Of course, one can't capture all of Joe Pa's success, but one can catch the essence of his being through his ability to fight against expectations. He did it all his life.
Penn State Football: From Hamlet to the BCS
This video follows Joe Pa's darkest days as a head coach as he leads Penn State to national prominence.
Penn State Paterno Tribute Keith Jackson
Sports commentator Keith Jackson gives his opinion of how Joe Pa became what his parents never expected, but still left them proud of their son.
Joe Pa was Penn State. Joe Pa is Penn State.
And like Bobby Bowden at Florida State, Tom Osborne at Nebraska or Bear Bryant at Alabama, he will always be Penn State. Always.
With so many highlights covered, what I want to know is what was the epitome of Joe Pa's career? Was it the titles? Was it the comeback from the Dark Years? Was it the blowout victories against highly ranked competition?
The choice is yours to make.