LA Dodgers 2012 Preview: Can This Be Dee Gordon's Breakout Season?
March 6, 2012

Stephen Dunn/Getty Images
The world is expecting very little from the Los Angeles Dodgers this year.
Most baseball pundits and writers are holding firm to the believe that the team will still be very much affected by the ownership situation, the lack of support coming from the front office and the missing fans that will leave Dodger Stadium sparsely attended all summer.
However, these pundits are forgetting that the 2011 Dodgers finished the season strong, posting a 34-20 record over the last two months of the year.
With an unbeatable tandem of Matt Kemp and Clayton Kershaw, along with key contributors such as Andre Ethier, the Dodgers have the potential to do some damage in a NL Western division that often takes months to sort itself out.  
One thing is for certain, though. The Dodgers have a young, talented shortstop who will dazzle fans with his light-bending speed and his superb glove this summer. Dee Gordon made a great impression in his first cup of coffee last year, batting .304 with 24 stolen bases in only 56 games.  
Gordon needs to walk more in order to exemplify the typical lead off role of setting the table, but with his ability to get bunt singles and pressure the defense, the Dodgers are not worried about his presence.
His numbers in the minors also suggests that he is prone to strike out too often, but with only 27 strikeouts in 233 plate appearances in his rookie campaign, the Dodgers must be very pleased with his growth.
Dee has the ability to make extraordinary plays because of his speed. His glove range is tremendous, and although some could categorize his defense as slightly raw, Dodgers manager Don Mattingly has utmost confidence in the youngster.
Dee has had incredible confidence since his call up, stemming from his father's tutelage and experience as famous relief pitcher Tom Gordon.
The elder Gordon, a proud dad and an established closer for the Boston Red Sox and Philadelphia Phillies, got to see Dee in action last summer during his debut weekend.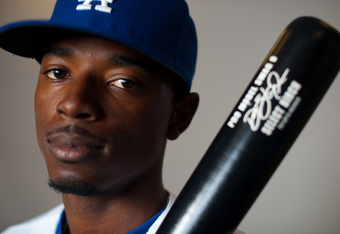 Rob Tringali/Getty Images
Dee's personality is going to quickly make him a fan favorite along the likes of Kemp and Cy Young winner Clayton Kershaw.
The young man, actually named Devaris Gordon, is under the Twitter name @Skinnyswag9 (https://twitter.com/#!/skinnyswag9) and has quite a loyal twitter fanbase. Dee is one of the few Dodgers who optimally utilize social media.
In this time of flux where many Dodger fans are not motivated by positive news in the media, Dee's tweets are a bright spot that bring fans inside the locker room and give us a sneak peak inside the head of a young guy trying to earn his way into the starting lineup.
Personally, I think he has the quality to make him the likable sensation that Cincinnati Reds second baseman Brandon "Twitter King" Phillips embodies.
At a mere 150 pounds, Dee is the lightest player in the major leagues. It's not even a competition, as the average weight of a major leaguer is 60 pounds heavier. According to MLB.com, David Eckstein at 170 pounds is the closest to Dee's weight class.
So, will Dee burst out and put up a magnificent 2012 campaign? Will he bat .300 in a full year, stay healthy and manage to steal 80 bases? Will he be able to get on base at a .360 clip, a mark obtaining by elite leadoff men?
Dee is not going to develop any big-time power, but will he be able to use Dodger Stadium's spacious gaps and put up 35 doubles and a dozen triples? Will he be the Dodgers offensive catalyst, scoring 100 runs in the process?
A season like this, and Dee can be looking at a potential All-Star appearance, along with the knowledge that he will have earned a job as the Dodgers' shortstop for years to come. 
Or will he fizzle, struggling to combat major-league pitching while limping to a mediocre .250 season? Will he be unable to avoid freak injuries due to his slender size and tenacious effort?
Some could argue that he is a ticking time bomb because of his risk of injury plus the lack of power he possesses. If he can't get on base and his defense fails to impress, Dodger fans will be calling for changes. What would that do to the young man's confidence? 
A season like this, and Dee could find himself on the bench or back in Triple-A before the All-Star break. The Dodgers have numerous versatile infield options, including new signee Jerry Hairston Jr., Juan Uribe, Adam Kennedy and Justin Sellers.
Dodger fans who worry are still seeing another version of Chin-lung Hu, a slick-fielding, no-hit shortstop that the Dodgers touted as the future about five years ago.
Now, without the stability of Rafael Furcal, it is Dee's show now. It is time for the speed, the sparkling plays and the illuminating smile to shine under the lights at Chavez Ravine.
With his hard work and endless determination, it is hard not to root for Dee as the Dodgers get into the swing of the Cactus League schedule. 
Come Opening Day, it will be time for him to prove the naysayers wrong and help lead these mismatched Dodgers to what could very well be the most improbable division title in Dodgers history.