WWE Addiction: 20 More Ways to Know You're Addicted to Wrestling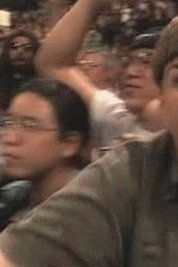 Listen, to be honest, the fact that you're reading the words that I'm typing signifies you're probably addicted to wrestling. That assumption is based around some pretty obvious facts: You either knew exactly where to find this article, Googled "addicted to wrestling" or clicked on a link that was right after someone said "Hey, this reminds me of you"...
Being addicted to wrestling is a fantastic thing, and for the love of God don't let anyone tell you differently. You are a part of something special. A special group of people who are among the loyalest of any fanbase. You are a part of a universe. A universe that wants nothing to do with all the haters that tell you your wrong, stupid or a loser for having a passion for something you love.
Some people like to watch Jersey Shore, watch Kardashians bicker about nothing, collect stamps, read books, play video games or invest in the stock market, and some like to watch wrestling. To each his own.
With so much time invested in wrestling: four hours of weekly programming, numerous pay-per-views, articles, rumor sheets and countless years of archived footage to power through, it's inevitable that the wrestling universe will seep into your real world universe.
I you haven't caught the first part of this series you might want to look at it first. The first list contains the basic elements of pro wrestling addiction.
Now back by popular demand, or the fact that I have nothing else to write about, I know present to you 20 more ways to know you're addicted to wrestling!
Begin Slideshow

»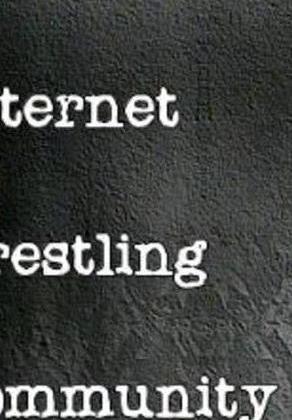 Again, if you're reading this article then you're probably well aware of what the following terms mean: IWC, mark, buried, marking out, jobber, mid card, heel, face...and so on. This doesn't really tell whether your addicted or not, but more along the lines of your overall knowledge of the industry.
However, if you take said terms and apply them in the following manner then you my friend are addicted to wrestling...
Jobbing/Mid Card

"Don't worry about Kate dumping you bro! She's clearly only a mid card level talent that is going to spend the rest of her life jobbing to other guys looking to get to the main event."
Mark Out
You: "I'm totally gonna mark out if I get an Xbox for Christmas!
Your Uncle Mark: "I'm sorry, did you just say you're going to knock me out?"
Buried
You: "Did you hear that management is planning to bury Adam in accounting? He worked so hard to get that position, and just like that it's all over"
Co-Worker: Oh No! Adam died? Don't you think his family should be making burial arrangements rather then his bosses?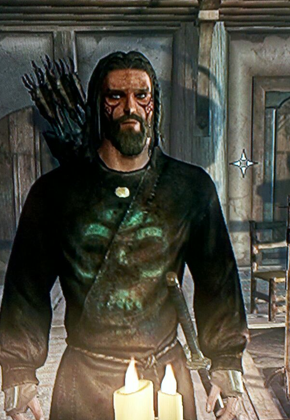 If you haven't done this then you're either a liar, or you're trying to pretend that you're not a huge, raging dork. Because I know for a fact, myself included, that there are people out there who are guilty of this.
Here are a couple of examples I have personally seen:
Skyrim
My Friend: Guy! I just created the sickest Necromancer/Mage/Dark Elf. I got him rockin' a black hooded coat, black pants, boots, and gloves. I also gave him long hair and equipped a spell that raises the dead. You know what I named him?... The Undertaker!
Me: I'm sure you're the first person to do that...
Dragonvale
For those not a part of the "cool kids" crowd and have no idea what this game is; you basically build Jurrasic Park along with breeding and feeding dragons in order to attract more paying customers to the park. I became immediately hooked.
Me: (In a crowded room of people) I named my lightning dragon Rocky because he's the most electrifying dragon in the park.
Side Note: If you don't know what Jurassic Park is then I can't help you anymore.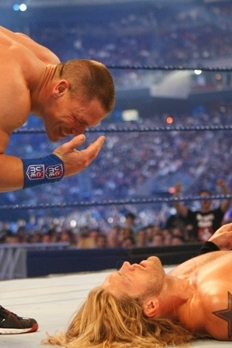 There's nothing better then watching wrestling with people who have never watched before, and watching the dirty looks you receive when you accurately predict how the match will end, who will win, the move sequence they'll use, and who might interfere afterwards.
While watching WWE programming with my family I, even to my shock, accurately predicted almost an entire episode of Smackdown. I even managed to foresee where each backstage segment was going, and which commercials we'd be likely to see as we headed to commercial breaks...
Am I a loser? Well if you consider freaking Nostradamus a loser then I guess that makes me one too.
We all know the end is near for John Cena's opponent when we see the first shoulder block connect, but next time you find yourself in this situation don't even look at the screen. Look directly into the eyes of those around you as you "predict" what is going to occur.
This will do two things: creep everyone out, and make you look like the man!
Don't hate the player, hate the game.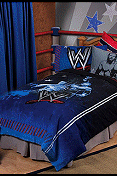 I'm not talking about your collection of wrestling action figures, ticket stubs, or even your awesome Stone Cold Steve Austin toaster. I'm talking about devoting an entire room to WWE/TNA/WCW/And god knows what other promotions of crap collecting.
Please, for the sake of everyone's enjoyment (we're all friends here) if you do own a room completely devoted to wrestling merchandise could you please share that with us in the comment section? Don't worry about being embarrassed because the only feeling you should feel is that of pride.
Me? I own a couple of action figures from when I was a kid, and a growing collection of wrestling cards that I will someday present to my kid as a way of educating him on the history of wrestling.
I once saw a room completely devoted to wrestling merchandise. That room had a name. It was called heaven, and it was glorious...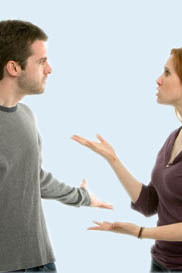 I'm lucky to have a lady in my life who enjoys (at least attempts to enjoy) the thing I enjoy. It's one of the basic fundamentals to having a successful long term relationship with someone. While I don't care for the Kardashians, Twilight, or who the next top model will be; I sit idly by and watch, participate, and comment on her shows knowing full well she'll watch Raw with me, and not judge me at all...
...This was not the case for the poor schmuck sitting next to me and my friend at a Raw event in Boston.
This poor man had brought a girl, what I'm assuming was his girlfriend, to Raw. Not only did she not participate as an active member of the crowd sitting the entire time, but on numerous occasions told him she was never doing this again and thought everyone around her was an idiot as well as him for enjoying the event. Needless to say his night and relationship was ruined. I wanted to give this man a hug.
Not to mention the fact we've all cancelled plans sometime or another because Raw was "Can't miss", a pay-per-view was on, or you had to finish typing your latest article or wrestling blog. The fact is simple. If you prioritize wrestling first, or the other person can't stand your infatuation with wrestling then you probably watch to much of the product.
Side Note: After returning home from Raw that night I immediately began scouring the news to see if a woman had died via Tombstone Pile Driver.
I thought about putting this one higher on the list for the sole fact it takes some massive grapefruits to actually do this in front of people or directly at them, but when I thought more about it...
... I think everyone, whether they watch wrestling or not, has done this before.
Don't like the way your boss is running the company? Shoot promo!
Your mom's meatloaf is getting increasingly more dry each time she makes it? Shoot promo!
Think your teacher is biased in his/her grade giving towards you? Shoot promo!
The biggest shoot promo I ever performed was when I was managing suite boxes for a local minor league baseball team. I was so irate with the way management was treating its employees, cutting corners, and not producing adequate results that you might as well have blasted "Cult of Personality" as I walked into the employee meeting and basically called out everybody.
...yea, performing shoot promos outside of the wrestling industry doesn't make you the next CM Punk. What it does do is make you look like the permanent bad guy, and doesn't really get the same type of pop you'd expect.
This in the real world is called angry ranting, being a jerk, a martyr, or just being mean in general. The fact that you know what I'm talking about when I say "shoot promo" means you're addicting to wrestling.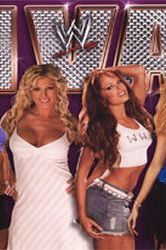 "She may not be Kelly Kelly, but she is pretty attractive"
"She's no AJ, but I could see myself with her"
"Yea, she is pretty, but there's to much of a Beth Phoenix likeness for me"
If you've ever said this out loud to someone, or thought it in the cozy, safe confines of your head then you are addicting to wrestling.
I'm not even going to attempt to make a ratings scale due to the fact that others might not agree, and not to mention the fact that I'm all set with a women's movement against me.
But if I were to make a scale I see it ranging from Chyna - Trish, but that's just me.
We're gonna move on from this topic now.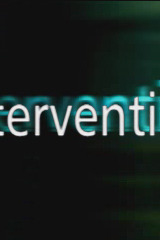 Remember when your parents told you not to hang out with people who use, or sell drugs?
Well they were ultimately concerned that other peoples poor decisions and habits would rub off on you causing you to do the same thing.
This logic can also be applied to wrestling.
I have officially contaminated at least five people with my wrestling addiction. they not only have started to know some of the wrestlers, moves, songs, and history of the industry, but are up to date on current story lines, and have, or will attend events with me in the future.
My mom is still the lone holdout in my inner circle, but I make up for it by taking every waking moment of my existence to bashing her lifetime channel movies. Which sadly have better production, actors, and scripts then any WWE film I've ever seen.
I like to consider myself a pioneer, or someone waving a giant WWE flag for all to see. Some might call me a moron, but they're just jealous they don't have something to commit passion to in their lives.
#BiteMe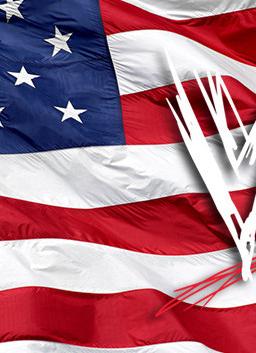 Being from New Hampshire I've already gotten my chance to cast a vote in the nations primaries, but it got me thinking. What would happen if everyone banded together and wrote in the Rock, or the Funkasaurous for president?
Could you imagine the hilarious political commentary that would come from the big shots at CNN, Fox News, ABC, and all the other major cable stations?
"Yes, it is official. Dwayne "The Rock" Johnson has officially won the state of Florida and all of its electoral votes"...
Could you imagine the epic inauguration speech, state of the union address, and debates we'd have the privilege of watching?
Barrack Obama: "I think in order to fix the economy..."
The Rock: It doesn't matter what you think!
Oh my god, we need this to happen! Sure America will probably crumble, and become a joke...but it'll be a funny joke at least.
Yea, I know. I watch to much wrestling. I get it. Trust me.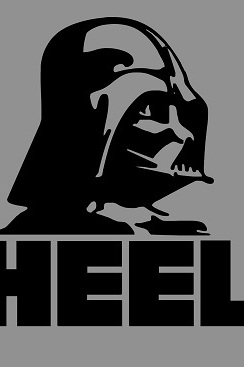 Pretty plain and simple, but it does show an increasing level of addiction.
Don't act like you never thought about this!
Here's a sample conversation how this could potentially play out:
You: Man! Can you believe that idiot hit my car and just drove off? Who does that?
Friend (who doesn't watch wrestling): ...that person?
You: That's it! No one better even look at me funny today. I can feel a heel turn coming on.
Friend: Uh, OK? Is that a dance?
Here's a face turn example:
You: So the insurance company gave me more money then the total bill to fix my car was. I made an extra $400 out of this mess. I can go back to being a face.
Friend: face of what?
You: A face...A good guy, a good mood... do you not know anything?
Friend: you, my friend, are an idiot. Good day sir!
You: Idiot? Here comes my heel turn again!
this point is a little touchy...
while I myself tend to look at wrestling as a pure form of entertainment, and with an extreme sense of humor and sarcasm sometimes. There are those (you know who you are) that take it about as seriously as death. this is a serious problem amongst casual and die hard fans.
To help you know when you've encountered a "serious" wrestling fan I've devised this handy checklist for you to refer to:
1. No matter what your opinion is...your wrong. Not some of the time, but all the time.
2. They think that the "E" (Entertainment) in WWE should be replaced with something referring to a league, federation, or association.
3. They honestly think people in FCW are better then half the roster on Raw and Smackdown.
4. They like John Morrsion.
5. They have no sense of humor, and can rattle of facts, dates, and rumors at an alarmingly, annoying rate.
6. They're natural Contrarians. Meaning, they tend to go against mainstream views for the sake of being different.
7. (My personal favorite) They followed CM Punk all the way from ROH to WWE, and make sure you know they did.
Anyways, it's not a bad thing to be a serious wrestling fan, but for the sake of living in an online community with thousands of other wrestling fans we just ask that you tone it down a bit.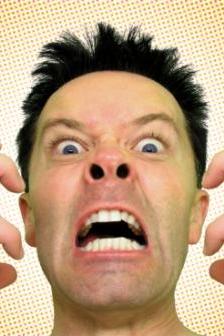 It's a terribly kept secret that the way to get instantly under the skin of a wrestling fan is to use the word fake. It's honestly the one word wrestling fans can't stand.
Not only do we know that it's fake, but that's what we love about it the most. It's another medium that can be used to tell an engrossing story that just so happens to involve athletes in top physical shape.
Besides getting into an argument with myself defending my love of wrestling...just know this.
If you get, even remotely, upset when someone bashes on the product with asinine statements, or from someone who clearly has never invested any time into watching it; then you definitely watch to much wrestling.
Side Note: This type of argument usually results in the defender of wrestling to suffer a drastic heel turn.
It's completely cool to disagree or generally not like something, but you don't have to ruin it, belittled it, or condemn us for appreciating something that we take great joy in....
...The fact that I can feel myself getting stressed over typing this slide only proves that I watch to much wrestling. I assume there are others out there with me who feel this frustration. I know, for a fact, that I'm not the only one who hates this.
Time to move on before I give myself a panic attack.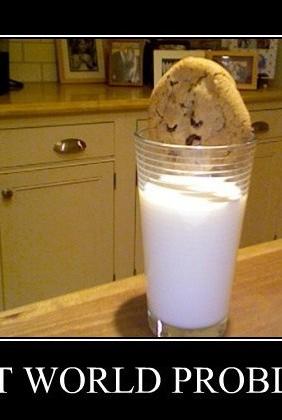 ...Also known as "First World Problems"
Here's an excerpt from a previous article I wrote that sums this up beautifully and basically was the inspiration for this entire article...
Scene: Stuck in traffic, bloodshot eyes from five hours of sleep, pitch black on the highway, it's 30 degrees in Boston, and a sleeping girlfriend in the passenger seat who, by the way, insists on turning the car into a sweatshop by cranking the heat to ungodly temperatures.. suffice it to say, I'm pretty miserable at this point
Me: Hey! Wake up!
GF: What's wrong?
Me: Is it sad that one of my biggest concerns at this particular moment is whether or not Triple-H is injured? I swear to god, if Old Man Rivers screwed up Survivor Series I'm boycotting wrestling for allowing some has-been to get back in the ring! What is this, TNA?
GF: (staring at me blankly) I've heard some dumb (stuff) come out of your mouth, but this may be the dumbest. First of all, you're not boycotting wrestling, so drop the act. Secondly...yes, It is sad that that's one of your biggest concerns. Add that to your list of "How to know you're addicted to wrestling." Thirdly, what is TNA? Some kind of porn site? Can I go back to sleep?
...Yup, Holla if you've been there with me!
P.S. Kevin "Old Man Rivers" Nash totally screwed up Survivor Series. I was justified in worrying.
I can't be the only one who worries about this kind of dumb stuff...right?
Did you bang your head on the top of your car? Did you act like you got a chair shot to the face?
Ever accidentally bump into someone on a crowded street? Did you act like you caught a Cena shoulder block?
Did you stub your toe (that really does hurt by the way)? Did you act like you were locked into an Angle Ankle lock?
Ever walk into a glass door thinking it was open? And act like you just got clothesline from the Big Show?
Then you, my friend, watch far to much wrestling. You're funny, but you watch a little to much wrestling. Be proud and keep on selling baby!
... I'm not married, so I haven't done this...yet.
I'll let the video here do all the talking.
I think that if I ever brought this up to my girlfriend as a wedding option she might drop everything and launch into her own shoot promo on me and my addiction.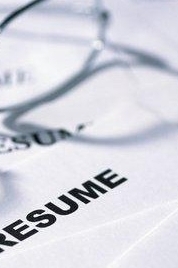 Sometimes you just gotta quit your job so you can find your "smile"...
Here's what I imagine a resume to look like that has incorporated wrestling into it:
Name: William Gullo
Date of Birth: M/DD/YYYY
Current Address: Parts Unknown
Position Applied For: It doesn't matter what position I applied for!
Education: Dual Masters degree in Business, and opening cans of whop ass
References: The Rock, CM Punk, and Too Cool
Previous Experience:
1. Once stayed at the Smackdown Hotel
2. Featured Columnist on BR
Now, I'm not saying I've ever done this, but I'd venture a guess that someone, somewhere, at some point in time did something similar to this as a joke. To whomever actually did this I salute you!
But you do watch to much wrestling if you even thought about, or have done this.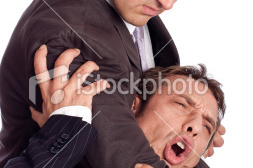 If you ever find yourself staring into the eyes of a person about to punch you square in the face please don't try to absorb the blow unprotected, and think everything will be alright. You should probably just duck, or defend yourself.
If you try to throw a punch and you're stomping your foot or slapping your knee in the process, just stop. It's not necessary. You're only making yourself look dumb.
However, wrestling holds can actually serve a vital purpose in a real fight, but looking for a rope break if you're caught in one does not.
If you're hit over the head with a trash can you can't claim yourself the winner by disqualification because you know what? You're probably to unconscious to do that.
Also, it's damn near impossible to pull off a stunner, pedigree, or RKO in a real fight.
However, the Rock Bottom is actually quite effective, but please do not try and follow it up with a people's elbow. That's just dumb.
Please don't try this at home, and remember that when you find yourself in a real fight its better to have been a fan of boxing or UFC rather then WWE.
.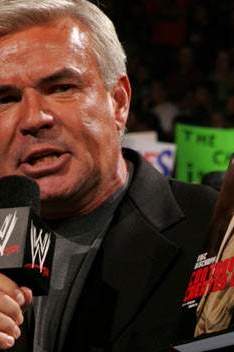 Oh yea? You really think you can do a better job?
I humbly disagree. I'm not part of the business, and have never seen the actual creative process in person, but I assume it's the equivalent of saying:
"I could probably be a NASCAR driver. All you have to do is drive in a circle"
"How hard is it to hit a tiny little Golf Ball? I could probably be a better player then him"
"Why did he throw that interception? How could he not see the defense was in a cover two zone! I can see it when I play Madden. How come he didn't recognize it?"
While I agree it wouldn't kill the WWE to be a little more creative, I wouldnt dare say I could book a better show. With all the backstage politicsw, ten different managers wanting ten diffrent things, last minute injuries, script changes, and a live television audience to appease....
No thanks, I'm just fine watching whatever is giving to me at home. If you think you can book, have actually booked for a promotion, fantasy book, or constantly nag and pay attention to mistakes in booking then you absolutely are addicted to wrestling.
There's nothing like being an armchair booker while watching Raw. We all do it. I just don't really want to do it for real.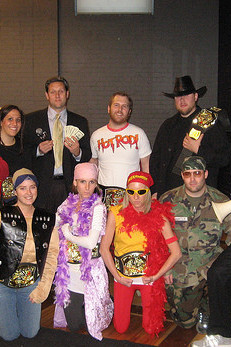 The fact that I have now come up with 20 reasons (40, if you include the first part of this series) that signal you're a pro wrestling addict in itself tells me I'm addicted to wrestling.
It's actually the biggest reason that tells me I'm addicted to wrestling. I mean who does this kind of stuff?
Oh, that's right; I do, and so do a lot of other people out there.
And you know what? We love, cherish, and adore every single waking minute of it.
If these reasons even remotely apply to you then you are truly addicted to wrestling, and if you can come up with more ways then more power to you.
We might just have to keep this series going so that every wrestling fanatic out there can tell there addiction stories.
God bless every one of you. Be proud of this addiction.
I know I am.
Gullo Out!