NBA's Hypocritical Hornet: What Comes Around Goes Around for Eric Gordon
January 8, 2012
Eric Gordon, the former Indiana University sensation and current New Orleans Hornet, is getting a taste of his own medicine.  
Gordon has taken issue with his trade from the Los Angeles Clippers in a mid-December package deal that sent him and Chris Kaman to New Orleans in return for Chris Paul.
On January 4th, Yahoo! Sports reported that Gordon and Kaman were traded just two days after Clippers' officials told them they would not be.  
"All you do is take the man's word and take that he said that no one is going to go anywhere," Gordon told Yahoo! Sports. "… To completely lie like that is something unprofessional."
Gordon continued, "They literally told me as an organization that they wanted to keep me, and [the trade to New Orleans still] went down?"
While Gordon's complaints might be justified, University of Illinois head coach Bruce Weber must be having a laugh.
Gordon is guilty of the same behavior.  Pot meet kettle. 
In the fall of 2005, the 6'3" Gordon was a top five recruit from Indianapolis' North Central High School. The point guard verbally committed to Weber and the University of Illinois.  
Gordon ranked first in the Class of 2007 according to Rivals.com and was considered by many to be Weber's prize recruit, who would put the Fighting Illini back in the national spotlight.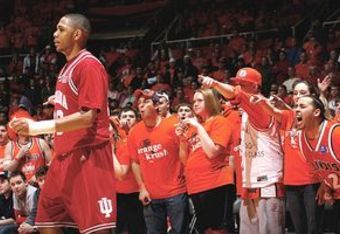 The Indiana prep turned down offers from Duke and Notre Dame.
After honoring his oral commitment to Illinois for nearly a year, Gordon abruptly changed his mind on October 13, 2006. He signed a letter of intent to play basketball at Indiana University under recently named coach, Kelvin Sampson just weeks later.
With so little time left in the recruiting window, Illinois' recruiting class was left in shambles.  
"If you have a kid [orally] committed, then for that eight or nine months you don't recruit anyone else," Bruce Weber told ESPN. 
"So you lose all that time recruiting other kids, because you have one committed. Ask 98 percent of the coaches, and they'll tell you that they stop calling kids once they [orally commit]. We do. Most do it."
Fast forward a year.  
Gordon's Indiana Hoosiers posted a 25-8 overall record despite Sampson being relieved of head coaching duties due to making impermissible phone calls to recruits while under recruiting restrictions.
Gordon was nonetheless named First Team All-Big Ten and led his team to an NCAA tournament berth.  
Weber's Fighting Illini failed to make the NCAA Tournament for the first time in nine years.  Their record was 16-19.
Will anyone shed a tear for Gordon's complaints against his first professional team?  Maybe, but not likely if they understood his past indiscretions.
People in glass houses should not throw stones.  The same most certainly applies to Eric Gordon.