NFL Playoffs 2012: San Francisco 49ers Key to Success Is Healing Time
January 3, 2012
Ezra Shaw/Getty Images
A touchdown pass from David Akers to Michael Crabtree proved to be the difference for the San Francisco 49ers in their game on Sunday, as they squeaked past the  St. Louis St. Louis Rams 34-27 to clinch the NFC's No. 2 seed for the upcoming playoffs.
Wait, what?
Perhaps tired of kicking field goals that are worth only three points, Niners' kicker David Akers channeled his inner Steve Young—both lefties—on a perfectly executed fake field goal late in the third quarter. 
"You've got to not give it away and back up and make it look like we're going to attempt the kick," Akers said of the play. "I looked over and Crab was wide open, and it was like `Oh my."'
The 14-yard scoring strike not only helped hold off a late surge by the host Rams, but it helped the 49ers secure a first-round bye.  
The team desperately needed this. 
I've said it, you've said, even Harbaugh has said it. 
"How bad did we need the bye week?" Harbaugh said after Sunday's 34-27 victory at St. Louis "I can't quantify it. We needed it bad, needed it very bad, needed it really bad ... you can plug in whatever you want."
"It feels like an advantage. How big, we'll see," Harbaugh also said of the extra week. "I know this: We're not going to treat it like a vacation. It's not a midseason bye, in my view, where you can afford to come back in midseason form. We'll treat it as such. We'll get the players some well-deserved rest and the coaches will work hard on game planning and familiarizing ourselves with potential opponents. And we'll look forward to two good days of practice this week."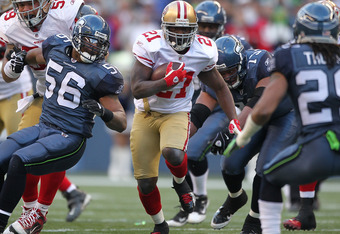 Otto Greule Jr/Getty Images
While the week off provides no guarantees of a trip to Indianapolis, it does allow the team time to heal—exactly what the doctor ordered. 
Literally. 
Several contributors at key positions are hobbled and hurt, so the healing time will be welcomed with open arms. 
Star linebacker Patrick Willis is still recovering from a hamstring injury, while running back Frank Gore is playing through a variety of injuries. 
Versatile tight end Delanie Walker has a hurt—possibly broken—jaw and wide receiver/kick-return man Ted Ginn Jr. is nursing a bum ankle. Both will be re-evaluated during the week before the team determines any additional roster moves. 
Wide receiver Kyle Williams suffered a recent concussion and has been cleared to participate in a limited amount.
Others will graciously use the time to treat their own nagging ailments, symptoms of a long and physical NFL season. 
Basically, the length of the 49ers injury report currently resembles the Duggars' family grocery list. 
In the meantime, players and coaches will prepare for potential opponents. The New Orleans Saints, Atlanta Falcons and New York Giants are all possible match-ups for the January 14th game at Candlestick Park. 
The 49ers have already defeated the Giants, but the Saints, led by record-shattering quarterback Drew Brees, look like the team most likely headed to the Bay Area for a second-round battle.
New Orleans crushed San Francisco 24-3 in August, but it was during preseason.
This is a different 49ers team.
This is a team now full of confidence after compiling an impressive 13-3 record, with four of those wins coming against playoff teams—Pittsburgh Steelers, Cincinnati Bengals, Detroit Lions and Giants.
With a stingy defense, efficient offense and great special teams, San Francisco features the most balanced squad in the entire NFL.
They are built for playoff success. 
Now they just need to get healthy. 
Thank goodness for that extra week of healing time.