Jeff Fisher to Rams: St. Louis Makes Brilliant Move Bringing in Former Titans HC
January 13, 2012
Jamie Squire/Getty Images
Former Tennessee Titans head coach Jeff Fisher has finally decided to become the head coach of the St. Louis Rams, according to a report from ESPN.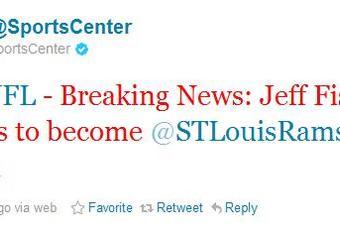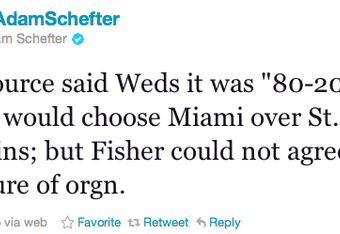 Jeff Fisher coaching the Rams is an excellent move. It's the best possible move that they could have made. Fisher will bring a year-in, year-out consistency to the Rams that they haven't had since Kurt Warner's departure. 
Tennessee made a terrible mistake in getting rid of Fisher. In the era of parity, not many coaches have brought their team six playoff appearances and 10-win seasons. As impressive as that is, it's even better when you consider four of those seasons came when the Titans shared a division with Peyton Manning's Colts. 
Although the 49ers went 13-3 in 2011, the NFC West remains a wide open division. Between a tougher schedule that the 49ers will face and improvements from the other teams through the draft and free agency, the division will not be a runaway in the preseason.
That's not to say that the 49ers won't win again in 2012. But that division is not going to belong to them in the same way that the AFC South belonged to Indianapolis during Fisher's reign in Tennessee. Even if if does, winning records will bring Wild Card appearances more often than not. 
What this ultimately comes down to is a sparkling record. There's no way that you can argue that 142-120 is anything but successful. That goes for any era, but especially this one. 
Fisher also showed that he can adjust to different players. When your tenure spans parts of 17 different seasons, it's going to be with a different group of players. The Titans won with Steve McNair, Kerry Collins and Vince Young. They rode Eddie George and Chris Johnson to success.
The differences in those players shows that their coach could adjust. Even mobile quarterbacks McNair and Young had many differences. Kerry Collins was certainly dramatically different than either of those two, while George and Johnson's style of running couldn't be any different.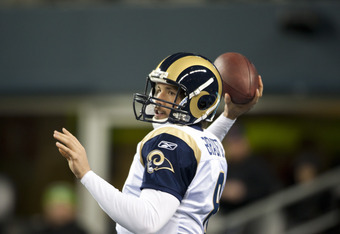 Jay Drowns/Getty Images
In St. Louis, Fisher is walking into a situation where he has a solid young quarterback in Sam Bradford. On the other side of the ball, he has an elite young pass-rusher in Chris Long. In addition to that, Steven Jackson is still a strong back, even if his career is coming to an end. 
What this team needs is some offensive line help, some help in the secondary and receivers. Fortunately, where the Rams are picking in the draft, plenty of that will be available. What they can't get there will be available in free agency. 
Fisher will make this team a winner again. Steve Spagnuolo would have made them a contender in 2012, but they decided to fire him. The team endured too many injuries this year. But with outside help on the way and good players returning for a full year of action, the pieces are in place.
Fisher is not the coach that will mess a team up with players in place. Quite the opposite. One thing that Fisher has done all throughout his career is to get the most out of the talent he has.
If you need to have any proof that this is a good move, just look at his record. There's a reason he lasted that long in Tennessee. People don't change that much in one season away from the game. In the case of Fisher, that's a great thing.