NBA Season Preview: Chicago Bulls a Top Team Still on the Rise
December 24, 2011
Jonathan Daniel/Getty Images
What's there not to like about the Chicago Bulls?
Last season they posted an outstanding 62-20 record, finishing first in the East. They made it with relative ease to the Eastern Conference Finals before being beaten by the Miami Heat. And each year, Derrick Rose continues getting better.
It's really quite amazing to have a point guard who's already at his best in only his fourth year in the league. I don't think he's going to score more than 25 points a game throughout his career, but as a point guard, I'm not so sure I'd want him to have to. And with additional weapons on the team, his assists are bound to increase.
Another young player on the team, Joakim Noah, continues to improve on a nightly basis. His shot is steadily improving, he aggressively crashes the boards and is solid on defense, making the second All-Defensive team last season.
Noah's battled injuries in the last two years and has missed considerable amounts of time. His health will have to be closely monitored this year, as the Bulls don't have a reliable backup center on the roster. That being said, Omer Asik played well in his limited time on the court as a rookie last year.  
Carlos Boozer hopes to bounce back to his old shape from his days in Utah, where he was a dangerous scorer and solid rebounder. He was rather inconsistent last season and at times seemed to disappear on the court altogether. Arriving at camp 20 pounds lighter and having had time to adjust to this new Chicago team, Boozer should fit right in and begin to dominate once again.
Taj Gibson will be a terrific backup for Boozer, capable of taking some of the load to prevent Boozer from getting injured.  Forced to start at times in his rookie season and some last year, Gibson showed that even though he was still raw around the edges, he was a talented, athletic power forward.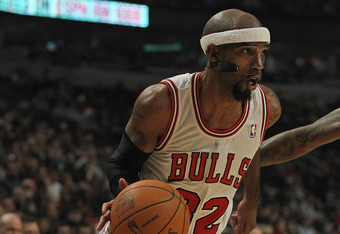 Jonathan Daniel/Getty Images
Despite their excellent record and playoff victories, the Bulls had a glaring hole at shooting guard last season: Ronnie Brewer was solid on defense, but neither he nor Keith Bogans could contribute much on offense. However, the free-agent signing of Rip Hamilton two weeks ago may be just what the doctor ordered.
Hamilton had a tumultuous relationship with Pistons head coach John Kuester last season, which ultimately led to decreased playing time and missed games. As a result, he had a career low in scoring since his rookie year.
So far this preseason, however, Hamilton's shown he can still shoot. He may be getting older, but he's still in fantastic shape and can contribute both offensively and defensively. He and Rose have already begun to gel nicely despite not having much time in camp together, so their chemistry should only continue to improve.
I honestly believe that Hamilton is the answer to the Chicago's prayers and will give them an edge over even a "super team" like Miami.
Barring some unforeseen catastrophic injury to one of the core players, I have no doubt the Bulls will absolutely clean up the East. They have all the talent a team could ask for, and it will be up to Tom Thibodeau to harness and direct their passion towards playing their absolute best basketball. If done properly, a NBA championship trophy will be in their hands by season's end.
My Predictions
1. The Bulls overtake Miami for first in the East. Chicago has a complete team top-to-bottom, filled with talent and athleticism.
2. Rose averages 25 PPG and nine APG, with 1.5 steals to go along with it.
3. Boozer bounces back to his old form for 20 PPG and 10.5 RPG.
4. Chicago plays in the championship game.
Previous season previews: Atlanta Hawks, Boston Celtics, Charlotte Bobcats