NBA Season Preview: The Boston Celtics Need More Than Luck
December 23, 2011
Nick Laham/Getty Images
As Paul Pierce, Kevin Garnett and Ray Allen get older with each passing year, the strength of "The Big Three" seems much less threatening.
Pierce has already missed both preseason games nursing a bruised heel, and now his status for Opening Night seems to be in question. At 34 years old, nagging injuries just don't heal like they used to.
While Kevin Garnett has managed to avoid serious injury, he hasn't managed to play more than 71 games since joining the Celtics. His age has shown in recent years, as he is significantly slower on defense and less explosive on the boards. However, the intensity he brings despite his physical limitations has made him a valuable asset on the team.
Ray Allen understands the desperation of Celtics' situation. When David West turned down the Celtics in favor of the Indiana Pacers, Allen loudly voiced his disappointment in West's decision. Allen understands that the "Big Three" are getting older with each passing day, and the Celtics are in huge need of an injection of youth/talent if they hope to have any success in this, and upcoming, seasons.
To top it all off, the Celtics lost Jeff Green for the season after he was diagnosed with an aortic aneurysm. He is scheduled for surgery and will hopefully be healthy enough to play next season.
With Green out for the season, the Celtics are left without a solid backup for Paul Pierce. Marquis Daniels is the only other small forward on the roster, and he has been relatively unproductive in his reserve role with Boston to the point where they traded him to Sacramento for a second round pick last year before re-signing him as a free agent as this season started.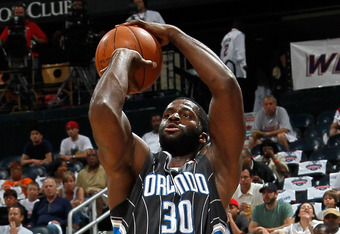 Kevin C. Cox/Getty Images
Newly acquired free agents Brandon Bass and Keyon Dooling will provide the main support for the Celtics' aging superstars.
Bass fills the void left by Glen Davis' departure. He's coming off a solid season with the Magic, playing both the power forward and center positions, and this versatility will make him extremely valuable for the Celtics if he can be as productive as he was with Orlando.
Dooling will be backing up Rajon Rondo and offers the three-point range that Rondo severely lacks. The Celtics' bench is very thin, so it is crucial that Dooling is efficient as Rondo's backup. However, he is more of a shoot-first PG/SG, so his ability to run the second-team offense remains in doubt.
Perhaps the biggest question mark and concern that I've yet to mention is Jermaine O'Neal starting at center for the Celtics. O'Neal has an injury history the length of my arm, and it seems to be growing every year a team foolishly throws him into the fold.
Unless Doc Rivers limits him to 20-25 minutes a night, I have no doubt Jermaine O'Neal will go down again with a severely limiting injury. Even then he may go down. The compacted schedule is all bad news for the Celtics roster.
Boston's going to win, there's no question about that. But you can already feel the tension rising.
New York is on the upswing. They've desperately started putting together a team that will get them deep into the playoffs. And as the wins become more difficult for Boston, don't be surprised to see a sudden implosion on the Celtics lineup.
My Predictions
1. The Celtics are going to be forced to go shopping for a center to replace Jermaine O'Neal. I really don't know what they're thinking relying on him as their starter, and Chris Wilcox doesn't have the skill set to fill that role either. At some point this season, don't be surprised to see the C's wheel and deal for another talented center.
2. This will be the end of the "Big Three" as we know it. Like I said in my previous prediction, they're going to have to make some moves, not only to get a reliable center, but also to get some depth on their second team. The "Big Three" aren't going to cut it, and when they figure that out, you may see one or two of them on another team by season's end.
3. Rajon Rondo doesn't stay a Celtic. They've already tried to ship him for Chris Paul, and it seems like Rondo's time in Boston is running out. At this point, Rondo may be the Celtics' most valuable trading piece they currently own.
Previous season previews: Atlanta Hawks