NFL Playoff Scenarios: How San Diego Chargers Can Still Sneak into Postseason
December 19, 2011
Donald Miralle/Getty Images
Now that the Tim Tebow-Wild-West-Broncos-Win-Streak has ended, the rulers of the AFC West are back in the mix.
The San Diego Chargers have been arguably the most disappointing team in the league this season but they still have a shot at the playoffs despite a midseason six-game losing streak.
Philip Rivers has been terrible at times, they've battled injuries throughout and they simply find ways to lose football games rather than win them.
Should they miss the playoffs, both coach Norv Turner and GM A.J. Smith are bound to be fired.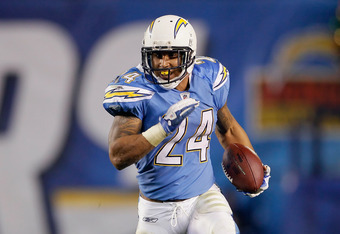 Jeff Gross/Getty Images
But they still have hope because both the Denver Broncos and Oakland Raiders fell apart yesterday, as did the New York Jets and Tennessee Titans. The rest of the AFC is basically playing for one wild-card spot, because barring any ridiculous collapse (and it is possible) the Ravens at 10-4 have a huge leg up for the No. 5 seed.
And remember, we've seen crazier things happen when it comes to postseason berths.
The Chargers are two games out with two games to play. At 7-7 they could technically still win a wild card should the Jets, Bengals, Titans and Raiders all fall.
San Diego still has a shot at the Raiders in the season finale, but won't see Denver again. The Broncos would have to lose to both Buffalo and Kansas City while the Raiders would have to lose to Kansas City next week and then to the Chargers at season's end.
It is unlikely, but it is certainly still possible.
The wild card also seems unlikely but is possible.
The Jets play the playoff-desperate New York Giants next week in a game that will ultimately decide both teams' seasons. Should the Jets lose they would actually own the tie breaker over one team, San Diego.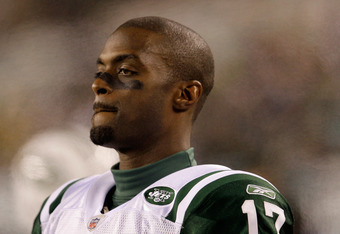 Rob Carr/Getty Images
The Chargers need the Jets to lose out.
If the Jets do, San Diego still needs Cincinnati to lose at least one more game. The Bengals play the streaking hot Cardinals next before closing the season against the Ravens.
Both teams currently have the same conference record and each have one more game against AFC opponents. A loss by either team will be the difference maker, or if they both lose it goes to common games played.
As for the 7-7 Titans, they close the season against Jacksonville and Houston. They are currently 5-5 in conference but have obviously have a shot at two more conference opponents.
If the Chargers win out, they need Tennessee to only lose once.
It is absolutely crazy, but it is still possible for the supremely disappointing San Diego Chargers to save their season.
A lot has to happen in the next two weeks, but as we saw this week when the Kansas City Chiefs knocked off the previously undefeated Green Bay Packers; anything is possible.