World Football's 50 Best Games of 2011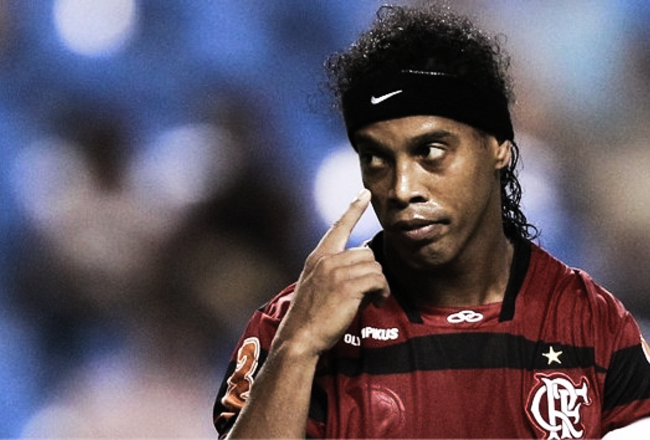 Watching football can evoke a myriad of emotions, and one of the pleasures of covering football is that every fortnight or so, you'll witness an entertaining and memorable game.
From Manchester to São Paulo, this article aims to rehash the best games of 2011 and hopefully a few games that wowed you are on the list.
Manchester United 8-2 Arsenal (28 August 2011)
Leading into the game, this should have been a Manchester United victory but not a public humiliation.
Arsenal were grovelling towards the end of the game.
Johan Djourou is hopeless.
Carl Jenkinson is not a Premier League standard defender.
Armand Traoré was shipped off to QPR, where he continues to play poorly.
Surprisingly, Francis Coquelin, the most inexperienced player on the field, was the only Arsenal player who showed some grit and determination.
Cerro Porteño 3-3 Santos (2 June 2011)
For the first five minutes of the game, I was in awe of the Asunción pitch.
I had never even heard of Cerro Porteño, but I was impressed with their will to fight back after it seemed Santos had the game in the bag.
3-1 down, Jonathan Fabbro stepped up, but alas, the goals weren't enough.
Valencia 3-6 Real Madrid (23 April 2011)
Real Madrid won the first half 5-0 and lost the second half 3-1.
A commendable comeback from Unai Emery's men.
What turned the game was two inspired substitutions with Jonas and Jordi Alba. Toward the end of the game, Valencia could have caused a flabbergasting upset.
Peterborough United 3-4 Barnsley (3 December 2011)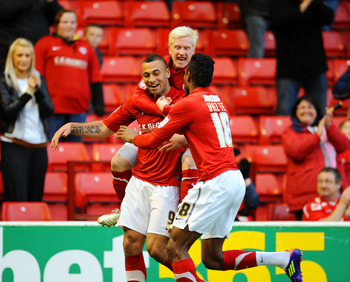 Clint Hughes/Getty Images
In the past two games involving Peterborough United and Barnsley, 12 goals have been scored.
Ricardo Vaz Tê, who wasn't good enough at Bolton Wanderers, seems to have found his groove with Barnsley.
Shanghai Shenhua 2-3 Sydney FC (19 April 2011)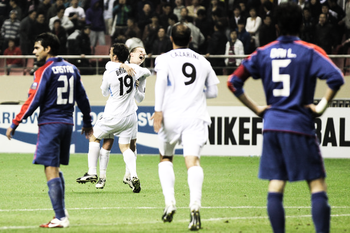 Feng Li/Getty Images AsiaPac
Shanghai Shenhua turned off twice during stoppage time in both halves, and it cost the club dearly.
Mark Bridge's goals for Sydney were virtually the last kick of the game.
Nowadays, instead of spending money in grass roots football, Shanghai have decided to invest in Nicolas Anelka and perhaps more international players to revive the club's fortunes.
Manchester United 1-6 Manchester City (23 October 2011)
Manchester City delivered a near-perfect message to the footballing world that they were legit title contenders.
The only blemish was a cracking goal from Darren Fletcher.
Talking about Fletcher, I wish him a swift recovery from his bowel condition.
Hamburg 6-2 Köln (19 March 2011)
In a five-minute spell, Hamburg had scored three times.
As the second half started, four goals were scored in a 12-minute interval.
Tottenham Hotspur 3-3 Arsenal (20 April 2011)
It may not have been epic as the 4-4 draw, but this game was still special.
People shouldn't forget Wojciech Szczęsny's stunning saves late to preserve the 3-3 draw.
Seattle Sounders 4-3 Colorado Rapids (16 July 2011)
Fredy Montero shouldn't be playing in the MLS—he should be playing in Europe. At 24 years of age, he's Europe-bound.
The Seattle supporters were excellent and pushed their team over the line in this one.
Norwich City 3-3 Blackburn Rovers (29 October 2011)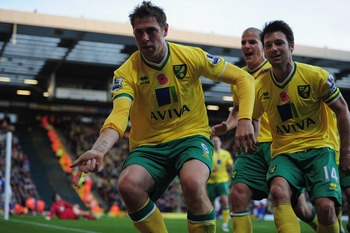 Jamie McDonald/Getty Images
Luck never seems to go Steve Kean's way.
Norwich City should never have drawn the game, because it wasn't a penalty due to the fact Steven N'Zonzi had been fouled prior to handling the ball.
A 93rd minute equaliser. Ouch.
From a tactical perspective, Paul Lambert's decision to sub on Grant Holt changed the game.
Whereas Kean's decision to sub off Junior Hoilett and Yakubu was essentially waving the flag.
Werder Bremen 5-3 Freiburg (20 August 2011)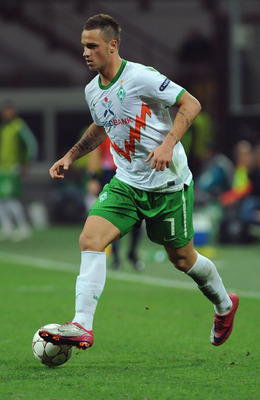 Valerio Pennicino/Getty Images
Freiburg defender Pavel Krmaš had such a torrid time against Werder Bremen.
But he was bailed out in the 84th minute when Stefan Reisinger scored what seemed to be the equalising goal to make it 3-3.
Only for Werder Bremen to strike twice in five minutes to make the final score 5-3.
Everton 5-3 Blackpool (5 February 2011)
Louis Saha scored four goals in this one game, yet this season he has only scored two goals.
Manchester City 4-3 Wolverhampton Wanderers (15 January 2011)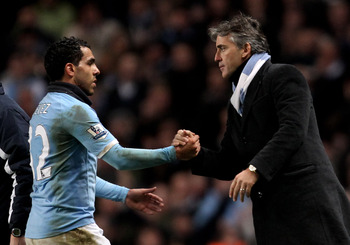 Alex Livesey/Getty Images
Carlos Tévez was still captain of Manchester City and arguably their most important player.
He scored a brace in this game and 11 months later, he isn't even wanted near the training pitch.
Coritiba 3-4 São Paulo (28 July 2011)
I still do not understand what Arsène Wenger saw in Denílson.
In this game, he was mediocre and to cap it off, he was comically sent off.
Mind you, referee Antonio Schneider was card-happy, dishing out eight yellow cards and two red cards.
Cardiff City 5-3 Barnsley (22 October 2011)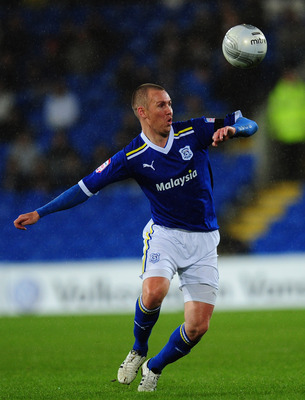 Stu Forster/Getty Images
Cardiff City should have scored at least seven goals, but they still scored, even without Kenny Miller for the large majority of the game.
Jeonbuk Hyundai Motors 2-2 (a.e.t.) 2-4 (p.s.o) Al-Sadd
Lee Seung-Hyun's last gasp goal visibly deflated the Al-Sadd players.
However, it was Al-Sadd who triumphed on penalties.
Napoli 3-3 Juventus (29 November 2011)
The only thing the talented Marcelo Estigarribia has done at Juventus is score against Napoli in an entertaining 3-3 draw.
If Edison Cavani had played, Napoli would have won the game.
Wigan Athletic 4-3 Blackburn Rovers (5 February 2011)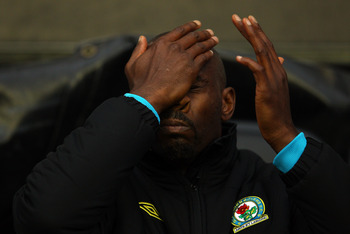 Richard Heathcote/Getty Images
Three goals in an eight-minute spell sum up this game—open.
Roberto Martínez's facial expressions were priceless during the game and after the game.
Hamburg 3-4 Köln (27 August 2011)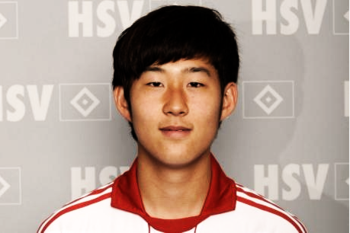 A Canadian, a Croatian, a German, a Moroccan, a Serbian, a South Korean and a Slovenian scored in this game.
Palermo 4-3 Inter Milan (11 September 2011)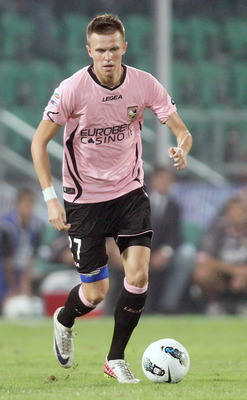 Maurizio Lagana/Getty Images
Gian Piero Gasperini's ambitious 3-4-3 was torn apart by Palermo.
10 days later, he was sacked.
West Ham United 4-3 Portsmouth (10 September 2011)
Clive Rose/Getty Images
Out with Scott Parker and in with Henri Lansbury, who was on loan with Arsenal.
He was enthusiastic, he was a willing runner and he scored for West Ham United.
There was also drama late on, as Portsmouth scored and Frédéric Piquionne was sent off.
Estudiantes 4-3 Argentinos Juniors (18 September 2011)
A minute after Leandro Barrera had dramatically equalised for Argentinos Juniors, Estudiantes defender Gabriel Mercado scored his second of the game, making it 4-3 with four minutes left to play.
Real Mallorca 3-4 Atlético Madrid (21 May 2011)
Sergio Agüero shredded Real Mallorca to the extent you wouldn't have been wrong in thinking Nunes and Pau Cendrós were pub footballers.
Blackburn Rovers 4-3 Arsenal (17 September 2011)
André Santos forgot how to play the offside trap, Per Mertesacker was caught out by the high line and to compound Arsenal's issues, they scored two own goals.
That being said, it's fascinating how Arsenal have turned it around, but generally this is the period where the team flunks.
So let's see how Arsenal will go.
Nottingham Forest 3-4 Reading (9 April 2011)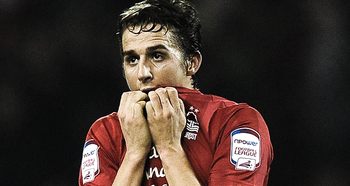 Nottingham Forest fought so hard, yet poor old Luke Chambers had to the bear the ignominy of turning the ball into his own net.
Lecce 3-3 Cagliari (17 April 2011)
Cagliari switched off for two minutes and watched their two-goal lead evaporate.
Real Betis 4-3 Real Zaragoza (22 September 2011)
Inspired by the prospect of leading La Liga, Real Betis came back to beat Real Zaragoza 4-3.
Since then, they've hit a rough patch and are 13th in the league.
Inter Milan 5-3 Roma (6 February 2011)
Claudio Ranieri has a knack for tinkering too much and sometimes for the detriment.
Yet in this game, even down a man, his substitutions precipitated two goals from Roma.
This game from the get go was full of excitement.
Chelsea 3-5 Arsenal (29 October 2011)
There had been concerns about André Villas-Boas's high line, but I would never have envisioned Arsenal humiliating a defence which used to pride itself on clean sheets.
What made the decision harder to take was Chelsea had dominated the first half.
Cerezo Osaka 4-3 Jeonbuk Hyundai Motors (14 September 2011)
Middlesbrough flop Lee Dong-Gook was in excellent form, scoring twice against Cerezo Osaka, but Jeonbuk Hyundai Motors eventually succumbed to the pressure of the Japanese.
What was intriguing about this game was the international players from both sides, presumably on big wages, did not play well at all.
Blackpool 4-3 Bolton Wanderers (14 May 2011)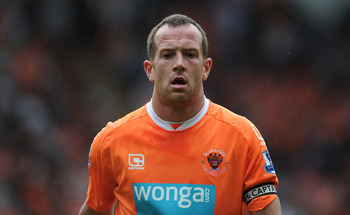 Chris Brunskill/Getty Images
58 years ago, 38-year-old Stanley Matthews inspired Blackpool to a 4-3 win over Bolton Wanderers in the 1953 FA Cup final.
Fast-forward to 2011, and Blackpool again triumphed 4-3 over Bolton.
Leading 4-3 with 10 minutes left in the game, Ian Holloway decided to throw on two forwards and I just chuckled thinking of how only Holloway would do something as left field and radical as that.
Valencia 4-3 Racing Santander (27 August 2011)
Roberto Soldado scored in the first minute and the last minute.
You should have seen Héctor Cúper's face just before Soldado scored—I thought he was praying for Racing Santander to hold on.
Genoa 4-3 Roma (20 February 2011)
Roma were 3-0 up, and Claudio Ranieri managed to tinker the side in a way that resulted in them losing 4-3 to Genoa.
Barnsley 3-5 Ipswich Town (11 December 2011)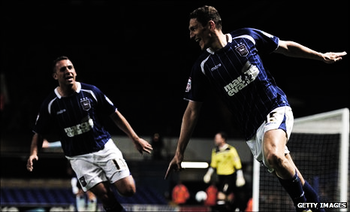 I was watching this game before El Clásico and Ipswich Town started horribly.
My first reaction was, "Well of course their team is filled with old Premier League rejects."
Boy was I wrong, and thank goodness I wasn't calling the game because I would have said that.
Nottingham Forest 3-4 (a.e.t.) Newcastle United (20 September 2011)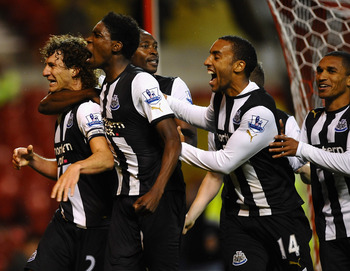 Laurence Griffiths/Getty Images
At 3-3 with a few more seconds left, Gabriel Obertan reached the byline (probably the only decent game he had), put in a beautiful cross and found Fabricio Coloccini for a header and the 4-3 win.
Osasuna 3-2 Sevilla (11 May 2011)
The last five minutes of this game were crazy.
Enrique Sola scored in the 87th minute to make it 2-2, and then three minutes later, out of nowhere, Dejan Lekić scored a superb winner.
Gary Medel was sent off, and no one saw Javier Camuñas get elbowed with blood pouring out.
What a game.
Peterborough 4-3 Cardiff City (18 October 2011)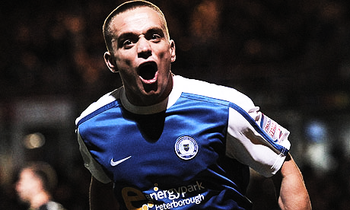 In the space of five minutes, Peterborough went from looking like losing 3-2 to winning 4-3.
The last time the two sides met, it was a 4-4 draw.
Philadelphia Union 4-4 New England Revolution (7 September 2011)
I have two thoughts about this game.
1) It was good to see Freddy Adu score.
2) End-to-end football. If only football was played like this every week.
Three goals down, Philadelphia Union were dead and buried, yet whatever was said in the halftime break motivated them to come back and do the improbable.
Chelsea 3-3 Aston Villa (2 January 2011)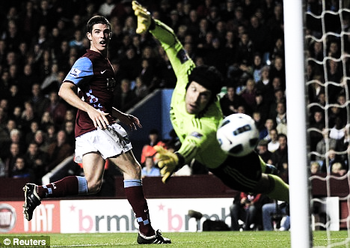 It was as if the defenders from both teams got wasted the night before, because the defending was shambolic.
Nonetheless, when John Terry scored what I thought was the winner, I was doing an André Villas-Boas-like celebration.
That was, until Ciaran Clark broke my heart.
Napoli 4-3 Lazio (3 April 2011)
This was the game where Edinson Cavani established his reputation as El Matador.
Lazio should have won this game, but Cavani led by example and Napoli pulled off an outstanding victory.
A.C. Milan 4-4 Udinese (9 January 2011)
It was the Alexis Sánchez and Antonio Di Natale show as they tormented A.C. Milan's defence.
Anzhi Makhachkala 3-5 CSKA Moscow (23 October 2011)
Seydou Doumbia outplayed Samuel Eto'o, the most expensive forward in Russia, by scoring a hat trick.
Four goals were scored in the span of nine minutes.
Lecce 3-4 A.C. Milan (23 October 2011)
A.C. Milan did not look like winning this game, being 3-0 down at halftime.
When Kevin-Prince Boateng came on, I wondered if he would score a long-range goal.
His hat trick ranks up there as one of the best I've seen.
He impacted the game in such a way that Lecce were shell-shocked to the degree they forfeited their 3-0 lead.
To think Boateng once played for Portsmouth.
Palermo 4-4 (a.e.t) 0-3 (p.s.o) Siena (13 December 2011)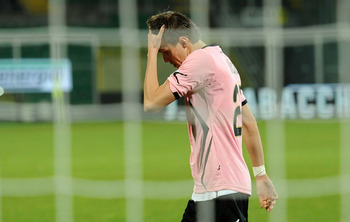 Tullio M. Puglia/Getty Images
Josip Iličić is definitively a star in the making.
The game ebbed and flowed, and who says Italian football is boring?
Brisbane Roar 2-2 (a.e.t.) 4-2 (p.s.o) Central Coast Mariners
2-0 down, Brisbane Roar had three minutes to ensure they did not blow their chance of winning the A-League Grand Final.
Miraculous that the Roar pulled it off.
Then again, that is why the Roar went 36 league matches undefeated.
Vélez Sársfield 3-4 Universidad Católica
The Universidad Católica had such a great start before finding themselves 3-1 down.
The last gasp goal from the diminutive Francisco Pizarro capped off a fantastic match.
Fluminense 5-4 Gremio (16 November 2011)
Fred, the former Lyon forward, was devastating in this game.
He's such an unfulfilled talent, because someone of his ability should still be playing in Europe.
Utrecht 6-4 Ajax (6 November 2011)
I don't watch many Eredivisie games, but I was so overjoyed that I chose to watch this game.
Enjoy.
Newcastle United 4-4 Arsenal (5 February 2011)
Cheick Tioté's celebration should go down as an all-time classic alongside Marco Tardelli.
4-0 up. Talk about Arsenal choking.
Santos 4-5 Flamengo (28 July 2011)
I shake my head when ignorant people say the Brazilian Série A is a weak league.
This is the same league that has laid the platform for five FIFA World Cup triumphs, eight FIFA World Players of the Year (FWPOTY), three FWPOTY runners-up and third place winners.
If Brazil was a first world country, it would be the best league in the world, hands down.
This game summed up everything beautiful about Brazilian football.
Your Opinion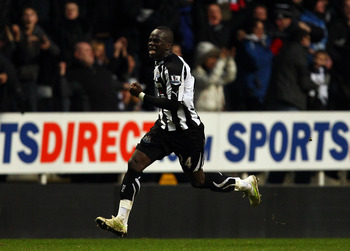 Richard Heathcote/Getty Images

What is your game of the year?
If it's not on this list, please comment below with it, preferably with a YouTube link with the highlights.
Keep Reading