Top 50 WR Fantasy Rankings and Analysis: Can Megatron Get Back on Track?
December 10, 2011
Figuring out who the best wide receiver plays are for the week is probably the toughest of all the fantasy decisions you make on a weekly basis. With some of the league's top players injured and a few divisional rivalries to consider, Week 14 is certainly no exception.
That's why those of us in the fantasy industry put together these lists for you—to give the reader a gauge of what to expect from his or her players on any given Sunday.
With that, here are the weekend's top 50 wide receivers, along with some detailed analysis on the five best plays for the week:
50.           Jacoby Jones (at Cin)
49.           David Nelson (at SD)
48.           Lance Moore (at Ten) 
47.           Brad Smith (at SD)
46.           Devin Aromashodu (at Det)
45.           Dwayne Bowe (at NYJ)
44.           Steve Breaston (at NYJ)
43.           Nate Washington (vs. NO)
42.           Mario Manningham (at Dal – Sunday night)
41.           Golden Tate (vs. StL – Monday night)
40.           Malcom Floyd (vs. Buf)
39.           Santonio Holmes (vs. KC)
38.           Torrey Smith (vs. Ind)
37.           Johnny Knox (at Den) 
36.           Chaz Schilens (at GB)
35.           Plaxico Burress (vs. KC)
34.           Jabar Gaffney (vs. NE)
33.           Reggie Wayne (at Bal)
32.           Eric Decker (vs. Chi)
31.           Mike Williams – TB (at Jax)
30.           DeSean Jackson (at Mia)
29.           Pierre Garcon (at Bal)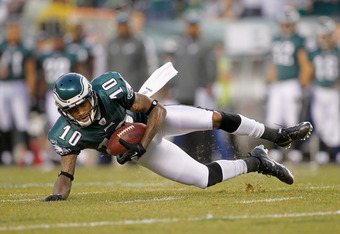 Rich Schultz/Getty Images
28.           Deion Branch (at Was)

27.           Nate Burleson (vs. Min)
26.           Damian Williams (vs. NO)
25.           Julio Jones (at Car)
24.           Michael Crabtree (at Ari)
23.           Jeremy Maclin (at Mia)
22.           Anquan Boldin (vs. Ind)
21.           Darrius Heyward–Bey (at GB)
20.           Marques Colston (at Ten)
19.           Laurent Robinson (vs. NYG – Sunday night)
18.           Santana Moss (vs. NE)
17.           Brandon Lloyd (at Sea – Monday night)
16.           Miles Austin (vs. NYG – Sunday night)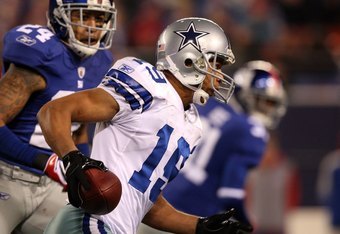 Jim McIsaac/Getty Images
15.           Larry Fitzgerald (vs. SF)
14.           Steve Johnson (at SD)
13.           Brandon Marshall (vs. Phi)
12.           Roddy White (at Car)
11.           Percy Harvin (at Det)
10.           Steve Smith – Car (vs. Atl)
9.             Dez Bryant (vs. NYG – Sunday night)
8.             Vincent Jackson (vs. Buf)
7.             A.J. Green (vs. Hou)
6.             Hakeem Nicks (at Dal – Sunday night)
The Top Five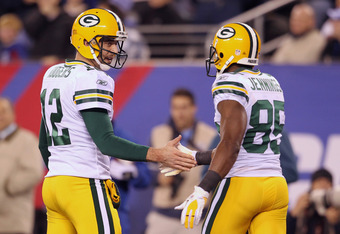 Nick Laham/Getty Images
5. Greg Jennings (vs. Oak)
There's only been three games this season in which Greg Jennings did NOT catch a touchdown pass. Pretty amazing stuff when you consider that the touchdown leader for wide receivers, Calvin Johnson, has actually been shutout four times this season.
The Raiders give up enough yards and TDs for at least two Packer receivers to do some major damage this Sunday, which is exactly what will happen when Jennings and Nelson each catch a touchdown pass while putting up around 100 yards apiece.
4. Wes Welker (at Was)
Wes Welker is on pace for exactly 124 receptions this season, a number that would rank him second all-time for the most catches in a single season in NFL history (Marvin Harrison had 143 in 2002).
Basically, the "Slot Machine" and the "Stetson Man" (Tom Brady) are on cruise control right now.
After an up-and-down middle of the season, Welker has combined for 19 catches and two touchdowns to go along with his two 100-yard games over the last two weeks, so even though the Redskins have a pretty good defense, you can't really deny a guy like Wes when he's on a roll.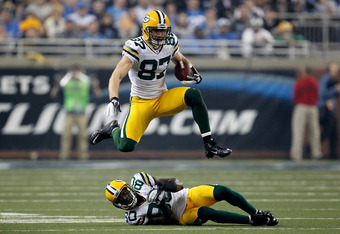 Gregory Shamus/Getty Images
3. Jordy Nelson (vs. Oak)
I know it's strange to see Jordy Nelson ranked ahead of Greg Jennings, but even though the Raiders have trouble with all types of receivers, they particularly have trouble with WR2s, especially the taller ones.
Add to his WR2/taller status the fact that he's fast as hell and you're looking at a real big game for young Nelson.
With James Starks likely to sit this one out, Rodgers may actually pass a little more than normal this Sunday—which is, of course, a huge bummer for Raiders fans, but should put a colossal grin on the faces of Nelson fantasy owners.
2. Victor Cruz (at Dal – Sunday night)
Who would have thought that in Week 14 we would be saying that Victor Cruz is one of only four receivers in the NFL to have more than 1,000 yards on the season?
Nobody.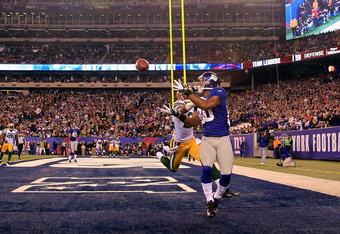 Chris Trotman/Getty Images
However, that is most certainly the case right now as Cruz is riding a six-game stretch where he's had no less than six catches for 84 yards in any one game while catching four TDs in the process.
That said, everything goes out the window when it comes to these divisional rivalry games where anything can happen and usually does.
In their last four games against one another, the Giants and the Cowboys have combined to average 62 points per game between them with almost four touchdowns a game going to wide receivers.
With the way Cruz has been playing lately, you'd figure at least one of them along with some good yardage will be coming his way.
1. Calvin Johnson (vs. Min)
Megatron has been put in bracket-coverage by opposing defenses ever since Jahvid Best went down for the season, as well he should be as it's worked quite well.
The general consensus seems to be that the only way the Lions can win a game now is if Calvin Johnson is allowed to roam free in the secondary, a determination that might very well be true with Detroit losing five of their last seven games.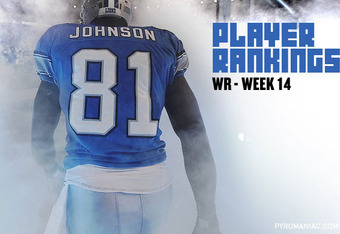 However, despite all of this, Johnson will still be licking his chops come Sunday with Minnesota allowing the most touchdowns and third-most fantasy points to wide receivers this season.
With the Vikings secondary as banged up as it is, look for Johnson to try and improve his numbers from their first matchup back in Week 3 of seven catches, 108 yards and two touchdowns.
Click here to see the Rankings for QBs, RBs and TEs.

Brought to you by pyromaniac.com.
Listen and subscribe to our Pyro® Weekly Podcasts: http://pyromaniac.buzzsprout.com
Follow Pyro® on Twitter:  https://twitter.com/pyroman1ac
Follow Pyro® on Facebook:  http://www.facebook.com/pyromaniac