Why the Seattle Seahawks Need To Land Robert Griffin III in the 2012 NFL Draft
December 7, 2011
Sarah Glenn/Getty Images
Save the date...December 29, 2011. 
Relax, there's no need to dust off your old suit or rent a tux, but do yourself a favor and get ready to go bowling. 
This year's Alamo Bowl should draw plenty of interest in Seattle, with the University of Washington Huskies heading to San Antonio, but at the very same time it might also give Seahawks fans a chance to get a closer look at one particular opposing player who could be a big part of their future as well. 
This year the Baylor Bears were a surprise from the very start of the season with their stunning upset over No. 15 TCU. They have since managed to post a 9-3 record with wins against Big 12 conference stalwarts Oklahoma and Texas largely in part to one very special player.  
Heisman Trophy finalist Robert Griffin III has taken the program from Big 12 bottom feeder to bowl bound virtually overnight while capturing the nation's imagination in the process.
He's managed to do this by leading the Bears' high-flying attack as a dual threat, racking up a ridiculous 3,998 passing yards and 36 touchdowns in completing 72.4 percent of his passes, and by gaining an additional 644 yards and nine touchdowns on the ground.
And he did it in style. Forgive me if I'm smitten with intangibles, but Griffin has IT.
Not impressed? Figure that every year somebody comes out of the woodwork and wins the Heisman.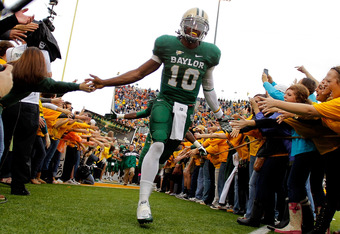 Sarah Glenn/Getty Images
Fair enough, but consider the reality of where the Seahawks currently reside in the NFL food chain. 
Perhaps more than any other team in the league, the 'Hawks lack star power. Without a fresh face at quarterback the team will continue to remain largely irrelevant beyond the Pacific Northwest. Yes, the 'Hawks need much more than a quarterback to turn things around, but this offseason a long-term solution under center is a must. 
Waiting another year is foolish given how this season the team passed on Andy Dalton, just missed on Ryan Mallett and instead plugged in Tarvaris Jackson. The results have been mixed at best as the team is technically still in contention for a wild-card spot, but ultimately T-Jack at QB isn't the answer. 
So why choose RG3?
At this point, Andrew Luck is a distant memory and Matt Barkley is quickly becoming inaccessible and expensive as well. The 'Hawks are a little too good at the moment and thus too far down the board to snag either without mortgaging the team's future.  
Griffin, though, might just fall in place when the time comes, or at least for a not too unreasonable price. 
Unfortunately, that price could largely be predicated upon how the market reacts to anyone chasing Luck and/or Barkley. If the Carson Palmer trade from Cincinnati to Oakland earlier this season is any indicator, it could be a small ransom.   
Meanwhile, beyond Luck, Barkley and Griffin, the rest of the bunch which 'Hawks B/R Featured Columnist Darin Pike did a great job of outlining a few weeks back, to me is an uninspiring mix of signal callers that tend to provide more questions than answers. 
Perhaps someone out of that group will emerge through the draft combine or later on as a pro, but between now and April's draft, I'm sticking with Griffin.
He's smart (both on and off the field), he's sure of himself, he's freakishly athletic, he makes everyone around him better and he has managed to capture the attention of every college football fan in America while playing at, of all places, Baylor. 
Face it, it's been awhile since Seattle has had someone that dynamic. 
Over the last two decades the city has had a few incandescent stars (Griffey, Ichiro, and Glove), but not since Kevin Durant's brief stay with the Sonics has Seattle had someone capable of attracting attention beyond Puget Sound.
Felix Hernandez comes close, but isn't quite there. The constant whispers of him being shipped off year after year from the constantly rebuilding Mariners sadly tarnishes what has been an amazing career.
But back to Griffin...in short, he can run this team and own this town.  
Right now the 'Hawks have a young nucleus with a solid defense and a few weapons on offense that continues to mature with each passing week. In another year or two they should be a legitimate wild-card team. In another two or three years they could be division champs, but after that does this crew have that extra something to win a Super Bowl?
Today it's a little too early to tell, but the 'Hawks need more than just a signal caller or game manager to plug into the system. They need someone who can take this team past simply winning a division, someone with a killer instinct that will turn heads and take names in the process.
Seahawks fans, if you want to see the future, make sure to set aside some time on your calendars for the evening of December 29. Hopefully the 'Hawks brain-trust will be watching as well or they may come to regret it for a very long time.  
Time to make a move and take a risk...otherwise, why play the game?