Kentucky Basketball: The Key Weakness for Each Player on John Calipari's Team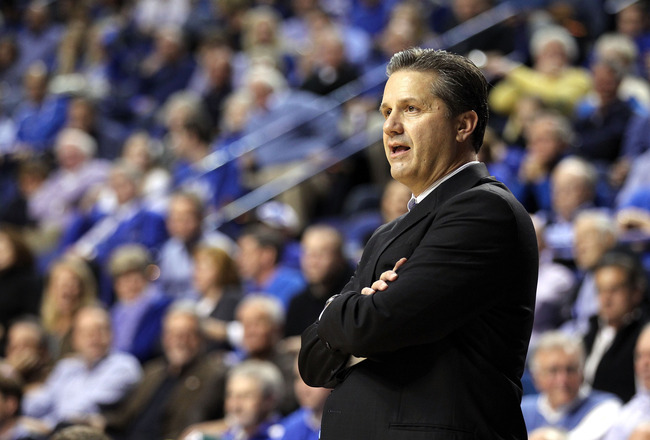 Andy Lyons/Getty Images
Kentucky has had a perfect start to the season. The Wildcats now sit atop the Associated Press poll for the second straight week with an 8-0 record.
It has been far from easy, however. A recent bout with the predecessor to their top ranking, North Carolina, ended on an Anthony Davis block in the last five seconds of the game. In a game that could have gone either way, Kentucky won with its defense and made a statement.
Games against Kansas and Old Dominion were challenges as well, but Kentucky came out on top. Different players stepped up: Against North Carolina it was Michael Kidd-Gilchrist leading the way, against Kansas it was a great performance by the starting five and against Old Dominion, sixth man Darius Miller led the team in scoring and assists.
Each player on this team has qualities that John Calipari thinks will help this team succeed. They wouldn't be on the team if Calipari didn't think they could contribute.
Weaknesses of these players, and more importantly, improving them, will be key if Kentucky wants to keep its undefeated record.
Here is the biggest weakness for each player on John Calipari's roster.
Darius Miller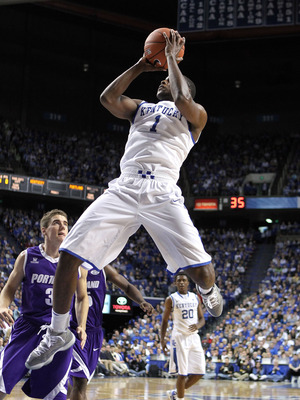 Andy Lyons/Getty Images
Assertiveness
Darius Miller has the skills to take over games. He took over in the SEC Tournament, en route to becoming the tournament MVP.
This year, we have seen spurts from Miller where he is simply unstoppable. Against Old Dominion, his 13 points led an otherwise struggling Kentucky offense. His season high against Portland, 19 points, was on a 7-for-11 shooting performance and 4-for-5 from three.
He has the range, he can score inside and he plays great defense. He just needs to assert himself more often to be a complete player.
Terrence Jones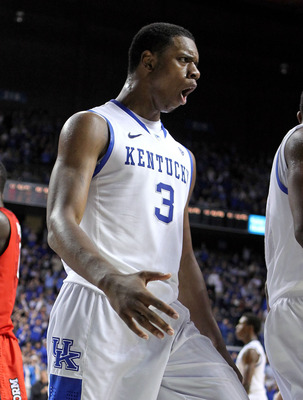 Andy Lyons/Getty Images
Consistency
Terrence Jones has shown us one of the most complete games in the country. He disappeared in the second half against North Carolina, primarily because of the stellar play of Doron Lamb and Michael Kidd-Gilchrist.
But we saw this last year. Freshman Terrence Jones dominated the Maui Invitational and proceeded to slip away as the season went on. It seemed as though he had lost the intensity we saw at the start of last season—the same intensity we are seeing now.
If Jones can continue his high-level play, he will be in the discussion for player of the year at the end of the season.
Jon Hood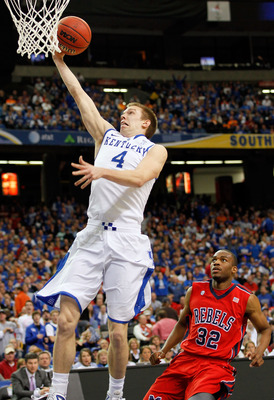 Kevin C. Cox/Getty Images
To be determined
Jon Hood tore his ACL earlier this year and could be available at the end of the season.
From previous years, Hood has shown solid defense, spot shooting and effort, but hasn't seen a large share of minutes.
If Hood were to play at the end of the year, I would expect him to be a solid contributor, but he may have trouble finding a role in this offense.
Jarrod Polson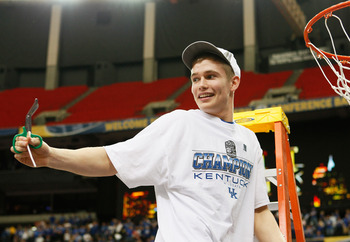 Kevin C. Cox/Getty Images
Athleticism
Jarrod Polson is a decent guard—he just lacks the athleticism to get by defenders and defend quicker guards. He dribbles well and can score at the rim, but fails to create space.
Polson will see his minutes increase as his career progresses, but chances are his contributions will be minimal.
Twany Beckham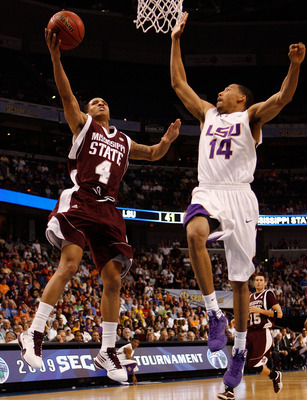 Chris Graythen/Getty Images
Health
Twany Beckham came to the University of Kentucky at the beginning of the spring semester in 2011.
His tenure at Mississippi State was riddled with injury. In 2008 he missed the first three games of the year with a foot injury, then missed the next year with surgery on both of his hips.
If he can stay healthy during conference play, Beckham will provide great depth to Calipari's rotation.
Ryan Harrow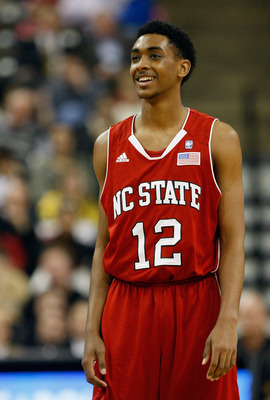 Streeter Lecka/Getty Images
Size
Ryan Harrow will sit out this year, which will give him the time to mature his game and give him the experience of playing in the dribble-drive offense for a year without being stressed to play.
Harrow received playing time at North Carolina State his freshman year and showed why he was a 5-star recruit with his ability to break down defenses.
Harrow has the height at 6'2", but his slender frame is a liability against physical teams.
Sam Malone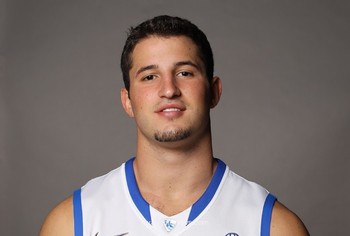 Athleticism
Sam Malone is another bench player for Kentucky that has point guard skills like dribbling and passing, but fails to acquire significant minutes because of his athleticism.
He is a liability on defense, and he struggles to create space as a point guard. You can't teach athleticism, but it is what holds Malone back.
Michael Kidd-Gilchrist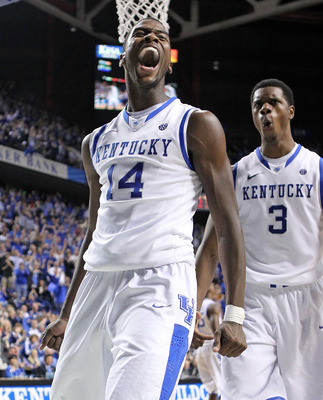 Andy Lyons/Getty Images
Long-range shooting
Michael Kidd-Gilchrist is very close to a complete product. He plays superb defense, can drive and finish at the basket, and has shown a great knack for getting offensive rebounds.
However, if one negative could be pointed out from MKG's game, it is his inability to make open outside shots. At the start of games, he seems to settle for jumpers early in the shot clock.
Kidd-Gilchrist is a phenomenal defensive player but could use some polishing on the offensive side of the ball.
Doron Lamb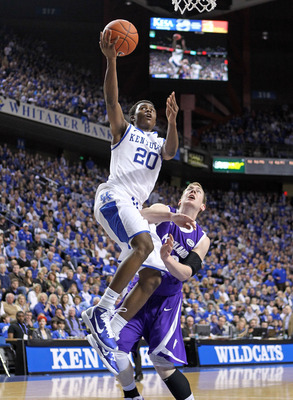 Andy Lyons/Getty Images
Physicality
Doron Lamb has NBA-ready shooting skills. He has unlimited range and has great touch on runners in the lane, but his physicality leaves much to be desired.
You won't see Lamb battle underneath for the ball, because that isn't his game. On defense, however, Lamb could be much more physical contending for rebounds and needs to play tighter defense.
Anthony Davis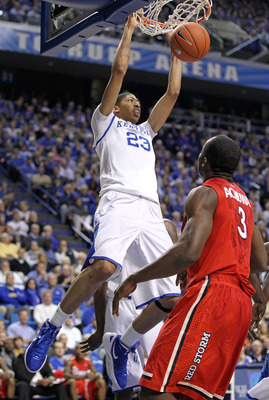 Andy Lyons/Getty Images
Strength
He is statistically the second-best shot-blocker in the nation with 4.5 per game.
Throw the ball anywhere near the rim, and he can go up and finish.
He has the range to consistently make midrange jumpers.
Anthony Davis will most likely be the No. 1 draft pick next year, barring any setback. However, he needs to gain weight to evolve his game further in the low post both offensively and defensively.
Marquis Teague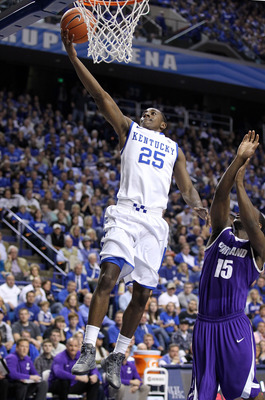 Andy Lyons/Getty Images
Shot selection
Marquis Teague has the assets to be another great John Calipari point guard. He's quick, sees the floor well and is great in space. Although he hasn't shown it much so far this year, he has the explosiveness to drive and finish at the rim.
What Teague needs to work on, among other things, is shot selection. He doesn't wait for the game to come to him—he consistently pulls up and takes jumpers that should instead be a pass or a drive to the basket.
If Teague can refine his shot selection and be patient, the Kentucky offense will be scary good.
Eloy Vargas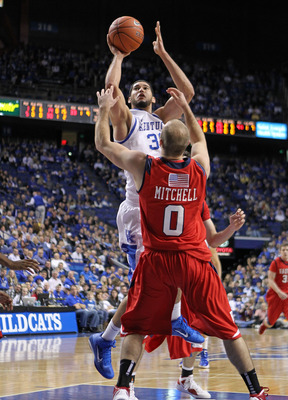 Andy Lyons/Getty Images
Basketball IQ
All the tools Eloy Vargas needs to succeed are at his disposal. Sure, he doesn't have a great shot, but he rebounds well, plays solid on-ball defense and has a great motor. Not to mention, he's 6'11".
Vargas can provide the Wildcats with depth behind Anthony Davis, but his basketball intelligence is what holds him back. He looks awkward on offense and can't be relied upon to score, and his help defense could be better.
His play with the Dominican Republic national team over the summer seems to have helped, and he should continue to improve with experience.
Brian Long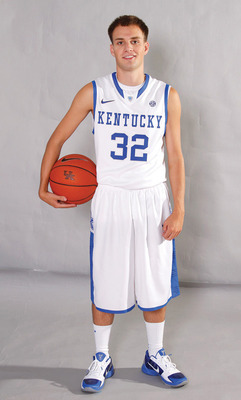 Size
I haven't seen Brian Long play much, but if the picture is any indication, he needs to bulk up.
When he does play, Long shows he has a great motor and is decent at handling the ball.
Kyle Wiltjer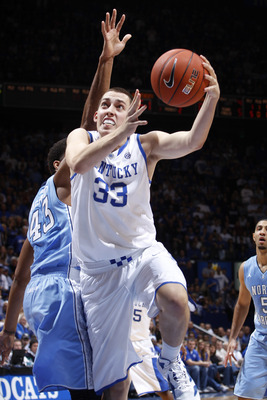 Joe Robbins/Getty Images
Defense
I'm hopeful that Kyle Wiltjer is a staple of Kentucky basketball for all four of his college years.
He has great length, shows surprising timing in blocking shots and is very artistic in the ways he can score the basketball.
One weakness of Wiltjer's game is defense—he has trouble defending quicker players. Wiltjer isn't exactly fleet-footed, so he needs to give more space to opponents. He needs to learn how to use his length to bother defenders, as well as improve his low-post defense. When that happens, he will see much more playing time.
Keep Reading

Kentucky Wildcats Basketball: Like this team?