NFL MVP Candidates: Why Drew Brees Doesn't Make the Cut Against Aaron Rodgers
November 29, 2011
Ronald Martinez/Getty Images
Drew Brees was on pace to break all types of records after the throwing clinic he put on against the Green Bay Packers, a season opener in which the New Orleans Saints ended up losing. He put up over 400 yards and everyone was waiting to see how he would beat around other opponents with his incredible arm.
It is undoubtedly so that Brees should be one of the main men in the conversation. But, when it comes to the last football player standing, he will not make the cut, despite what analysts are saying after he had the Giants shell-shocked in a Monday Night Football meeting.
Simply put, Brees and all of his offensive weapons had the Giants confused as they attempted to battle through his four touchdowns (plus one on the ground) and 363 passing yards.
Brees shocked us all against a pass rush that before the game was slated to actually mean something in this lifetime. Even with all of what happened Monday night in the books, one cannot help but notice that Brees has been too inconsistent to swipe the regular-season MVP award.
So, who is left? If Drew Brees, a man on pace to out-throw the NFL passing record, is not the man on top who else has the capability of being that standout guy?
One name specifically comes to mind and that name is, of course, Aaron Rodgers. Rodgers is one of the most complete quarterbacks I have ever seen play the game and if you have any doubt in your mind, go watch the tape. It is all there in front of your eyes to prove why he should be credited this individual regular-season accolade.
Not only does he command one of the most potent offenses in the league. He does it in a way that could provide ample mistakes if not carried out almost perfectly. Rodgers has put the ball in the air 362 times this season and has only been intercepted four times. This is not one of those interception statistics that you can brush off like Tim Tebow's.
Tebow does not put the ball in the air as much as true quarterback fans would like. Therefore, without many attempts, the young QB forgoes many mistakes.
This is not Rodgers' game. The Green Bay QB can make plays with his feet, but he prefers using his incredible arm and accuracy.
He has had a QB rating over 100.0 for all 11 games he has played this season and has not once appeared shaky or shifty in his stance. His team will only go as far as he allows them. It seems they're in pretty good hands thus far.
Both Brees and Rodgers play in similar situations. Neither player is on a team with the greatest defense in the world. There may be those defensive playmakers that blow up a game at any moment, but they function primarily off of those front lineman.
Both players have the ability to participate in a shootout. We can all marvel at Rodgers' arm any day of the week, but Brees should not be slighted either. As previously stated, he is on pace to break the NFL passing record and has done so with multiple weapons under his belt such as Jimmy Graham, Marques Colston, Lance Moore, etc.
Rodgers has a variety of options when throwing the ball as well (Greg Jennings, Jermichael Finley, Jordy Nelson, etc.). The difference lies in how each man has been able to keep up the pace throughout the season.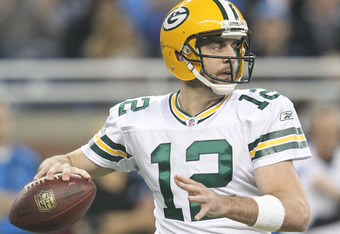 Leon Halip/Getty Images
Rodgers sits ahead of Brees because he has led his team to an undefeated record and has yet to falter. Brees is a different story. There have been moments during this season, like against the St. Louis Rams, where Brees threw two interceptions and had fans scratching their heads because this game had already been won in their minds.
Brees did not throw a TD until the fourth quarter in that game and that was with about six seconds left. This is usually around the time when the defense slacks off a bit and lets the QB let one rip just to make him feel better about himself.
What the hell do they care? The game has already been won. This was right after the Saints had routed the disparaged Indianapolis Colts 62-7 the week before.
If not for his erratic performances, Brees would be neck and neck with the returning Super Bowl MVP. However, at this point, the only thing that could push him past Rodgers is if Green Bay starts showing some inconsistencies as well.  
I highly doubt that they would lose each of their last five games, which includes their next meeting against the struggling Giants, the in-and-out Oakland Raiders, the Kansas City Chiefs (enough said), the Chicago Bears and the Detroit Lions.
There are two games that the Packers truly have the potential to lose (Chicago and Detroit) and that still would not propel Rodgers so far down the list that it would be Brees' award for the taking.
Follow Nyhlaa Black on Twitter @nyhlaablack