New York Giants: 5 Free Agents the Giants Should Re-Sign in 2012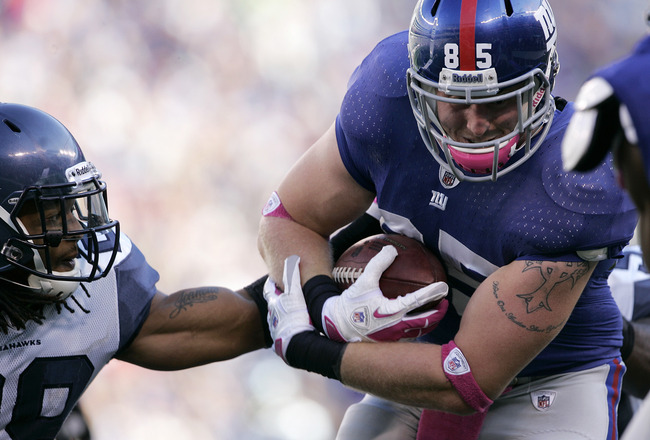 Rich Schultz/Getty Images
The 2011 offseason was quite a controversial one for the Giants.
They had many key players become free agents, and while they re-signed players like running back Ahmad Bradshaw and defensive end Mathias Kiwanuka, they lost talented playmakers such as wide receiver Steve Smith and tight end Kevin Boss.
Luckily for Big Blue, their 2012 offseason shouldn't be nearly as hectic, but there are still several players with expiring contracts that have been big contributors to the Giants' success.
This slideshow presents five free agents the Giants should re-sign in 2012.
Terrell Thomas, CB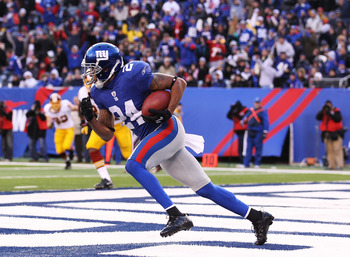 Al Bello/Getty Images
In this year's preseason, starting cornerback Terrell Thomas tore his ACL and was lost for the season, a big blow to Big Blue's defense. At the end of this season, he will be a free agent, and not one the Giants should let get away without a fight.
Corey Webster, the starter opposite Thomas, is playing possibly the best football of his career. Thomas's replacement Aaron Ross, however, leaves something to be desired and Thomas's presence could really help New York's defense.
While the Giants can boast a pretty solid pass defense this season without Thomas, they like to run nickel and dime packages, which require depth in the secondary. Thomas would give them that depth and also excels at press coverage and run support.
The Giants need a defensive back who can help with the run and another consistent corner to cover No. 2 receivers such as Jeremy Maclin and Dez Bryant.
Also, if they want to keep successfully running dime and nickel packages it would be a big help to re-sign Thomas.
Mario Manningham, WR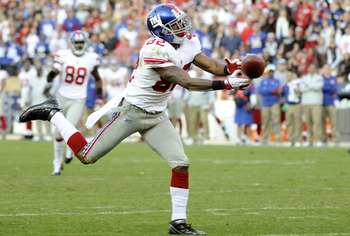 Thearon W. Henderson/Getty Images
The emergence of Victor Cruz may seem like it's made Mario Manningham expendable, but beyond Hakeem Nicks, Cruz, and Manningham, there isn't much depth at wide receiver for the Giants.
Manningham has stepped in time and time again for injured starters and is a key component in New York's passing offense. He doesn't constantly turn heads like Victor Cruz, but he is reliable and every so often he can come up with a huge play.
Last year, Hakeem Nicks and Steve Smith missed a combined 10 games, but Manningham stepped in and played the best football of his career. He is a solid No. 3 receiver who could easily be a No. 2 or No. 1 for many other teams.
The lure of more playing time and more targets on a team like the Rams or Jaguars may lead Manningham to sign elsewhere, but the Giants would certainly be wise to make him a strong offer.
Kareem McKenzie, OT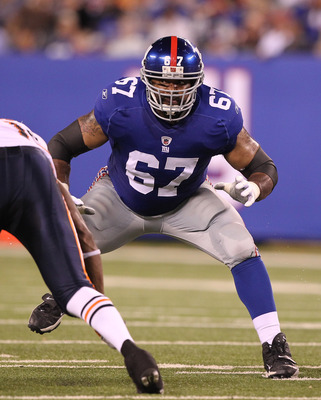 Al Bello/Getty Images
To clarify this a bit, I am not saying Kareem McKenzie is a long-term option for the Giants at right tackle. He is already 32 years old and his skills are starting to decline.
However, as of now the Giants don't exactly have a multitude of talented young linemen ready to take over.
Will Beatty is out for the season, James Brewer is average at best right now and neither David Baas nor Kevin Boothe offers an elite level of talent on the offensive line.
The Giants desperately need to draft offensive linemen this offseason, but it also would help a great deal for them to sign McKenzie for one or two more years while they get things sorted out.
McKenzie isn't an elite player and his best days are behind him, but he still plays at a respectable level and he could provide some stability on the line for a little while until a talented group of young players can take his place.
Jonathan Goff, LB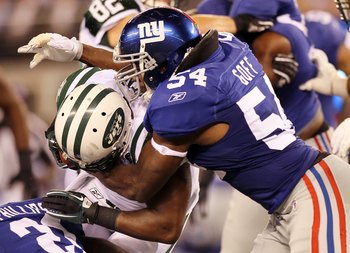 Jim McIsaac/Getty Images
Greg Jones, Mark Herzlich and Jacquian Williams are a promising young group of linebackers, but the Giants have missed Jonathan Goff's strong presence in the middle of the field this season.
Although Goff isn't a top all-around linebacker, ProFootballFocus.com ranked him in the top 10 for run defenders last season; his absence is a big reason why the Giants have struggled against the run this year.
Goff hasn't quite gotten the hang of pass coverage yet, but he can be replaced by a defensive back like Deon Grant in passing situations anyway, using nickel and dime packages.
Goff is also only 25 and will be able to mature as a leader for Jones, Williams and Herzlich for years to come.
Goff isn't a player that draws lots of attention, which should benefit the Giants in their quest to re-sign him. He is the main communicator on New York's defense and would fill a big hole at middle linebacker if they are able to re-sign him.
Jake Ballard, TE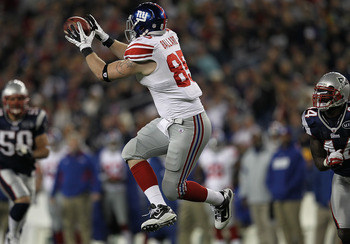 Jim Rogash/Getty Images
Honestly, I can't think of a reason why the Giants wouldn't re-sign this guy. He stepped in for Kevin Boss and the Giants haven't missed a beat due to his exceptional talent.
Luckily, Jake Ballard will be a restricted free agent in 2012, which takes some of the pressure off of the Giants to re-sign him, because many teams are sure to be anxiously waiting for him to hit the open market.
Fans groaned when the best substitute for Boss the Giants could produce was Ballard, but now GM Jerry Reese looks like a genius. Ballard is one of Eli Manning's favorite targets and has come up big in the clutch several times for New York.
Ballard is young and could be a staple of New York's offense for years to come, and it will be absolutely necessary for them to re-sign him in 2012.
Keep Reading

New York Giants: Like this team?