Florida Gators 2011: Gator Fans Need To Think Before Criticizing Urban Meyer
November 28, 2011
Al Messerschmidt/Getty Images
The worst-kept secret in college football will be officially announced in a press conference today. 
Urban Meyer will be the new head coach at Ohio State. 
Just a year after leaving the University of Florida to focus on his "health" and his "family," Meyer will return to the university that gave him his first coaching gig. Naturally, Gators fans feel like they were dumped—and their significant others are running off with someone else.
Let's take a step back, though, and really look at what Urban Meyer did for the university. 
Meyer, who arrived in 2005, took over for much-maligned Ron Zook and won nine games in his first season. In 2006, Meyer led the Gators to a 13-1 record; by his second season, the team had won a national championship. Meyer completed in two years a feat that took Steve Spurrier six. 
There were detractors who said Meyer won with Zook's players and that he wouldn't be able to win with his own recruits. Those detractors gained some fuel for their fire when the Gators went 9-4 the following season, but the Gators also had third Heisman winner—Tim Tebow.
If you're keeping score at home, Meyer coached the same number of Heisman winners and won the same number of championships as Spurrier—in half the time.
Meyer would one-up Spurrier when he led the Gators to the third national championship in the school's history and his second in a three-year span. 
With Tebow, Brandon Spikes and much of the defense returning, the Gators became favorites to win another national championship. The Gators went through the first 12 games of the season unblemished and had a rematch against Alabama in the SEC championship.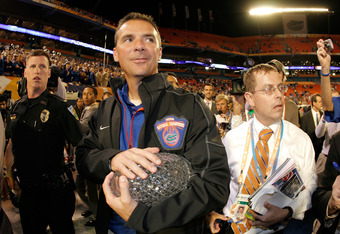 Doug Benc/Getty Images
This is where the drama-filled saga that is Urban Meyer, Ohio State and Florida begins. 
The Gators were dismantled by a Crimson Tide team with revenge on their minds. The Tide dominated the game in every regard and came away with a 32-13 victory.
That night, Urban's wife Shelley discovered her husband motionless and unconscious on the floor. Meyer was taken to the hospital and treated for chest pains and dehydration. This was the beginning of a very strange set of events that would occur over the next year. 
On December 26, 2009, Urban Meyer announced he would retire following the Gators game against Cincinnati in the Sugar Bowl. 
A day later—and after a long discussion with athletic director Jeremy Foley—Meyer chose to take an indefinite leave of absence rather than retire. 
This was a mistake. 
Urban was clearly burnt out and realized that the players he had left on the roster could not carry on with the same success as the players he would be losing. He did not have it in him to rebuild a roster that would take several seasons to return to form.
Urban made the right decision to retire, but due to loyalty to a friend, decided to give coaching one more go. 
The Gators struggled through Urban's final season; they finished with the worst record an Urban Meyer-coached team has ever had.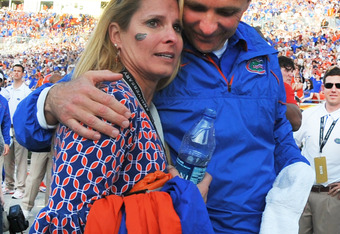 Al Messerschmidt/Getty Images
Before the bowl game against Penn State, Urban Meyer announced his retirement again—a year too late. 
Yes, Gator fans, he did leave because of health concerns. He could not live up to the Gator Nation expectations. The team that he had could not compete for national championships—or even SEC championships—and he got out while the getting was good. 
I believe that if Jim Tressel was still coaching at Ohio State, Urban would still be spending time with his ESPN family. (My one low blow of the article.)
This is simply a job that is too good to pass up. Meyer has always kept a clause in his contracts where he could leave to accept a position at either Notre Dame or Ohio State. Meyer is from Toledo, walked on at Cincinnati and had his first job coaching tight ends at Ohio State. 
Sure, Meyer feels better after taking a year off, but is he ready for another rabid fan base and their expectations? Only Meyer and his family can know or make that call.
Not the media. Not Gator Nation.
When the announcement is made that Urban Meyer will be head coach at Ohio State, Gator fans should be thanking the coach for what he did, not condemning him for accepting his dream job.  
Gator fans still cannot find any hate for Steve Spurrier—the coach who did no wrong.
Handout/Getty Images
Spurrier left Florida to try his hand at coaching in the NFL with the Washington Redskins. After that experiment was over, and Spurrier took a year off to focus on his golf game, the Gators had a vacancy at head coach.
The stars had aligned. The "ol' ball coach" would surely return to his alma mater and bring the Gators back to both SEC and national glory, right?
Wrong. 
Instead, he chose to go to South Carolina, not only another SEC school, but one that competes in the same division. 
Is the nostalgia that surrounds Spurrier—who is Florida's first Heisman winner and coached them to their first national championship—blinding them to those facts?
If Urban Meyer deserves criticism, then throw that same criticism up to Columbia, South Carolina and the ol' ball coach. 
Like Spurrier, Meyer deserves to be celebrated for his accomplishments while at the university—not condemned for his actions after he left.
What fans should say is this: Thank you, Urban, for bringing Gator Nation two national championships. Thank you for bringing in Tim Tebow, Brandon Spikes, Joe Haden, Percy Harvin and all the Gator greats we had the privilege of watching during your time at Florida.
It may not be today, Urban, but one day Gator Nation will look on your time at Florida with reverence and be thankful for all you did for the university.