Chicago Bears Downplay Offensive Plan; Lay Trap for Oakland Raiders
November 27, 2011
Jonathan Daniel/Getty Images
Don't be fooled: Mike Martz is a fox.
And this is the NFL, where you can trust a coach willing to talk to the media like a senior telling you his plans for prom night.
Believe what you want about emphasizing the run game, the Bears are going to pass first and run later. 
Want proof? 
Martz flatly denied the possibility this week.
"The things we were doing in St. Louis—get it out quick, things happen quick—we'd never ask [Caleb Hanie] to do that kind of stuff," Martz said.
Just what we expected to hear. Thanks for confirming our suspicions about the backup QB. 
What will they do differently on offense?
Martz said, "We kind of tweaked it. We can really run the football. Those two big tight ends and the back and the line, they are just getting better every week. It allows you to go bang, bang, bang, get them all up there, and then throw it."
Sure, you're going to run first. That just makes good sense. Thanks for telling the world, probably the Raiders aren't listening.
(Translation: The Bears will throw, throw, throw.)
You can't believe Martz. This is a guy who plays psychological games with quarterbacks by talking up the starter and making a bad example of the backup. He did it to Hanie.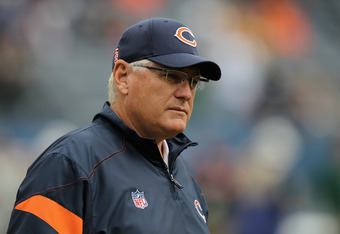 Jonathan Daniel/Getty Images
He said, "In my mind, he is a starter in the league. Otherwise, you don't [treat him] like that. You have to stress him and press him a little bit, get him out of his comfort zone so he can deal with some of the emotional ups and downs that come with being a starter in the league. Callous him up a little bit."
It's the tough love approach. And it worked for Kurt Warner.
"It really solidifies inside of him that he can handle these things. Where I would point to is in the NFC championship game. [Caleb] throws an interception and comes back and we go get a touchdown. That was a huge statement for me. That's the resilience and the toughness you're looking for in a starter," said Martz.
Bottom line: Martz will do whatever it takes to win. 
He's also discovered over the past two years that his opponents' perception of him as a pass-first coordinator works to his advantage. When his offense hits the field with double TE sets and fullbacks, defenses are left scrambling to adjust. They were planning for something else.
Martz is doing the same thing to lay a trap for Oakland.
Without a starting quarterback, everyone expects the Bears to run. And Martz will let them believe what they want. He might even confirm that belief.
"There is nothing worse than having to throw the football every snap. I hated that because it's just so stressful for everybody. The quarterback gets hit. That's not fun. Fortunately, that's not where we are," said Martz.
Right, I see. The Bears hate passing, you plan to run all day. 
And you'll be home by curfew.