Packers vs. Lions: Does Ndamukong Suh's Ejection from Game Signal a Gentler NFL?
November 25, 2011
Leon Halip/Getty Images
Greetings from the Frozen Tundra, friends.
I hope you all have awakened from your tryptophan induced slumber this morning with a fresh outlook on life.  However, as many of you may be out practicing tackles and chop blocks, while trying to maneuver your way through the Black Friday sales, keep in mind that tackling little old ladies for that $100 big screen TV is not the way to best show thanks for the bounty in your life.
Seriously.  Lets be careful out there, people. 
Yesterday, the Green Bay Packers played the Detroit Lions at Ford Field in Detroit.  And, if you live in a household like mine, this game had a special significance.  Not only did it bring the 10-0 Green Bay Packers to a team that is a strong division rival, but it also brought back fond memories for many Packers' fans. Many of my family's Thanksgivings were based around eating during the halftime show, so we were sure to not miss any of the game.
Or, as my elderly, not at all a football fan Norwegian Grandma Ethel said so lovingly yesterday, "I am being held hostage by those Green Bay Packers and this football game.  Are they playing the Chicago Cubs?  When can we talk?  After the game is over, I suppose.  Uff da."
Uff da, indeed.
But yesterday's game was a little different.  And, one of the big differences came due to the ejections from the game.  Now, I love watching football and have since I knew what football was.  While I do not claim to be an expert on the rules, plays or players, I enjoy the game itself.  I have to say that I was a little taken aback yesterday when Pat Lee was ejected from the game after a minor scuffle during a punt return.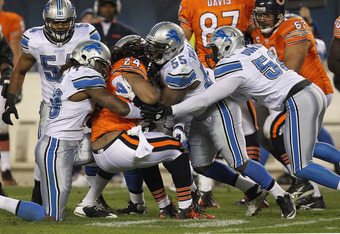 Jonathan Daniel/Getty Images
First, I can't remember the last time that a Green Bay Packer was ejected from the game.  So, that should tell you something about the Green Bay Packers.  Second, I can't remember a time when someone was ejected from a game for a minor scuffle.
Over the past four months, including preseason, I have claimed the television and remote control in the name of football on Sundays.  This means waking up, preparing for the pregame, watching the pregame, watching the early game, watching the late game and then watching the night game. 
By the time the night game is over, if you would come into my house, you would witness my general descent into football-induced zombification—wild hair, wild eyes and tackling people at random.  However, around the midseason point, there has been a general increase in fights during a few of the games. 
These fights have been downright huge.  While watching the Detroit Lions-Chicago Bears game on November 13, there was a few moments when I had to check the info on my television to make sure that my TV hadn't wandered over to a WWE or MMA main event.  Matthew Stafford threw an interception, D.J. Moore of the Bears threw a block on Stafford—who found the use of Moore's face mask helpful in getting Moore on the ground—and it was on like Donkey Kong. 
While this skirmish happened in front of the Lions bench, a few of the Bears players were generally happy to come across the field to make sure it was an even fight.  It was around this time that one of the announcers gravely said something to the effect that the referees needed to get this game under control before someone seriously got hurt.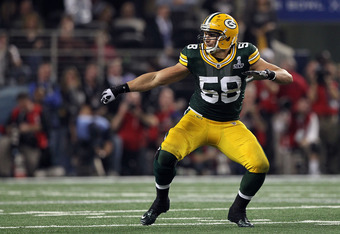 Al Bello/Getty Images
Jay Cutler of the Bears probably wished that someone had said that a little sooner than the brawl started, as he was leveled by Nick Fairley on a previous play. 
And, that brings up Ndamukong Suh.
He's big, he's mean and recently voted the dirtiest  player in the NFL.  During the Thanksgiving Day game, Suh was ejected after stomping on Packers' Evan Dietrich-Smith's arm, after Suh so helpfully tried to determine if the turf in Ford Field could polish Dietrich-Smith's helmet to a golden glow. 
While Suh has stated that he will not apologize for his actions, except to his team and true fans, I have two questions for football fans:  Does Suh's and Lee's, ejections from the game show that the NFL—through the referees—is taking a serious stance on player conduct and safety?  Or, do these ejections from the game stem from the fact that the game yesterday was viewed by many people who may not normally watch football, so a firm stand needed to be made?
One of the biggest player contentions during the Lockout in the offseason was player safety and well-being.  Essentially, you are taking guys who are mostly over 6'0" tall and pushing over 200 plus pounds and encouraging them to physically grab and tackle other 6'0", 200 plus pound guys to the ground by any means necessary.  It is like pitting a Mack truck against a Mack track:  they are going to hit and there is going to be damage, but which one is going to bare the brunt of the damage?
Yes, accidents and injuries happen in football.  Frank Zombo of the Green Bay Packers broke his shoulder in pregame warm-ups prior to actually playing—with a broken shoulder—against the Arizona Cardinals in a preseason game.  And, this was from a hit in practice from a teammate—John Kuhn, also known in my household as the Man Made of Steel.
So, what should the NFL do to Ndamukong Suh?  Suspend him?  Fine him?  Suspend him and fine him what he earns per game during the length of his suspension? 
Player safety, thus guaranteeing that a player can continue to play another game, seems to be on the mind of NFL commissioner Roger Goodell, and rightly so.  The fights, the personal fouls and the ejections from games seem to be ramping up as the season goes on and the playoffs loom in the near future. 
Alright, commissioner Goodell, let's see what you come up with.