Austin Rivers Thinks He and Seth Curry Are Getting Better Together for Duke
November 23, 2011
There are many similarities between Duke's leading scorers, Austin Rivers and Seth Curry, one being both players have fathers who played in the NBA.
"You always love coaching good players," said Coach Krzyzewski after Duke's 82-75 win over Michigan at the Maui Invitational (h/t ASAP Sports). "Especially sons of guys who have played in the pros [as they] should have a greater love for the game, because they've grown up in the game. And their fathers have always allowed us to just coach them." 

"They haven't said my kid needs to do this or whatever. Not ever, ever has that been the case." 
Seth Curry was an unknown prospect out of high school even though his brother, Stephen, was the face of college basketball at the time. Seth attended Liberty where he was an instant star on the court.
After his freshman season, he transferred to Duke and watched them win the 2010 National Championship while serving a mandatory year on the bench due to NCAA transfer regulations.
Now a junior, Curry is the leading returning scorer from last season.
This season he has teamed up with the Austin Rivers. Many have attributed Rivers' popularity to being the son of current Celtics coach, Doc Rivers.
But that's not totally the case.
Doc has another son, Jeremiah, who played at Georgetown before transferring to Indiana where he was known for his outstanding defense.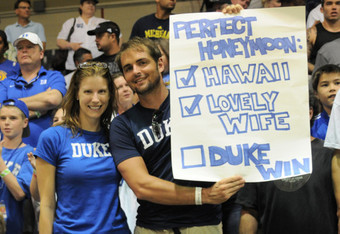 Austin on the other hand was a scoring machine in high school which led to him being ranked as one of the top recruits.
Only giants such as Kentucky forward Anthony Davis (No. 1) and UConn's center Andre Drummond (No. 2) are ranked ahead of him.Both guards couldn't be more different. Rivers appears outgoing and is known for his "swagger" while Curry is a little more reserved.
They have had their struggles but they are undefeated at the moment. To focus on those struggles is the same as berating a general who loses a few battles but wins the war.
"Me and Seth are starting to get a real good relationship with each other on and off the court which is helping us trust each other on the court," says Rivers after they both combined for 37 points to defeat Michigan yesterday. "So it's helping us." 
Both are described as combo guards, however, Curry has been entrusted with the point guard duties while Rivers is his backcourt mate along with sharpshooter Andre Dawkins in a three guard lineup. 
Rivers is a fearless scorer that can break his man down off the dribble while Curry has the trademark of his family, the ability to shoot the ball well. 
These two key elements will make them an unstoppable package when they get it right. 
By being able to beat his man off the dribble, Rivers can either find Curry for an open shot or score in the inside.
Tonight they will have their hands full with Kansas guards, Tyshaun Taylor, Travis Releford and Elijah Johnson in the Maui Invitational Tournament finals. 
So far Duke continues to surprise everyone, but they are mainly winning on the offensive end.
"Thank goodness we had the working margin, because they never give up." Said Coach Krzyzewski regarding the Michigan game. "But I'm proud of our guys. Six games in 11 days. And I thought we were pretty fresh today." 

"I thought Austin made some really big plays for us and did a great job on Hardaway, especially in the first half. But, again, we played a little bit better than they did. We played really well. And they played well. And we just played a little bit better."