George Mason Basketball: Analyzing Their Preseason NIT Performance
November 23, 2011
George Mason certainly got an early test by being invited into this year's Preseason NIT. With all of the offseason turnover, playing in a tournament that guaranteed four games may have been just what the doctored ordered for the young, growing Patriots. 
Naturally, when fans first looked at Mason's draw, between a matchup with a Florida International team that looked like a pushover and a date with in-state rival Virginia Tech, there were fantasies of the bright lights of New York City for Mason Nation. However, that's not quite how it played out.
That "pushover" FIU ended up stunning Mason in overtime. Gone were the dreams of finally getting a crack at Virginia Tech. Gone were the dreams of Madison Square Garden. All of a sudden, reality set in for Mason fans that this was not, in fact, last year's team and that it would take time before new coach Paul Hewitt and his young players would gel into a contender.
Luckily for Mason, over the course of their next three NIT games, there was clear progress being made, with the Patriots getting steadily better in each game. By the time the final buzzer sounded in their last NIT game against Albany, the potential of this Patriots team had become apparent, and Mason fans began to feel more confident in their beloved team.
The problems Mason had in their game with FIU were numerous and frustrating to say the very least. The freshman looked like they didn't even deserve to be on a college floor. They hurt more than they helped, and I think Corey Edwards's stat line says it best: 15 minutes, 0 points, six turnovers, four fouls. Defensively, it was a wreck. FIU was given open look after open look, and Mason looked more concerned with trying to sprint down the floor for their next offensive possession than stopping the Golden Panthers from scoring.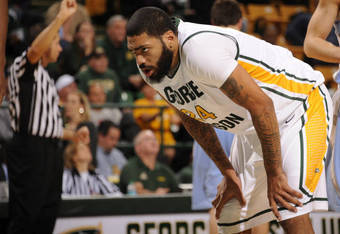 The most pressing issue seen in the Mason's opening round loss though was the massive amount turnovers and general offensive discombobulation. The offense continually moved too fast, balls were thrown away, and in general, Mason made unforced error after unforced error. I don't care who you are or who you play, 21 turnovers will surely spell doom every time.
Their next game against Monmouth was a bittersweet one. Naturally, the Patriots would have much rather played against Virginia Tech, but their mistakes the night before prevented that. Clearly, Mason took out their frustrations over the previous night's loss on an inferior Monmouth, yet despite the lopsided result, there were still clearly problems with the Patriots.
The turnovers were still much too high—20 in total—and defensively, there were still too many breakdowns and open looks for Monmouth players. Luckily for Mason, the Hawks had an abysmal shooting night—they went only 24.1 percent from the field—and was just generally outmatched, so Mason's mistakes didn't haunt them like they did the night before.
After two subpar outings, along with a road loss to FAU inbetween NIT games, Mason Nation was understandably a bit skeptical of what to expect for Mason's final two NIT games, despite their taking place in the Patriot Center and against inferior opponents, Brown and Albany.
And then it happened. The Patriots went out against Brown and played a consistent, complete game. The offense didn't look rushed and frantic anymore. The freshman looked like strong, college players all of a sudden, including eight rebounds from Erik Copes, 10 points from Vaughn Gray and only one turnover from Corey Edwards. The turnovers went from being a constant struggle to an occasional inconvenience, with only 11 in the game. For the first time all season, this year's Patriots looked like the George Mason of old, and finally showed Mason fans what this team can do when they play to their potential.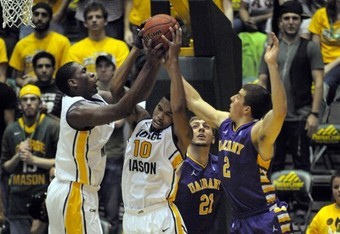 Against Albany, it was much of the same. The most encouraging aspect of this game was the defensive intensity shown by Mason and their determination to get every single rebound. The Patriots held a generally hot shooting Albany team to only 26.2 percent from the field and an incredible 8.7 percent from three point range, and out-rebounded the Great Danes, 42-35. Through this game, the Patriots showed that the debacle against FIU was clearly a thing of the past.
With the end of the Patriot's run in the NIT, Mason fans have learned a lot about their team. They know that Ryan Pearson, with his average 20.2 points per game in the tournament, is an absolute monster who is ready, willing, and able to lead this team. They know that each freshman, as well as every single man on Mason's roster, is going to see plenty of playing time all season. But most importantly, Mason fans know that their team is getting better with each game.
Now, were these strong performances against poor teams? Yes. Is it still a work in progress for Mason? Of course, but the key word is progress. In a span of only five games, the Patriots went from  a team struggling to find their identity to a team that looks confident that they can play with anybody out there. I know I for one am excited to see what this team can do over the rest of the season, and I know the rest of Mason Nation is as well.