Top 5 Most Deserving Teams to Face LSU for the NCAA Football Championship
November 22, 2011
Mike Zarrilli/Getty Images
Disclaimer: This is being written under the assumption that LSU beats Arkansas (sorry, Hogs fans) and that every other team with zero or one loss wins out as well. Also important to note—this is NOT a prediction of who will end up in the national championship game.
Keep that in mind before you post a foolish comment. This is simply the opinion of the most rational man in sports.
First a look at the LSU Tigers. They are the only undefeated team from a BCS conference, at 11-0. The strength of the team is its top-notch defense. Not only have the Tigers remained unbeaten in conference play, but they also played one of the tougher non-conference schedules this year. You can see those non-conference breakdowns here;
http://bleacherreport.com/articles/835632-ncaa-football-conference-power-rankings-week-1-lsu-wins-big-but-sec-not-in-1st

http://bleacherreport.com/articles/844505-ncaa-football-conference-power-rankings-week-2-alabama-gets-big-win-sec-in-1st

http://bleacherreport.com/articles/856846-ncaa-football-conference-power-rankings-week-3-oklahoma-wins-big-sec-in-last
They are ranked No. 1 in the country and frankly that is the ONLY thing that is not up for debate this college football season.
5. Alabama
The Crimson Tide had their shot and they blew it. At home, no less.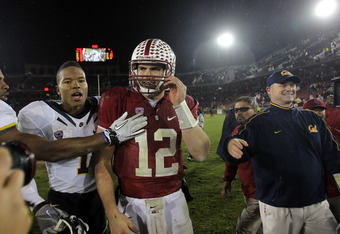 Ezra Shaw/Getty Images
Rematches for the national championship game should never happen except as a last resort. Furthermore, who on Earth even wants to see a rematch of Alabama vs. LSU?
Their first game was about as ugly as it gets. A 9-6 overtime loss for Alabama that featured no offense and FOUR missed field goals.
The game was an abomination and had more to do with terrible offense than good defense. SEC fans will want you to believe that the reason the score was so low is because both defenses are really good.
That is only fractionally true.
The real truth is that the SEC is currently devoid of high-end first-round NFL draft picks at the offensive skill positions. Only Alabama RB Trent Richardson and South Carolina WR Alshon Jeffery are elite-level talents.
Want proof? Glad you asked.
LSU held fellow SEC opponents to the following point totals;
Florida 11
Auburn 10
Tennessee 7
Kentucky 7
Mississippi State 6
Alabama 6
Mississippi 3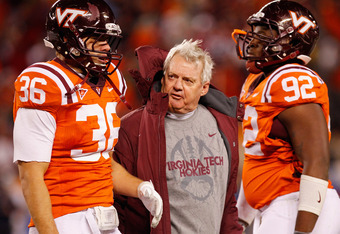 Geoff Burke/Getty Images
However, non-SEC opponents scored the following point totals against LSU;
Oregon 27
West Virginia 21
Western Kentucky 9
Northwestern State 3
I love proof. You cannot dispute it.
The last time we had a potential rematch of No. 1 vs. No. 2, Michigan was denied the chance for a rematch in 2006 after narrowly losing, 42-39, against top-ranked Ohio State on the road. If Alabama gets in after losing at home, Wolverine fans should file a grievance.
Want one more nail that should be in Alabama's coffin? They are not in position to win their conference OR even their division. Putting Alabama in over the next four teams would be an absolute travesty.
I would like to see Alabama go to the Sugar Bowl instead.
4. Stanford
The Cardinal have a lot of the same problems that Alabama has.
They are not in position to win their conference OR even their division. Their loss also came at home.
So why do I feel that Stanford is more deserving than Alabama?
Well, for starters, they have not already lost to LSU. That carries a ton of weight. Also, they have Andrew Luck—the best QB prospect of all-time. If you do not want to see Andrew Luck matched up against LSU's defense, then I question your taste in football.
I love to see elite-level talent clashing against each other.
Thomas B. Shea/Getty Images
I would like to see Stanford go to the Fiesta Bowl to face Boise State instead.
3. Virginia Tech
The Hokies are next up on the list.
Just like Alabama and Stanford, Virginia Tech's loss came at home.
They key difference that vaults Virginia Tech above of both those teams is that they are on pace to win their BCS conference—the ACC. That vaults them ahead of the non-conference winners.
However, with a loss on their resume and the overall lack of strength of the ACC, the Hokies do not deserve to be higher on this list.
I would like to see Virginia Tech go to the Orange Bowl to face the Big East champ instead.
2. Houston
That is not a typo.
The Cougars are led by the most prolific passer in NCAA history—Case Keenum. They are also undefeated. That means that LSU and Houston are the only two undefeated teams in all of college football.
Every year we hear the same rhetoric from fans of college football that are against a playoff system—"Every week matters".
Well, if "every week matters," how on earth can you justify putting teams with a loss on their resume into a championship game above a team with an undefeated record?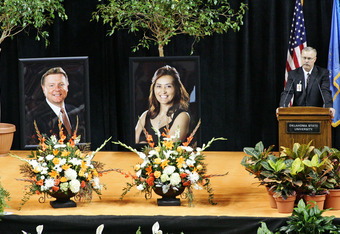 Brett Deering/Getty Images
Houston can tell Alabama that they would score more than six measly points against LSU.
Houston can tell Stanford that at least they won their conference.
Houston can tell Virginia Tech that at least they are undefeated.
Generally, that would be enough to put them into the title game for me. However, Houston's schedule this year left me feeling cold inside. Their four best wins are against likely WAC winner Louisiana Tech, two decent teams from C-USA (Tulsa and Southern Mississippi) and UCLA.
If Houston had beaten the teams they beat in 2009 (Oklahoma State, Texas Tech and Mississippi State) this year, I would have them at the top of the list, no doubt.
I cannot in good faith do it this year.
I would like to see Houston go to the Sugar Bowl to face Alabama. Short drive for both fan bases and a classic offense vs. defense theme.
1. Oklahoma State
The Pokes deserve to go more than anybody else, and frankly I do not think it is even close.
Here is their case.
If Oklahoma State wins out, they would win their conference—Alabama and Stanford get trumped here.
If Oklahoma State wins out, they could potentially have wins against FOUR teams ranked in the Top 25—that is double the total of the next-closest team in this discussion.
If Oklahoma State wins out, they would have nine wins against BCS conference teams—Alabama, Virginia Tech and Houston get trumped here.
Oklahoma State's only loss came on the road—Alabama, Stanford and Virginia Tech get trumped here.
Oklahoma State has a first-round talent at an offensive skill position in WR Justin Blackmon—Virginia Tech and Houston get trumped here.
If you go back to the conference power rankings I attached at the beginning of the article, the Big 12 had the best non-conference showing of any BCS conference. Oklahoma State would have won said conference.
Oklahoma State had the closest defeat of any team in this discussion—they lost in DOUBLE OVERTIME.
One last huge thing to point out. The day that Oklahoma State lost on the road to Iowa State in 2OT, the school had suffered from an absolutely heartbreaking tragedy. The head women's basketball coach, an assistant, the pilot and another passenger died after a plane crashed in Arkansas. This came around 10 years after another plane crash killed a number of Oklahoma State people associated with the men's basketball program.
The team's mind was rightfully elsewhere that Friday night in Ames, IA. They had a legitimate excuse for playing a sloppy game that night. That game is their only blemish.
Oklahoma State is the hands-down best choice to face off against LSU for all the marbles. I just hope they get their chance.
The easiest solution for this problem would be a playoff system. Here is a great proposal; http://bleacherreport.com/articles/573906-death-to-the-bcs-birth-to-a-college-football-playoff-system.
In that scenario, we would likely get to see four of these teams as well as LSU and the Big East and Big Ten champs slug it out. Since that is not an option for this year, keep your fingers crossed for a change in the future.