Detroit Red Wings: Which Team Will We See Going Forward?
November 22, 2011
Dilip Vishwanat/Getty Images
The Detroit Red Wings' roller-coaster season rolls on as the Red Wings continue to keep their fans off balance with their performances this season.
After winning five straight to start the season, Detroit was winless in its next six games. It then won its next four games, lost a pair and has won a pair, sweeping Southern California with a 4-1 win over the Los Angeles Kings and a 4-2 victory over the listless Anaheim Ducks.
The back-to-back victories brought mental relief to Red Wings fans as they came on the heels of what was starting to look like another long losing streak.
The Red Wings have yet to fully get going this season, as they have been a team of two faces, so to speak.
Watching Detroit becomes confusing at times as it has scored 44 goals in 11 wins, but just nine goals in seven losses and an overtime loss.
Detroit's defense is much improved from last season, ranking fifth in the NHL and giving up just 2.26 goals against per game. However, the offense has fallen off the table and sputtered at times, scoring just 2.79 goals per game, down from the 3.13 goals per game of last season.
The Red Wings specialty teams have looked slightly less than special this season, with their power play ranking 16th at 16.4 percent and their penalty kill looks just like last season's at 22nd in the league at 79.4 percent, leading to cause for concern among the Red Wings coaches and fans alike.
Fortunately for Red Wings fans, two huge pieces of their offense "woke up" this past weekend in Southern California.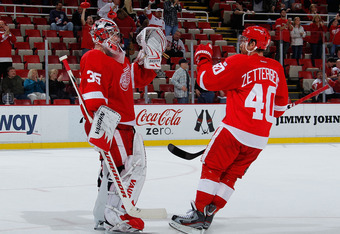 Gregory Shamus/Getty Images
Henrik Zetterberg and Pavel Datsyuk.
Datsyuk scored twice against the Kings and picked up two more assists against the Ducks, and Zetterberg picked up a goal and an assist against the Ducks.
The big issue I had going into the quarter-way point of this Red Wings season prior to these back-to-back games was that Detroit's big guns were not coming out to play.
In fact, not only were they not coming to play, but they were often a detriment to the Red Wings team as a whole by being "invisible" in the offensive end when Detroit needed goals the most.
Datsyuk had been without a goal for 12 games and called his performance "awful."
But after Datsyuk coming alive this weekend, with four points in two games, Detroit looks to be back in business. Datsyuk cannot carry the load by himself, however. Zetterberg needs to step up and contribute more as well, as he has just nine points in 19 games.
Not exactly All-Star worthy.
The beautiful thing about watching Detroit is that while Zetterberg and Datsyuk may struggle, defensemen like Brad Stuart, Nick Lidstrom and Nik Kronwall step up for the Red Wings on the back end.
Stuart has four points in his past five games, Kronwall has 10 points in 19 games, and Lidstrom continues to impress at the age of 41 years old with 14 points in 19 games.
The biggest question mark on the Detroit team, however, lies in goal with Jimmy Howard.
Will Howard ever come back to earth?
In today's offense-focused NHL, Detroit goaltender Howard has a 1.85 GAA, a 93.0 save percentage and a 10-5-1 record to go along with three shutouts.
If Howard keeps up a goals against of under 2.00 or thereabouts, Detroit is in good shape no matter how badly its offense performs.
So, which Detroit team will we see going forward?
Detroit has its defense going for it already, and now with Detroit's offense igniting, look for Detroit to go on a little hot streak with the offensive emergence of Datsyuk, Zetterberg and Johan Franzen.
Follow Isaac on Twitter for more article updates.