Eagles vs. Giants: Eli Manning Fumble Will Start Another New York Collapse
November 21, 2011
Al Bello/Getty Images
It's time to seriously consider whether or not the New York Giants are capable of holding on to their lead in the NFC East, especially after literally dropping the ball in a 17-10 loss at home against the Philadelphia Eagles.
Coming into this game at 6-3, the Giants had little wiggle room as far as the NFC East was concerned, with the Cowboys also 5-4 and riding a two-game win streak.
With Michael Vick out of the game and the Giants at home, many felt that it was a hands-down must-win for New York.
Instead, the Giants blew it and literally gave the game away.
With the score tied up at 10 at the end of the fourth quarter, Vince Young drove the Eagles down the field and hit Riley Cooper in the end zone for the go-ahead score.
The Giants still had over two minutes to take the ball and at least tie it up, but Jason Babin sacked Eli Manning and caused a fumble which the Eagles recovered.
Five plays later the Eagles had forced the Giants into burning their timeouts and ran the clock down, and that was all she wrote.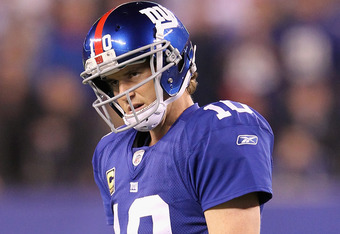 Al Bello/Getty Images
The Eagles go on to get a much needed win, and the Giants fall to 6-4 and are now behind the Dallas Cowboys in the division.
With six games left in the season is it time to start worrying about the Giants choking away yet another divisional lead?
This game was a huge red flag, but their schedule isn't doing them any favors either.
The next three weeks pin the Giants against the New Orleans Saints, the undefeated Green Bay Packers and a surging Cowboys team anxious to take the division by storm. 
It wouldn't be unthinkable to see the Giants come out of the next three games at 6-7, and at that point they probably couldn't even think about the wild card, let alone locking down the division.
It looks like the Giants are set for yet another collapse.
They desperately needed to beat the Eagles in order to give them some breathing room at the very least, but they literally dropped the ball.
At this point there is no room for mistakes, and that's pretty bad news for a team that has become rather good at making them.