BCS Rankings Week 13: Winners and Losers from Latest Poll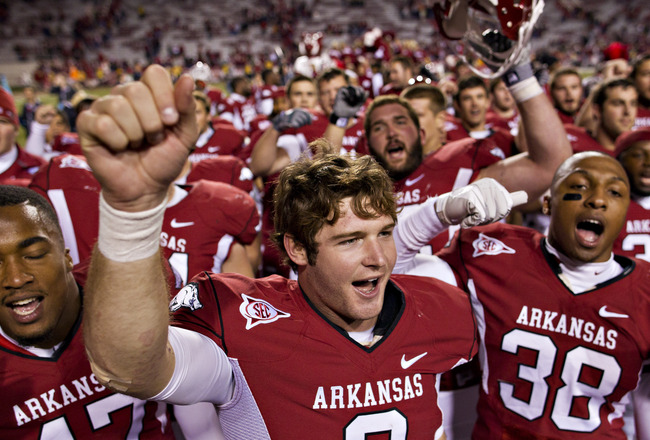 Wesley Hitt/Getty Images
Just when you thought everything was normal and we would only have one question surrounding which rematch we would see in the BCS National Championship Game, chaos broke out on Saturday, turning the BCS standings upside down.
With four of the top seven teams losing on Saturday, it shows a lot can still happen the final two weeks of the regular season.
The path to the BCS National Championship Game may have cleared up, but there are still a bunch of winners and losers following the latest release of the BCS standings.
Let's take a look at some of each.
Winner: SEC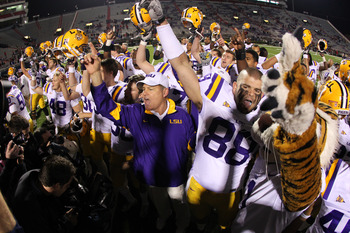 Joe Murphy/Getty Images
With Oregon and Oklahoma suffering losses within an hour of each other, it all but assures us of an All-SEC BCS National Championship Game and a sixth consecutive BCS champion from the SEC.
Already labeled as the nation's best conference, SEC fans will soon have another championship to brag about.
Loser: Big 12 Conference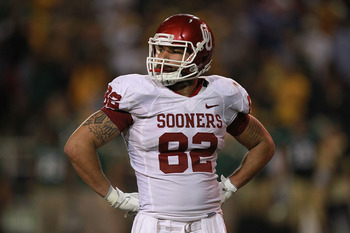 Ronald Martinez/Getty Images
A week ago at this time, we were talking about the Big 12 Conference having two BCS teams, with one of them likely in the BCS National Championship Game.
Little did we know that both Oklahoma and Oklahoma State would lose on the same weekend.
Now that leaves the Big 12 with likely only the Bedlam winner going to a BCS game. If the Sooners lose Bedlam, there is no way a three-loss Oklahoma team gets a BCS invite.
Winner: LSU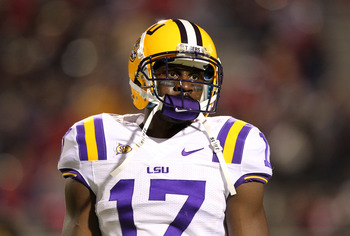 Joe Murphy/Getty Images
The Tigers have found themselves in the rare spot that they could lose a game, either to Arkansas or Georgia in the SEC Championship Game, and still likely play for the BCS National Championship.
According to the numbers game, LSU could lose to Arkansas this Friday and not make the SEC Championship Game and still wouldn't likely fall past No. 2 in the BCS standings thanks to the jump up to No. 3 for the Razorbacks.
Les Miles has his team in a very good spot to close out the season.
Loser: Pac-12 Conference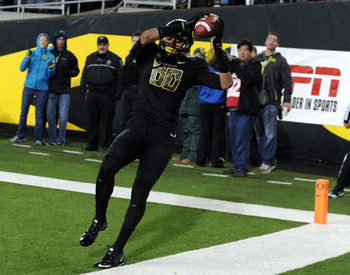 Steve Dykes/Getty Images
It was just a couple weeks ago that we were looking at an undefeated Stanford team and a one-loss Oregon team that were both vying for a spot in the BCS National Championship Game.
Now Oregon must win its last two games just to earn a Rose bowl berth.
If Stanford should stumble to Notre Dame, the Pac-12 will be sitting with just one BCS team once again.
Unfortunately for the Pac-12, its best team just may be USC who is ineligible for a bowl game.
Winner: Alabama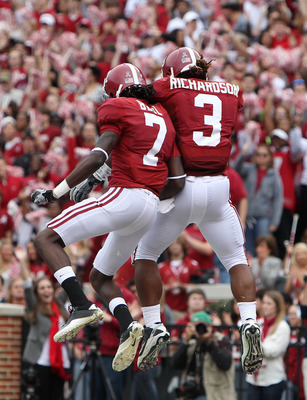 Mike Zarrilli/Getty Images
Could this weekend have played out any better for the Crimson Tide?
Last week we were debating on who is the best one-loss team in the nation, and now there is really nothing left to debate.
With a win in the Iron Bowl, Alabama is all but assured of reaching the BCS National Championship game for the second time in the past three seasons.
Loser: Orange Bowl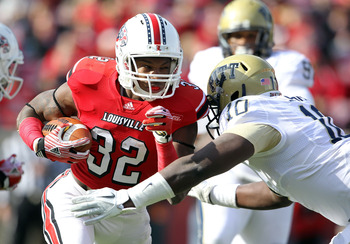 Andy Lyons/Getty Images
You have to feel bad for the Orange Bowl, who will get another deadbeat Big East Champion this season.
If the season ended today, it would be the 6-5 Louisville Cardinals heading to a BCS game as the Big East Conference representative. Even if it doesn't turn out to be Louisville, every Big East team currently has at least three losses at the moment.
Get your DVR's ready.
Winner: Arkansas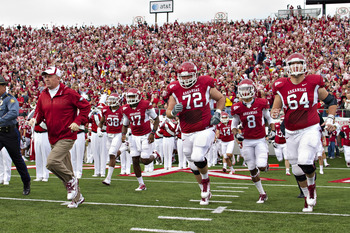 Wesley Hitt/Getty Images
Out of all the one-loss team sitting near the top of the BCS standings a week ago, Arkansas seemed like they were the one on the outside looking in.
It was extremely difficult to imagine a scenario where the Razorbacks could reach the BCS National Championship Game.
Fast forward one week and the Razorbacks control their own destiny.
If they can beat LSU next week, the Razorbacks will likely vault to No. 1 in the BCS standings. They would probably leapfrog an Alabama team that beat them handily when they met.
Arkansas' strength of schedule points alone could be enough to vault them to the top. It would be a short-lived stay at the top because the Razorbacks wouldn't make the SEC Championship Game, but regardless a win against LSU does two things.
It could vault Arkansas into the BCS National Championship Game, and it would make the BCS even more of a mess than it currently is.
Loser: Houston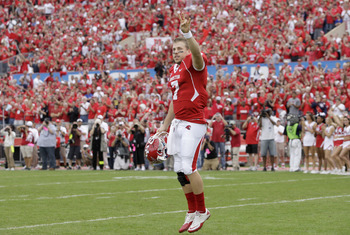 Thomas B. Shea/Getty Images
If you are a fan of the little guy, you have to look at the fact that there are two unbeaten teams left on the board and one has no chance to win a championship.
While the Cougars have risen to No. 8 in the recent BCS standings and will make the first BCS appearance in school history, it may not be enough to fans of Houston.
Winner: Michigan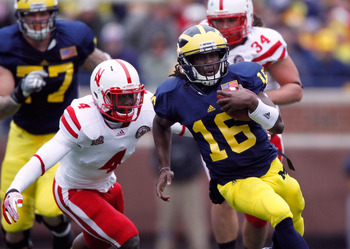 Gregory Shamus/Getty Images
Boy, did the Wolverines make the right move by firing Rich Rodriguez when they did.
No one predicted a 10-win season from Michigan in Brady Hoke's first season, but the Wolverines are just one win against Ohio State away from exactly that.
They won't have to play in the Big Ten Championship Game, so they could sneak into the BCS as a 10-win team.
Hoke deserves some votes for Coach of the Year.
Loser: Stanford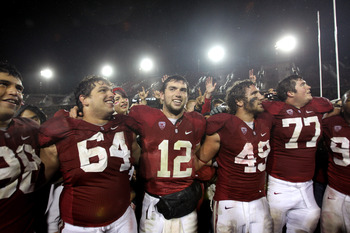 Ezra Shaw/Getty Images
Another case of a top ranked team not playing anyone, but at least Stanford has a win over a very good USC team. Yet in the current BCS standings they sit at No. 6 behind a Virginia Tech team that has no real wins on the season.
Winner: Virginia Tech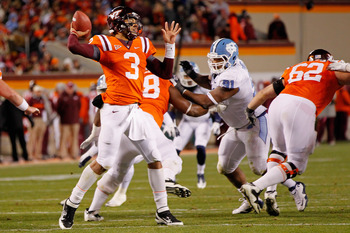 Geoff Burke/Getty Images
No disrespect to Virginia Tech or their fans, but the Hokies aren't the fifth best team in the nation, but fortunately for them that's exactly where they sit in the latest BCS standings,
Flat out, the Hokies haven't beaten anyone all season.
Their out of conference schedule featured wins against Appalachian State, East Carolina, Marshall and Arkansas State.
In ACC play, they don't have a real good win either. They lost to best best team they faced in Clemson and have no wins against the current BCS Top 20.
With that being said, Virgina Tech should feel like winners cracking the top five.
Loser: Fans of a Playoff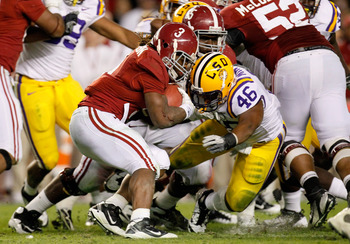 Kevin C. Cox/Getty Images
If there has ever been a season where fans wanting a playoff really could make their case, this is the one.
Even the traditional fan has to be starting to sway towards some type of playoff system.
Whether it is a plus-one, an eight-team playoff or any other system you would like to see, the 2011 season would be the perfect season for it.
You are already probably going to see a rematch of some sorts in the BCS National Championship Game, so why not think about what could happen if there was a playoff system?
Imagine the situation if LSU loses to Alabama in the BCS National Championship Game and watches the Crimson Tide crowned champions based on one game when the teams would be 1-1 against each other.
As we saw with Iowa State defeating Oklahoma State, anyone can be beat on any given night. It's a shame to see a teams season come down to one night, but the system is what it is.
Keep Reading