BCS Standings Week 12: Who's Overrated, Underrated or Just Right?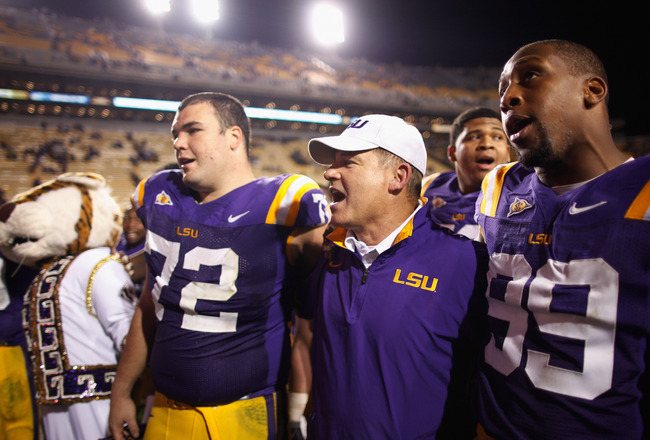 Chris Graythen/Getty Images
The Week 12 edition of the BCS rankings have been released.
Once again, the top five has shuffled. Stanford's loss to Oregon coupled with Boise State's loss to TCU has caused the BCS computers to, once again, shuffle the deck.
The 2011 season is in the final stretch. Teams have settled in, and are making their final pushes toward prospective postseason bowl matchups.
Some teams in the BCS rankings are exactly as the look. Others are not as good, or better, than their current placement may represent.
Here's who is just right, overrated and underrated in Week 12's edition of the BCS standings:
No. 25 Florida State–Underrated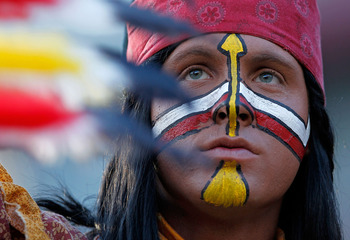 Mike Ehrmann/Getty Images
The Florida State Seminoles are 7-3 heading into their final two games of the season.
The Seminoles began the season at No. 5 but three consecutive losses knocked the 'Noles from the ranks completely. Luckily, the Seminoles found their way back among college football's best.
Florida State doesn't have any major wins. Their two biggest opponents, Oklahoma and Clemson, resulted in losses.
On paper, the Seminoles look great. Their No. 7 scoring defense combined with a Top 25 scoring offense and passing offense would make you think the Seminoles would have more success.
The Seminoles have won five in a row. If they finish the season with two more victories they can salvage a respectable season.
Based on talent, this team is very dangerous.
No. 24 Auburn–Overrated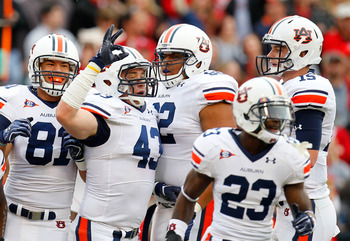 Kevin C. Cox/Getty Images
Auburn currently stands at 6-4 after their loss to Georgia in Week 11. The Tigers will have a chance to prove themselves against Alabama in the final week of the season.
The Tigers' four losses come at the hands of LSU, Arkansas, Clemson and the Bulldogs. If you are going to have four losses, those are not bad losses to have.
However, the Tigers do have four losses. That is reason enough to keep them out of the BCS rankings based on where things currently stand.
Auburn doesn't do anything particularly well. Their run game is solid, but the rest of their offense is very suspect.
Defensively, the Tigers struggle mightily on a regular basis.
Auburn is an SEC team, and definitely talented. They just have to many holes at key positions to be considered a legitimate threat at this point.
No. 23 Texas–Overrated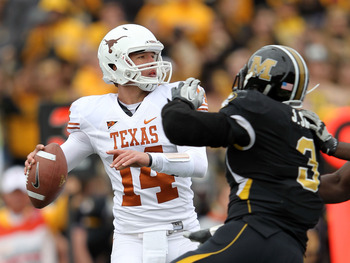 Jamie Squire/Getty Images
Texas comes in at No. 23 with a 6-3 record. The Longhorns lost in Week 11 to Missouri.
Two of Texas' losses are against top five teams, Oklahoma and Oklahoma State. Their third loss to Missouri is less forgivable.
Freshman running back Malcolm Brown has led a great Texas run game. The Longhorns are fifteenth in the nation in rushing yards per game.
However, Texas lacks consistency in other areas of their game.
Their defense has struggled with stopping the pass and stuffing the run. A talented unit, but consistency has been an issue all season long.
A quarterback carousel has kept the Texas passing attack from getting into a rhythm despite recent improvement.
Texas is a solid team, but does not have enough pieces in the puzzle to be taken seriously this season.
No. 22 Baylor–Overrated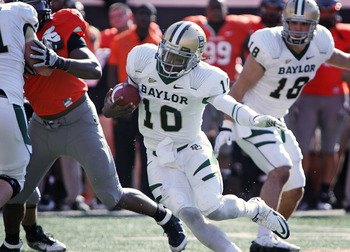 Brett Deering/Getty Images
The Baylor Bears are 6-3. The Bears defeated Kansas in Week 11 with an overtime effort.
The Bears may be overrated, but their best player Robert Griffin III is not. Griffin III is electric. He has 34 total touchdowns as the Baylor quarterback this season.
Because of Griffin III, the Baylor offense is as dynamic as any in the country. However, the Bear defense is No. 108 in scoring defense. They give up 36 points per game.
Offense is great, and scoring points will win you many games. However, giving up 36 points will catch up to you against quality competition.
In the Bears' three losses, opponents have scored an average of 50 points.
No. 21 Penn State–Just Right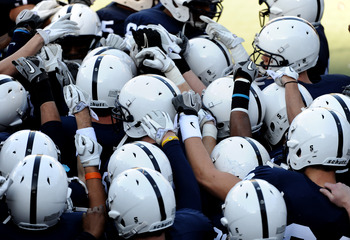 Patrick Smith/Getty Images
Penn State fell to No. 21 after their Week 11 loss to Nebraska. The Nittany Lions are currently 8-2.
The Nittany Lions are perfect right where they are. If they had a quarterback, they would be severely underrated.
Matt McGloin is the current Penn State signal-caller. No one will ever mistake him for an All-American, but he gets the job done.
Making his job easier is sensational sophomore running back Silas Redd, and a stout Penn State defense.
Penn State has had surprising success this season. Despite their quarterback woes, the Nittany Lions have stayed at the top of the Big Ten.
Some would say this team is overrated. However, this team knows how to win games with what they have.
Look for them to continue to surprise with a victory over either Ohio State or Wisconsin to finish the year.
No. 20 Southern Miss–Underrated
Chris Graythen/Getty Images
The Southern Miss Golden Eagles do not receive a lot of attention out of the Conference USA.
However, they are 9-1 and surprisingly solid across the board.
Led by quarterback Austin Davis, the Golden Eagles offense is very solid. Davis has 20 touchdowns on the season.
The Golden Eagles run the ball consistently as well. They average almost 200 yards per game on the ground.
Southern Miss's lone loss comes against Marshall. As for wins, their most noteworthy is probably Virginia. Not saying much, but wins are wins.
This team is dangerous because they are unknown. The Conference USA Championship game will, most likely, pit Houston against the Golden Eagles.
That will be a huge chance to prove themselves on a national stage.
No. 19 TCU–Just Right
Otto Kitsinger III/Getty Images
TCU moved to 8-2 after their epic Week 11 victory over Boise State. The Horned Frogs are now No. 19 in the BCS rankings.
No. 19 is a perfect spot for the Horned Frogs. Boise State is a quality win. Their two losses are against Baylor, and Southern Methodist.
This is not the same TCU from 2010. No Andy Dalton, and an obvious drop-off in defensive production.
However, Gary Patterson still has his boys playing football.
Casey Pachall has been solid behind center in his first year as a starter. While the defense may not be as good, they are still solid considering the schedule TCU must traverse.
TCU isn't a BCS buster this season. They are a solid top 20 team though, and will not be a pushover for anyone in the postseason.
No. 18 Michigan–Overrated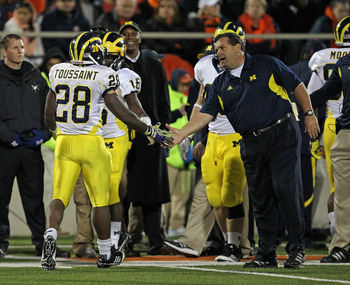 Jonathan Daniel/Getty Images
Michigan is 8-2 after their Week 11 victory over Illinois. The Wolverines are No. 18 in the BCS and still in the Big Ten title race.
The Wolverine resume is soft. However, games against Nebraska and Ohio State to finish the season could make it look much more formidable.
Michigan's best wins came against Notre Dame and Illinois. Solid victories, but nothing to write home about.
The main concern for this team lies in the supporting cast.
Quarterback Denard Robinson is a household name, but the players around him are not ready to carry a game by themselves. Robinson's health concerns could make this a necessary evil to face in the final two weeks.
Defensively, the Wolverines are No. 5 in scoring. Again though, their victories are not against elite competition.
The Wolverines are a solid team without a doubt. However, they are not a top 20 team.
No. 17 Wisconsin–Underrated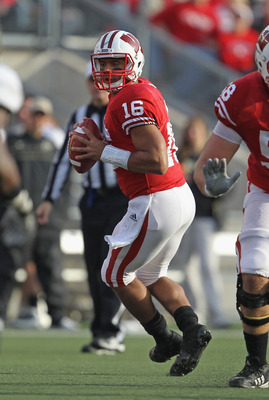 Jonathan Daniel/Getty Images
Wisconsin is 8-2 after their Week 11 drubbing of Minnesota. The Badgers are No. 17, and are very dangerous.
Russell Wilson broke the Wisconsin single-season record for touchdown passes in Week 11. His 25 scoring tosses have provided Wisconsin with a previously-unknown dimension to their offense.
Another record-breaker is running back Montee Ball. Ball has plowed his way for 25 rushing touchdowns this season. That is a Big Ten single-season record.
Defensively, Wisconsin is suspect at times. They are not the same caliber of the Badger offense, but they can hold their own.
The Badgers are two desperation passes away from being in the center of the national championship picture.
They may be No. 17, but they are better than many teams sitting ahead of them in the BCS rankings.
No. 16 Nebraska–Just Right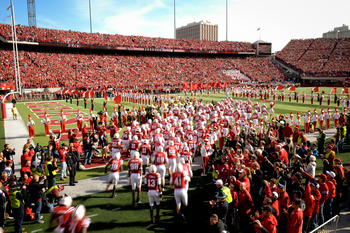 Eric Francis/Getty Images
Nebraska moves to No. 16 after their Week 11 victory over Penn State.
The Cornhuskers have two losses. Wisconsin beat them handily, 48-17, in Week 5. The other was much closer, but not of the same quality against Northwestern.
Nebraska's run game is very dangerous. Quarterback Taylor Martinez and running back Rex Burkhead form a dynamic duo in the Huskers spread option attack.
However, Martinez does not have the arm needed to open up the Huskers passing attack. This makes their offense one-dimensional at times.
Defensively, the Cornhuskers have a ton of talent. They tend to lose focus, and the injury of start defensive tackle Jared Crick has hurt this unit severely.
Nebraska definitely has the talent, but their lack of surprise on offense hurts them against quality defenses. They have trouble closing out games defensively, and almost lost another in Week 11.
No. 15 Michigan State–Just Right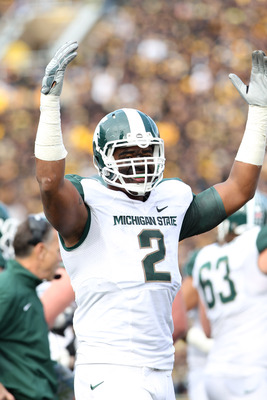 Reese Strickland/Getty Images
Michigan State is 8-2 after defeating Iowa in Week 11.
The Spartans' two losses came against Nebraska and Notre Dame. Their biggest victory came in Week 8 against Wisconsin.
Offensively, the Spartans will not blow anyone away. Kirk Cousins runs a consistent aerial attack with the help of B.J. Cunningham and Keyshawn Martin.
Le'Veon Bell and Edwin Baker provide a solid one-two-punch on the ground.
Defensively, the Spartans have been very good. They are No. 8 in scoring defense.
There is nothing flashy about Mark D'Antonio's squad. However, they are very disciplined and play a solid, all-around game.
The Spartans will have a shot at a BCS bowl berth if they can win the Big Ten championship.
No. 14 Georgia–Just Right
Kevin C. Cox/Getty Images
Georgia is 8-2 this season. They started off the season 0-2, but have rattled off eight straight victories.
These eight victories have cooled Mark Richt's coaching seat, and have Georgia firmly entrenched at the top of the SEC East standings.
Georgia's team is young and largely unproven.
Quarterback Aaron Murray is their leader and his 27 passing touchdowns pace the Bulldog offense. Scintillating freshman Isaiah Crowell has over 800 yards and five rushing touchdowns.
Defensively, the Bulldogs are No. 12 in scoring defense. They play aggressive, smash-mouth defense. Their athleticism makes up for their inexperience.
Georgia may not be a top 10 team. However, they are dangerous.
We may see just how dangerous in the SEC championship game.
No. 13 Kansas State–Just Right
Brett Deering/Getty Images
Kansas State is 8-2 after defeating Texas A&M in a Week 11 thriller. This victory came after two consecutive Wildcat losses.
The Wildcats live and die with their rushing offense.
Quarterback Collin Klein can throw, but his strength lies in his 24 rushing touchdowns. Klein has 10 passing touchdowns as well.
Defensively, the Wildcats thrive on big plays and scrappy play.
Kansas State is not the most talented team. However, Bill Snyder understands how to get his players to play his brand of football.
Blue-collar and methodical is the way in Manhattan. So far, so good.
No. 12 South Carolina–Overrated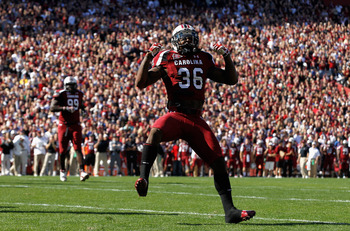 Streeter Lecka/Getty Images
South Carolina is 8-2 after squeaking out a victory in Week 11 over Florida. The Gamecocks remain in the thick of the SEC East leaderboard.
The Gamecocks would be an underrated team if they were complete. The losses of quarterback Stephen Garcia, and star running back Marcus Lattimore have crippled the capabilities of Steve Spurrier's offense.
South Carolina's numbers are skewed because of this. This is not the same offense from the beginning of the season.
Connor Shaw has done a solid job replacing Garcia, but he is not experienced. Lattimore is simply irreplaceable.
Defensively, the Gamecocks have great athletes but struggle as a unit at times.
Consistency has been a problem all season for South Carolina. Don't expect that to change anytime soon.
No. 11 Houston–Just Right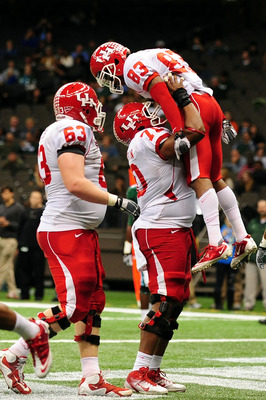 Stacy Revere/Getty Images
Houston is 10-0 this season. Because of their Conference USA affiliation, the Cougars have climbed the ranks as quiet as can be.
The main reason Houston is undefeated is the arm of Case Keenum. The Cougars have the top passing attack in the nation, and the No. 1 scoring offense in the country.
Keenum has thrown for almost 4,000 yards and 37 touchdowns this season. He could be traveling to New York for the Heisman ceremony when all is said, and done.
The Cougar run game is 44th in the country in rushing yards per game. Not incredible, but considering the passing attack it's more than enough.
The strength of schedule argument is alive and well in Houston's case. Their resume is not strong, but their numbers are pretty tough to deny.
For now, Houston is climbing the ranks at the perfect pace.
No. 10 Boise State–Underrated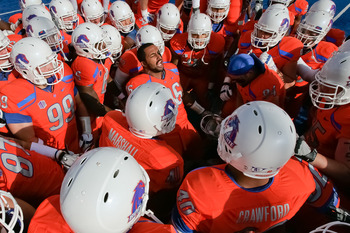 Otto Kitsinger III/Getty Images
Boise State had their 65-game home win streak snapped in Week 11 with their loss to TCU.
Once again, the Broncos will be a field goal away from earning a shot in the BCS sweepstakes at the end of the season.
Boise State doesn't play a tough schedule, outside of Georgia in Week 1. They are not proven.
However, this team has undeniable talent. A missed field goal does not take away from how potent this team is on both sides of the ball.
Senior quarterback Kellen Moore is as efficient as it gets behind center. He is incredibly accurate, and has done great work despite adjusting to a new receiving core this season.
Defensively, the Broncos have a great pass rush. They are tough, and always overlooked because of the prowess of the Boise offense.
Boise State doesn't stand a chance at this point. They are out of the BCS picture. However, this team is more talented than, all but, a handful of teams.
No. 9 Stanford–Overrated
Ezra Shaw/Getty Images
Stanford fell from their No. 4 ranking after their Week 11 loss to the Oregon Ducks. The Cardinal are now 9-1.
Despite the outstanding play of quarterback Andrew Luck, this team is overrated. The Cardinal have not faced any competition outside of USC and Oregon, and Oregon handled them easily in Week 11.
Luck relies on three tight ends to catch his passes. Dangerous tight ends, but tight ends nonetheless. Their passing attack is deliberate and straight forward.
The Stanford run game is underrated. Stepfan Taylor and company are consistent, and set Andrew Luck up for a dynamic play-action passing attack.
The Cardinal are a very physical football team. However, teams with speed can, and will, beat them.
Their untested resume combined with their lack of star power on offense leaves a lot to be desired for the Cardinal squad.
No. 8 Virginia Tech–Just Right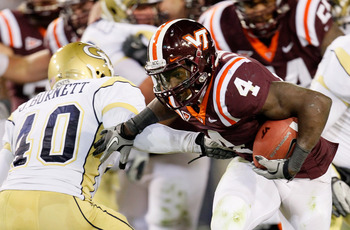 Kevin C. Cox/Getty Images
Virginia Tech has quietly put together a 9-1 season. That's good enough for the top spot in the ACC Coastal division, and No. 8 in the BCS rankings.
The Hokies must still get by Virginia and North Carolina. This should not be a problem.
Virginia Tech is winning games in the same way they always have. They run the football, and they play great defense.
David Wilson leads the rushing attack, while quarterback Logan Thomas has added solid ground contributions as well.
The development of Thomas as a passer really determines how far the Hokies can go.
Expect them to win the ACC championship and find themselves in a BCS bowl game once again.
No. 7 Clemson–Overrated
Kevin C. Cox/Getty Images
The Clemson Tigers moved to 9-1 with their Week 11 victory over Wake Forest.
Clemson has ridden a dynamic offense to a top ten ranking, despite their lackluster defense.
Quality wins over Florida State, Auburn and Virginia Tech give the Tigers a solid, but not great, resume. South Carolina still awaits on the schedule, along with the ACC Championship.
The Tigers are as exciting as it gets offensively. Tajh Boyd, Sammy Watkins and Andre Ellington form a dazzling trio. Don't get into a shootout with this team.
The problem is, Clemson usually faces shootout situations. Their No. 59 scoring defense puts a lot of stress on their offense.
No matter how many points Clemson scores, giving up almost 26 points per game is a problem.
No. 6 Arkansas–Underrated
Wesley Hitt/Getty Images
Arkansas is 9-1 after their Week 11 victory over Tennessee. The Razorbacks still must face the No. 1 LSU Tigers in the final week of the season.
The Razorback passing attack makes them dangerous game in, and game out. They are No. 11 in passing yards per game. That's a big part of their No. 13 scoring offense.
Arkansas isn't an elite team. However, they get next-to-no hype. Because of this they are underrated.
After LSU's Week 10 victory over Alabama, many saw the Tigers No.1 ranking as a foregone conclusion. Don't sleep on the Razorbacks.
Quarterback Tyler Wilson along with his wide range of weapons at wide receiver will put a ton of pressure on the elite-LSU secondary.
Arkansas may be the quietest top 10 team in the country. Why? Good question.
No. 5 Oklahoma–Just Right
Ed Zurga/Getty Images
Oklahoma moved to No. 5 in the BCS rankings because of Stanford and Boise State's Week 11 losses. The Sooners are 8-1, but had a bye week in Week 11.
The lone loss for the Sooners came at the hands of Texas Tech in Week 8. The Sooners allowed 41 points to the Red Raiders, and their defense has been suspect overall.
Flashes of brilliance are shown by the Sooner defense. However, the consistency and focus are lacking at times.
That's the only reason the Sooners are not one of the top two teams in the nation. The Sooner offense is No. 3 in passing and No. 6 in overall scoring. As long as Landry Jones is the triggerman, the Sooner offense will be just fine.
Oklahoma is certainly a dangerous team. If their defense can put it all together, they may be worthy of a BCS National Championship berth.
We will see in their regular-season finale against the high-octane Oklahoma State Cowboys.
No. 4 Oregon–Overrated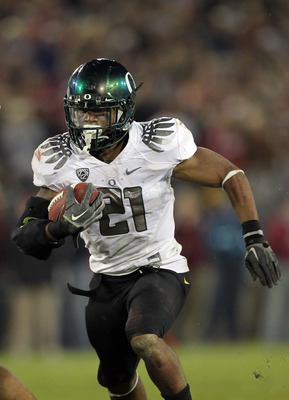 Ezra Shaw/Getty Images
Oregon's Week 11 victory over Stanford pushed the Ducks up to No. 4 in the Week 12 edition of the BCS rankings.
The Ducks are 9-1. Their sole loss came in Week 1 at the hands of the LSU Tigers.
Speed and finesse. The Ducks are unrivaled in both of these categories. It starts with quarterback Darron Thomas and goes all the way through their stable of LaMichael James-led running backs. Even their tight end David Paulson has adequate speed.
The Duck defense handled itself well in Week 11. They consistently got pressure on Stanford quarterback Andrew Luck and also forced a pair of Luck interceptions.
Despite their success the Ducks are a bit overrated. Beating up on Stanford is noteworthy, but the Ducks were Stanford's first major opponent outside of USC.
If you want to watch exciting, fast-paced football then tune into Oregon games. But in the grand scheme of things, hard-nosed teams like LSU will beat the Ducks more times than not.
No. 3 Alabama–Underrated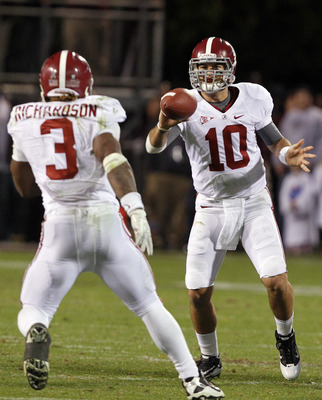 Butch Dill/Getty Images
Alabama held onto their No. 3 ranking with their Week 11 victory over Mississippi State. The Crimson Tide are 9-1.
The Tide's only loss is at the hands of LSU in Week 10. A loss to the No. 1 team is a tough loss, but in the eyes of the BCS it's a loss nonetheless.
Alabama is the second-best team based on paper. Despite the blemish on their record the Tide have been excessively dominant defensively.
Their defense combined with the electric running of Trent Richardson make the Tide a very formidable foe.
Alabama can't be ranked No. 2 because of their loss, and the timing of the loss. However, in terms of talent, the Tide are right behind LSU.
A No. 1 scoring defense makes any team tough. The Tide's overall talent to compliment the defense makes their team even tougher.
No. 2 Oklahoma State–Just Right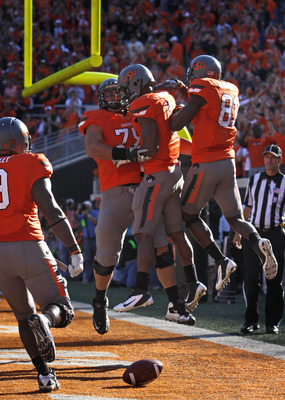 Brett Deering/Getty Images
The Oklahoma State Cowboys held onto their No. 2 ranking with a, 66-6, beatdown of Texas Tech in Lubbock.
The same Red Raider team that defeated Oklahoma State's in-state rival, Oklahoma, at home.
The Cowboys success starts and ends with their explosive offense. Their No. 2 scoring offense relies heavily upon their No. 2 passing offense.
The x-factor is running back Joseph Randle. Randle has quietly amassed 21 touchdowns, in the shadows of quarterback Brandon Weeden and wide receiver Justin Blackmon.
Defensively, the Cowboys leave something to be desired. Their defense allows just over 26 points per game.
Normally, that would be an issue. It may be later down the line. Perhaps in their regular-season finale against Oklahoma.
However, this Cowboy offense puts most defensive issues to bed. They simply outscore opponents. Until that changes, the Cowboys are right where they belong.
No. 1 LSU–Just Right
Kevin C. Cox/Getty Images
The LSU Tigers became the first unanimous No. 1 team in the AP Top 25 since 2008. The Tigers moved to 10-0 with their Week 11 victory over Western Kentucky.
LSU's dominance this season has been unrivaled.
The Tigers hold victories over Oregon, West Virginia, Mississippi State, Florida, Auburn and Alabama. Those are six quality wins. Two are out-of-conference, while four come from their rugged SEC schedule.
Defensively, the Tigers are scary good. They are currently the No. 2 scoring defense in the nation. The Tiger defense is dynamic on all three levels, but their secondary is unrivaled.
Spencer Ware and Michael Ford form a consistent duo in the Tiger backfield. Quarterbacks Jordan Jefferson and Jarrett Lee minimize turnovers and manage the game.
LSU is the unquestionably the top team in the nation. Their offense is not the best, but with their defensive prowess that isn't going to matter most times the Tigers take the field.
Keep Reading