Smart Leads New Look VCU from Final Four to Charleston
November 17, 2011
Ronald Martinez/Getty Images
It's been seven and a half months since their trip to the Final Four, and now VCU will once again get a chance to showcase themselves in a tournament with a national audience. 
The 2011-12 VCU team will play in the Charleston Classic, which begins on Thursday.  The Rams will take on Seton Hall to start the tournament.
VCU "Shaka-ed" the world last March with their improbable run from an unlikely NCAA Tournament selection—playing in the inaugural "First Four" round—all the way to the Final Four, where they lost to Butler.  The Rams blew through the likes of USC, Georgetown, Purdue, and Kansas, with an overtime win over Florida State in between.
Much of the star-power from last year's VCU team played their final game in that loss to Butler in the National Semifinals.  power forward Jamie Skeen, point guard Joey Rodriguez, and swingman Brandon Rozzell—three of the team's top four scorers—have moved on.
However, perhaps the biggest star from the Final Four team is returning to Richmond.  Someone who didn't score a single point last season—Coach Shaka Smart.
As a result of the overwhelming tournament success, Smart became the immediate sexy candidate for many of the higher-profile coaching openings that opened up quickly after the regular season ended.  NC State seemed to be the favorite to lure the 34-year old coach south to Raleigh.  However, VCU was able to lock Smart up to an extension just two days after their Final Four appearance, keeping him with the program for another eight seasons.
With the extension—and a handsome $1.2 million salary—under his belt, Smart will get to really begin putting his stamp on the VCU program.  The Final Four run last season was dominated by players who were brought in by former coach Anthony Grant, now at Alabama.  Now in this third season, Smart will get to work with his second recruiting class, and this year's team will be primarily made up of his players.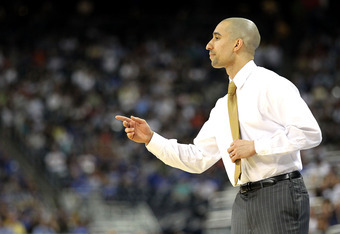 Andy Lyons/Getty Images
VCU will have just one senior this year in forward Bradford Burgess, the team's second-leading scorer from last season.  Junior guards Darrius Theus and Troy Daniels appear to have cracked Smart's starting lineup, at least to start the season.  Daniels led the Rams with 22 points in a six-point season-opening win over St. Francis (PA). 
The real potential on the VCU roster lies in the frontcourt.  Sophomores DJ Haley and Juvonte Reddic each saw some minutes in last year's NCAA run, but Smart will be looking for each to begin asserting themselves by the time CAA play rolls around.   Reddic looked good in the season opener, with a double-double (19 pts, 10 reb).   Haley, at 7'0", may need a little more to time refine his game, but he should certainly get that opportunity.
Despite the losses from last year's team, VCU could be considered the team to beat going into the Charleston Classic.  The Final Four prestige certainly plays a part in that, but a look at the rest of the field shows there aren't any other teams who really stand out.  No other team enters the season in either preseason poll, and VCU is the only team who made the NCAA Field of 68 last season.   In fact, half of the eight teams—Georgia Tech, LSU, Saint Joseph's, and Seton Hall—are coming off losing seasons.   
Seton Hall—coming off a 13-18 season—is led by forward Herb Pope and guard Jordan Theodore.  Pope, a fifth-year senior, could be quite a handful for Reddic and Haley to handle.  Theodore, another senior, lead the Pirates with 25 in their opening win over St. Francis (NY).  Faquan Edwin, a sophomore shooting guard, could be primed for a breakout season. 
Should they get by Seton Hall, VCU may face Georgia Tech, who is also coming off a 13-18 season.  The Yellow Jackets will be led by new Head Coach Brian Gregory, who came to Atlanta from Dayton.  Glen Rice Jr will return from a three-game suspension in time for a poential matchup with the Rams.  This team will be extremely young, but sophomore center Daniel Miller and fellow sophomore forward Kammeon Holsey could help Tech make a run in Charleston.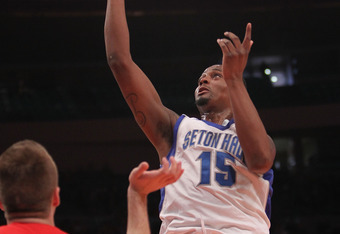 Nick Laham/Getty Images
On the opposite side of the bracket, Northwestern may be the team most primed to reach and possibly win the tournament final.  The Wildcats return three of their top four scorers, including leading scorer John Shurna.  A potential matchup with Northwestern in the championship game would be an interesting challenge for VCU, as it may be tougher to pressure and rattle the Wildcats' experienced scorers.
Regardless of how they fare against Seton Hall in the opener, VCU will be ensured of playing three games in Charleston.  This will be important early-season experience for Coach Smart's bunch, as they try to begin coming together as a unit in time for CAA conference play, which will be here before you know it.
Like they did when they snuck in to the NCAA Tournament last March, expect Shaka Smart and his team to take full advantage of their opportunity to play in another tournament.
The full bracket and game times can be found at http://www.charlestonclassic.com
 Stats and game information referenced from ESPN.com and Charlestonclassic.com