Detroit Tigers 2012: Who Are the Second Base Options Still Available?
November 16, 2011
Otto Greule Jr/Getty Images
The Tigers seem to be satisfied with a third-base platoon consisting of Brandon Inge and Don Kelly. They also seem set on keeping Delmon Young and his powerful bat in left field, so this leaves second base as the place that the Tigers need to upgrade most.
The Tigers had six different starters at second in 2011, and the player who started the most games is a free agent (Ramon Santiago). Most of the free-agent names who have been mentioned in connection with Detroit are already off the market. Aaron Hill re-signed with Arizona, Jamey Carroll signed with the Twins and Mark Ellis signed with the Dodgers.
Each of the names left on the free-agent market have drawbacks of some kind.
Most are backups who are later in their careers (Jack Wilson, Carlos Guillen, Jerry Hairston Jr., Craig Counsell, Nick Punto and Ramon Santiago). Santiago is still young and someone may view him as a starter; the same goes for Aaron Miles and Jose Lopez.
Dave Dombroski has said that the Tigers would look at the trade market as well as free agency to fill the void at second.
So who are trade candidates?
Well, that is a little hard to predict. I think that there are four names who the Tigers should check out. Players are ranked in reverse order.
Jed Lowrie
Lowrie is still a fairly young player and still has some upside, but the Red Sox seem to be moving in a different direction.  It was rumored earlier this year that either/or both Lowrie and fellow infielder Jose Iglesias might be available.
I think that the BoSox are likely to stick with Iglesias at short, keep third base for Kevin Youkilis and lock down second with Dustin Pedroia, so trading Lowrie makes sense.
The cost is where things get tricky with Lowrie. He has seen time at all four infield positions during his major league career, but has not played in more than 88 games in a season. Boston may value him as a backup, and therefore may ask a high price for him.
Detroit would need to package a utility player (Will Rhymes, Danny Worth, Don Kelly) along with one of their upper-level pitchers (Andy Oliver, Adam Wilk, Duane Below).
A two-for-one isn't ridiculous, but I don't think Detroit trades with Boston.
Chris Getz
The Royals seem to be ready to place second in the hands of Johnny Giavotella; with the young players ready to break into the bigs, this makes Getz expendable.
Getz is a left-handed batter who doesn't have a high OBP, but does bring speed. Getz brings good range and glove to the position. He is probably not the best fit for the leadoff spot, and is probably better suited to batting second.
The Tigers have been willing to trade within the division, but they won't want to give up a prime prospect. Getz shouldn't cost a lot, and should be similar in cost to Wilson Betemit earlier this summer.
Both prospects that the Tigers sent to KC were considered fringe-level major leaguers, and I would expect something similar for Getz. Argenis Diaz or possibly Will Rhymes might be enough to get a deal done.
Getz would only serve as a stopgap player in Detroit, but would be better than what the Tigers currently have.
It's safe to say Figgins hasn't lived up to expectations in Seattle.
He had a career year in 2009 which he turned into a big contract in Seattle, which still has two years and $17 million remaining. Figgins missed half of 2011 with a slow-healing hip flexor injury, so his health moving forward will be an important aspect of any trade conversation.
If we look at 2010 as representative of his expected production in 2012 and beyond, we discover that in spite of having a low batting average (.264) he still maintained a fairly high OBP (.340) and had 42 steals.
The 42 steals would be 20 more than Austin Jackson had this year, and 37 more than the next highest Tiger. In Detroit, Figgins would be able to move back to second base (where he has seemed to be the most comfortable), as well as to the leadoff spot, where he has hit his best.
In order for a trade to go through, Seattle would have to be willing to eat a fairly large portion of the remaining contract. Still, if his medical reports checked out, Detroit has the financial ability to take on a portion of the contract.
Seattle is in desperate need of offense, so a package centering on Ryan Raburn and possibly Ryan Strieby and one of the young catchers would make sense.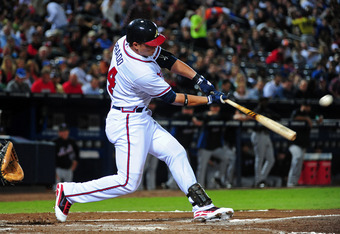 Scott Cunningham/Getty Images
Martin Prado
The Braves have reportedly made Prado available, and reportedly there are several teams interested, including the Tigers.
Prado is a versatile player who has seen time all over the infield, as well as in left. He has also been a successful leadoff hitter, which makes him all the more tempting for Detroit. Prado seemed to have his most successful seasons at the plate when he played second consistently.
While Prado isn't likely to win any gold gloves at second, he is on par with Santiago and far better than Raburn.
The Tigers don't seem interested in signing and dealing Delmon Young, so that leaves Raburn as the most likely Tiger to be dealt in this deal. The Braves are said to be looking for a right-handed bat for their outfield, and Raburn fits that mold. He is also able to play several positions and can be a viable bat off the bench.
The Tigers would most likely include a minor-league pitcher, but not a high-ceiling type. If it's not a pitcher, either SS Argenis Diaz or utility infielder Danny Worth could complete the deal.
The Tigers will add a second baseman at some point; the question is simply when and how.
At this point, I like Prado better than Figgins because Prado can fill in in a lot of places on the diamond. The cost for either shouldn't be too steep, and both have the potential to help at the top of the order.