Bob Costas' Sandusky Interview: Penn State Can't Spin Ugly Interview
November 15, 2011
Jerry Sandusky finally broke his silence about the charges leveled against him to NBC's Bob Costas yesterday.
He did himself no favors in the process and left Penn State in an ever-tighter spot than before.
Sandusky claims he is innocent of all charges. The only thing he is guilty of is "showering" with young boys and "horsing around."
The university has moved against a number of people involved with the situation already and certainly cannot speak out against the former defensive coordinator because he is "presumed" innocent until proven guilty.
Penn State's internal issues run much deeper than just Sandusky's innocence anyway.
Their problems have just begun.
So have Sandusky's, but he has essentially forced the university into submission in regards to his comments to Bob Costas.
He is basically calling assistant coach Mike McQueary a liar. He's now admitted to showering with young boys in the Penn State locker room. And he feels he's not at fault for the situation Penn State is currently in.
Sandusky acknowledged that he certainly played a part, but he believes he is not culpable for the massive overhaul and likely punishment that will be levied against Penn State.
The interview itself will take on a life of its own.
Sandusky's overall attitude toward the situation has disgusted people worldwide.
Here are some of the typical Twitter responses: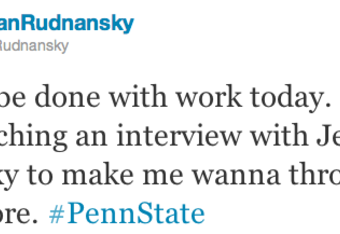 (via @RyanRudnansky)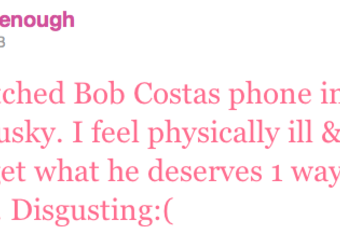 (via @9isenough)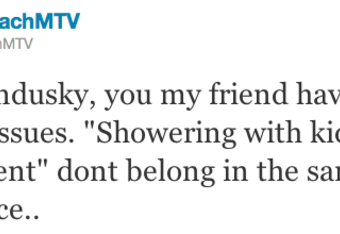 (via @ZachMTV)
There is no way Penn State can spin this interview.
The general consensus on Sandusky is that he is not only a "creeper," but that he is guilty as well.
There is no remorse for the university—they put themselves in this position by not acting earlier—but Sandusky just dug them an even deeper hole.